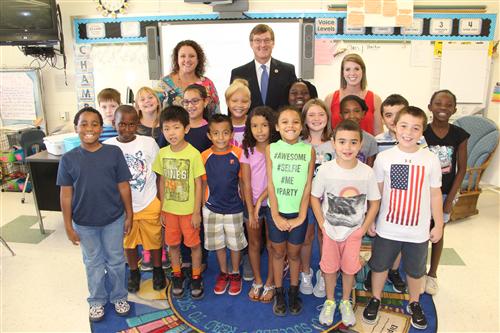 Superintendent's Weekly Message for March 27, 2017
We are extremely grateful for the caring adults in our schools who serve as mentors.

Mentors are role models for students who need a little extra support. Our mentors do an excellent job of offering encouragement, being good listeners, and providing a positive experience whether it's helping with homework, talking about life, or enjoying a fun activity.

It has been our goal this year to have at least 300 mentors, and we recently achieved this goal because people heard about our mentoring program and stepped forward to volunteer. However, we could use many more mentors, especially when you consider that we have approximately 32,000 students in our schools.

Mentors generally spend up to one hour a week at the school with their mentee. Our schools accommodate the mentors' schedules and provide guidance to ensure that the experience is beneficial for both the mentor and the mentee.

We have about 10 weeks left in this school year, but it's never too late to become a mentor. We recruit mentors year-round and plan to reach out to community groups, churches, civic clubs, and other organizations this summer to secure mentors for the 2017-2018 academic year.

Whenever we talk about our mentoring program, we mention the phrase, "The Power of One." Through mentoring, one adult can make a significant difference in the life of a child. If you have the time and interest, we would love to have you as a mentor at a school in your neighborhood.

Become a mentor today!
If you are interested in becoming a mentor or would like for us to give a presentation to your organization about our mentoring program, please call Valerie Yatko, director of business and community partnerships, at (704) 866-6329.
W. Jeffrey Booker
Superintendent of Schools
Southwest Region Superintendent of the Year, 2016-2017