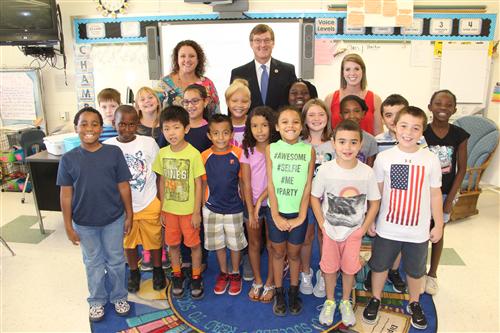 Superintendent's Weekly Message for February 20, 2017
We look forward to having you with us on Thursday for the 'Superintendent's Community Update.' It begins at 6:00 p.m. in the auditorium at Stuart W. Cramer High School.

The hour-long program is designed to give us an opportunity to update our parents, school employees, business and civic leaders, and others in the community about the progress we have made over the past three years. We also will highlight some of the school district's achievements and share information about what's ahead for Gaston County Schools.

The agenda will focus on taking a look at where we were when I became the superintendent in 2014, where we are now, and where we want to go.

The 'Community Update' is a continuation of our various outreach programs such as the 'Community Talks with the Superintendent' meetings in 2014, the 'Faith Summit' in 2015, and the 'Parent Focus Group' meetings in 2016. The overall purpose is to "continue the conversation" about our schools.

We are extending an invitation to everyone to attend the 'Community Update' on Thursday. It is so important for us to have input and support from our stakeholders as we work to make our schools better for all children in Gaston County.
W. Jeffrey Booker
Superintendent of Schools
Southwest Region Superintendent of the Year, 2016-2017