Expo focuses on careers in advanced manufacturing
Gaston County Schools in partnership with Gaston College will present the annual Manufacturing and Career Expo on Thursday, March 23. The event makes it possible for students to explore career options in advanced manufacturing that are right here in Gaston County.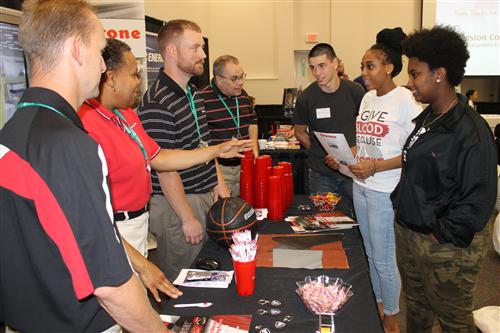 The theme is "Ignite Your Future: Introducing Students to Profitable Careers," and activities take place in the Myers Center on the college campus in Dallas.
Two sessions are planned: one from 9:00 - 11:00 a.m. for students from Gaston's public high schools (Ashbrook, Bessemer City, Cherryville, Stuart W. Cramer, East Gaston, Forestview, Highland School of Technology, Hunter Huss, North Gaston, and South Point) and one from 6:00 - 8:00 p.m. for other students, parents, teachers, and the community.
A highlight is keynote speaker Jeremy Bout of Edge Factor, who will talk about his company's use of video and interactive resources to highlight innovation; teach career pathways in manufacturing; and make science, technology, engineering, art, and mathematics relevant in today's world. His presentation includes "an inspiring message that merges Hollywood visuals with cinematic storytelling."
Representatives from American & Efird, CaroMont Health, Dixon Quick Coupling, Edge Factor, Firestone Textiles Company, Gaston Career Climb, Gaston County Economic Development Commission, Gaston Regional Chamber, Gaston Workforce Development Board, GSM Services, Hunter Douglas, LanXess, Mann+Hummel (Wix), Pharr Yarns, and PSNC Energy will be available to provide information to students about future job opportunities and answer questions.
"This event is important because it provides career awareness for students and introduces them to exciting job possibilities that are right here at home," stated Brett Buchanan, director of Career and Technical Education for Gaston County Schools. "We want our students to be 'college and career ready' when they graduate, and a part of this preparation is making sure that our students and their parents are aware of the career opportunities that are available in Gaston County."
To register for the evening session, which is open to the community, go to www.edgefactor.com/gaston. Attendees who pre-register will be entered in a prize drawing.
VIDEO:
Click below to watch a video from a previous Manufacturing and Career Expo.