Return to Headlines
Catawba Heights, Stanley win robotics competition
Catawba Heights, Stanley teams win annual robotics competition
Catawba Heights Elementary and Stanley Middle School took overall top honors in the sixth annual Gaston County Schools robotics competition held Saturday, March 11 at Forestview High School.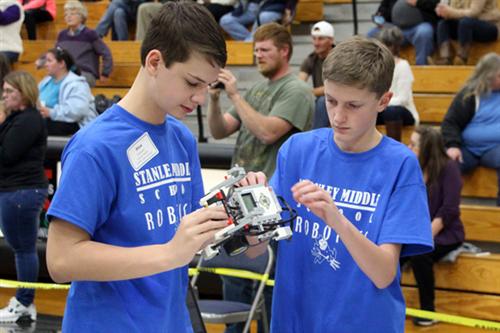 Gaston County Schools in partnership with CyberKids Robotics and the Gastonia East Rotary Club hosted the popular RoboGASTON academic event that gives students an opportunity to earn points in several categories, including robot performance, teamwork challenges, and research project presentations.

The event was the culmination of a year of practice and learning for the students, who have concentrated on how to build and program LEGO robots to carry out "missions" such as lifting LEGO bricks and pushing a ball into a net.

Judges graded each team in three categories: research presentation, teamwork, and robot runs. As part of their research presentation, each team explored a topic related to animal allies.

"Our team interviewed a local beekeeper and determined robots could help beekeepers preserve bees from possible extinction," said Stanley Middle robotics coach John Stone, whose team placed first in the middle school division.

Stone added, "This group of students has persevered when programs didn't work exactly the way they intended. They tweaked codes until the robot did what they intended for it to do."

Catawba Heights Elementary coach Jennifer Holder credits her students' ability to work together. "When you work together as a team, you can accomplish everything," she said.

Stanley Middle and Catawba Heights, along with the top six scoring teams from RoboGASTON, will advance to the Western North Carolina Robotics Championship on April 29. The other six teams moving on to the regional championship are Belmont Central Elementary, W.A. Bess Elementary, Bessemer City Central Elementary, New Hope Elementary, Pinewood Elementary, and Rankin Elementary.

Below is a list of the award winners from RoboGASTON 2017:

Elementary Schools
■ Overall Champion: Catawba Heights
■ Overall Runner Up: Bessemer City Central
■ First Place Project Presentation: Lowell
■ Second Place Project Presentation: Kiser
■ First Place Teamwork: Carr
■ Second Place Teamwork: Rankin
■ First Place Robot Performance: W.A. Bess
■ Second Place Robot Performance: Tryon
■ Spirit Award: Brookside
■ Gracious Professionalism Award: Robinson
■ Judges Award: Sherwood
■ Sponsor Award: Faith Dibble (W.A. Bess)

Middle Schools
■ Overall Champion: Stanley
■ Overall Runner Up: W.C. Friday
■ Project Presentation: Belmont
■ Teamwork: Holbrook
■ Robot Performance: Cramerton


Click below to view a slideshow of pictures.