Middle School Camp Offerings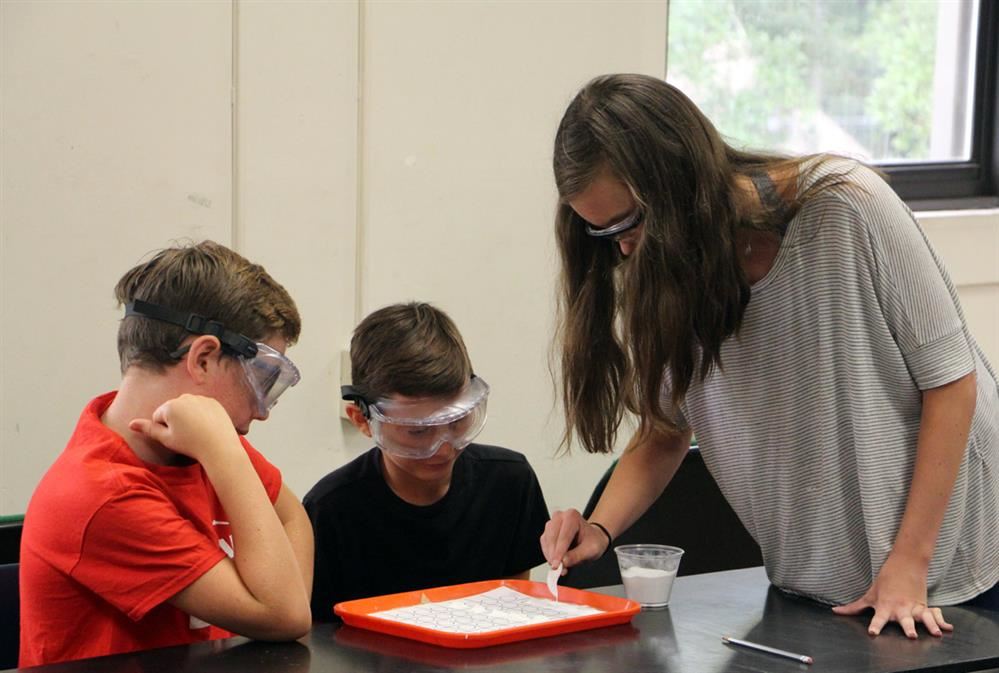 Sixth Grade Reading and Math Camp

June 14 - July 1 (M-Th) | July 12 - July 29 (M-Th)

8:00 a.m. - 3:15 p.m.

In-Person
Grier, Mount Holly, and W.C. Friday

Reading Theme: A Hero Lies in You

Our lives are surrounded by everyday heroes. We lose ourselves in movies and books about superheroes. During our six-week reading summer camp, rising sixth graders will explore key literacy skills/standards used in sixth grade by reading about heroes and superheroes. Students will design their own path of study through comics, graphic novels, nonfiction and fantasy as they explore what it takes to be a hero and how we all have special talents and gifts waiting to be discovered.


Math
Students will engage in a series of explorations and challenges designed to bridge prior learning to new skills to be learned in the upcoming grade.

Math Concepts to Be Explored: Ratios & Proportional Reasoning, The Number System, and Expressions & Equations
Seventh Grade Reading and Math Camp

June 14 - July 1 (M-Th) | July 12 - July 29 (M-Th)

8:00 a.m. - 3:15 p.m.

In-Person
Grier, Mount Holly, and W.C. Friday

Reading Theme: Museum of the Fascinating

People are fascinated by the unexplained. During our six-week reading summer camp, rising seventh graders will explore how to research like a journalist (think like a historian) as we examine an event from the past. As a mentor text, we will study the history of the RMS Titanic - the unsinkable ship that sank! Students will design their own path of study as they uncover a fascinating occurrence in history. Together, we will create a Museum of the Fascinating to showcase our exploration for others.


Math
Students will engage in a series of explorations and challenges designed to bridge prior learning to new skills to be learned in the upcoming grade.

Math Concepts to Be Explored: Ratios & Proportional Reasoning, Expressions & Equations, and Statistics & Probability
Eighth Grade Reading and Math Camp

June 14 - July 1 (M-Th) | July 12 - July 29 (M-Th)

8:00 a.m. - 3:15 p.m.

In-Person
Grier, Mount Holly, and W.C. Friday

Reading Theme: Finding the Funny

You've heard laughter is the best medicine. Overcoming challenges is often easier if we look at the humorous side of life; however, sometimes finding humor isn't always easy and can be a challenge in itself. In this six-week reading camp, rising eighth graders will examine the unique elements of comedy. You will learn how authors create humor and how they use humor to reveal a universal truth.

Math
Students will engage in a series of explorations and challenges designed to bridge prior learning to new skills to be learned in the upcoming grade.

Math Concepts to Be Explored: Equations & Inequalities, Functions, and Geometry
Science at its Best!

June 28 - July 1 (M-Th)

8:00 a.m. - 3:15 p.m.

In-Person
Grier, Mount Holly, and W.C. Friday

One exciting week of meeting the diverse needs of all rising eighth graders through discovery, investigation, experimentation and simulation! Students will engage in hands-on activities on matter, its properties, and physical and chemical changes. Students will explore atoms, elements, compounds and mixtures through the eyes of a SCIENTIST! Together, we will make SCIENCE COME ALIVE!
Gaston Blended Summer Edition

July 6 - July 30

Online | Self-Paced

Middle school students will have the opportunity to engage in a variety of activities at their own pace and at any time. Video lessons from Gaston County Schools teachers assist students in learning grade-level skills and standards, and students will receive automated feedback as they practice related activities. Students will also have the opportunity to create products to demonstrate their learning. The entire K-8 site is open and students can work within all grade levels.