Return to Headlines
Kia owner says 'thank you' with car giveaway
Kia of Gastonia owner says 'thank you' with car giveaway
Chris Hafer appreciates all that Gaston County Schools teachers and staff do every day to care for children. To show how much he values their efforts, the Kia of Gastonia president will give away a brand new car to the one employee chosen as the Kia Outstanding Educator.
On Wednesday afternoon (November 19), Hafer will present a 2014 Kia Soul to one of 57 employees who have been nominated by colleagues for their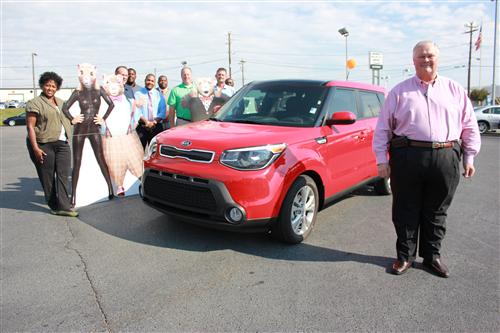 outstanding contributions to students. The announcement takes place at 4:00 p.m. at Stuart W. Cramer High School.
The Kia Outstanding Educator Awards program is Hafer's way of supporting those who do so much for Gaston County schoolchildren. "We just want to give back to the community and support our school employees," he said.
From the time he purchased the Kia of Gastonia dealership in November 2012, Hafer began looking for ways to reach out to the community. He is a supporter of child advocacy organizations like the Boys and Girls Club and has always appreciated teachers and school employees.
Hafer's commitment to schools and education goes beyond the annual car giveaway. Kia of Gastonia also offers its own employee pricing to all teachers and employees of Gaston County Schools, which is a significant discount at just one percent over invoice.
"We believe that the school system is the true backbone of our society. For that reason, we have devised a way to give back to those who give so much to the future of our children," said Hafer.
Kia of Gastonia is located at 4290 Wilkinson Blvd., where the sales and service departments have received the coveted Kia President's Award. For information about special pricing for Gaston County Schools employees, call (888) 687-2150 or visit www.kiaofgastonia.com.
IN THE PICTURE
: Kia of Gastonia president Chris Hafer (right) stands with Kia employees beside a 2014 Kia Soul at the car dealership on Wilkinson Blvd.
Thank you, Mr. Hafer and Kia of Gastonia, for sponsoring the Kia Outstanding Educator Awards program. We appreciate your willingness to support our loyal school employees who go the extra mile every day to help children.