Return to Headlines
What's ahead for 2017-2018 academic year
Immediate Release
August 25, 2017
Contact: Todd Hagans
Chief Communications Officer
Office: (704) 866-6118
Cell: (704) 718-0279
E-mail: tthagans@gaston.k12.nc.us
Gaston County Schools anticipates the first day of school on August 28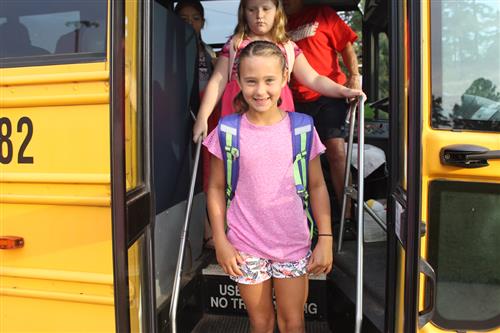 Gastonia, N.C. – It's back-to-school time in Gaston County! When the morning bell rings on Monday, August 28, approximately 32,000 students (pre-kindergarten through high school) will walk through the schoolhouse doors in neighborhoods across Gaston County to start the 2017-2018 academic year.
The 32,000 figure includes more than 2,300 seniors in the Class of 2018, who are already looking ahead to life beyond graduation, and approximately 2,400 kindergarteners, who are beginning their K-12 education journey.
Leading up to opening day, schools conducted orientation/open house programs for students and parents, employees were involved in staff meetings and professional development, teachers spent many hours preparing classrooms, and the district kicked off the new school year with its annual Back-To-School Convocation.
"Our schools are ready for the 2017-2018 academic year, and we are so pleased to welcome our students and teachers back to school," stated Superintendent of Schools W. Jeffrey Booker. "In the year ahead, we hope to see our students and teachers take advantage of the many excellent opportunities for quality teaching and learning in our classrooms. We also look forward to seeing our students and employees win awards for their outstanding achievements, and we want to establish more partnerships with our parents, businesses, and the community."
Booker added, "Everyone in the Gaston County Schools family is anticipating another productive school year that gives us plenty of reasons to celebrate our schools."
This year, Gaston County Schools has more than 1,900 classroom teachers – approximately 130 of them are first-year teachers. The new teachers are participating in the district's Teacher Induction Program for Success (TIPS), which is designed to ensure educators thrive in their new career.
Back-to-school information about registration, health requirements, report cards, orientation and open house programs, parent conferences, athletics, inclement weather procedures, and more is available on the school district website, www.gaston.k12.nc.us, under Quick Links.
Below is some additional information for parents and the community as students in Gaston County Schools head back to class on Monday, August 28.
▪ Celebration theme for the school year
Again this year, "Celebrate! Gaston County Schools" is the theme for the school year. The theme is appropriate as the district approaches its 50th anniversary celebration next school year (2018-2019). Gaston County Schools was formed in 1968 with the consolidation of the county schools with the Gastonia city and Cherryville city schools.
▪ New principals at 11 schools
Eleven schools have principals that are new to the school for the 2017-2018 year: H.H. Beam Elementary – Leigh Smith; Chapel Grove Elementary – Chad Carper; Forestview High – Crystal Houser; W.C. Friday Middle – Andrea Meyer; Lowell Elementary – Kristin Kiser; McAdenville Elementary – Lucretia Rice; New Hope Elementary – Lynn Whiteside; Page Primary – Bill Kessler; Rankin Elementary – Donna Kelly; Robinson Elementary – A.T. Pearson; and Southwest Middle – Cindy Hester.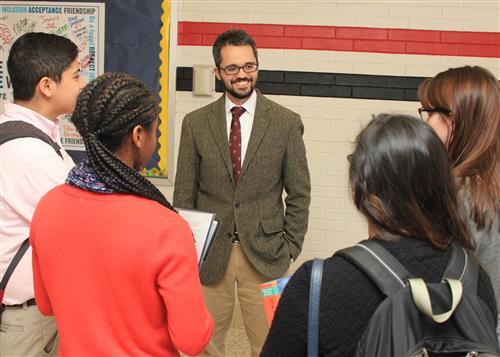 ▪ State Teacher of the Year back at school
Gaston County's Bobbie Cavnar, the 2016-2017 North Carolina Teacher of the Year, is back in his classroom at South Point High School in Belmont. However, his time of serving as an advocate for teachers and public education isn't over. He will continue to act as an adviser to the North Carolina State Board of Education and a member of the State Superintendent's Advisory Council. Additionally, he is one of 24 educators chosen to serve on Governor Roy Cooper's teacher advisory committee, and he is one of five finalists in the running for the National Award of Teaching Excellence presented by the NEA Foundation.
▪ Two new schools opening this year
Two new school campuses are opening this academic year. The grand opening and ribbon-cutting ceremony for Pleasant Ridge Elementary School was held August 20. The 122,000-square-foot school in west Gastonia has approximately 800 students in grades K-5. The new Stanley Middle School is scheduled to open in January. It will feature 135,000 square feet of space and house 800 students with the ability to accommodate 1,000. The new middle school is under construction behind the existing school on Hovis Road.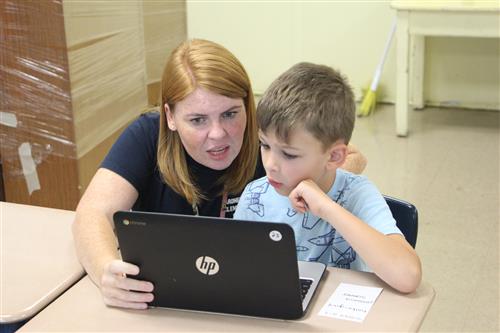 ▪ The emphasis is on academics, technology
This year, like every year, the emphasis is on academics. Much time and energy have been put into enhancing our academic programs at the elementary, middle, and high school levels, which is yielding positive results. Through Career and Technical Education, students are learning how to be prepared for life after graduation, whether it's going to college or into the workforce. Programs such as Students@Work and Educators in the Workplace with the Gaston Regional Chamber and Career and College Promise with Gaston College are helping students to make connections between school and "the real world." To further enhance academics, the district will continue its efforts to provide up-to-date technology for students and teachers to use in their classrooms.
▪ Test results coming in September
Test results for the 2016-2017 year will be released on September 7. The results will give the public a look at how well our students did on the end-of-grade and end-of-course state tests that were administered in May and June. Gaston County Schools is expecting to see an increase in its graduation rate and higher academic growth and student proficiency.
▪ Two new magnet programs
There are two new magnet school programs in Gaston County Schools – the Gifted and Talented Academy at Pleasant Ridge Elementary for grades K-5 and the Gaston County Virtual Academy for grades 6-8. The Gifted and Talented Academy provides accelerated learning opportunities for 200 students, who were chosen to attend the school through an application and lottery process. Ideal for homeschool students, the Virtual Academy makes it possible for students to complete classes online with a concentration on personalized learning and schedule flexibility. With the addition of these programs, the school district has five magnet schools. The others are Highland School of Technology, Gaston Early College High School, and Hawks Nest STEAM Academy.
▪ Students spent time learning over the summer
Several enrichment programs kept the focus on learning over the summer. The "Camp Achieve" reading program for grades 1-3 provided individual and small-group instruction to improve reading and comprehension skills. The reading camp was conducted at seven school locations across the county. Other summer camps focused on science, math, and technology through robotics as well as creative writing and social studies for middle school students and college prep activities for high school students.
▪ Continued focus on school safety
Gaston County Schools will continue its focus on school safety in the new school year. Safety initiatives include police resource officers assigned to all schools, a buzz-in entrance system and identity management (visitor check-in) system in use at each school, updated camera and surveillance equipment, comprehensive school safety plans, and an on-going partnership with local law enforcement agencies. Of the ten largest school districts in the state, Gaston County once again is the safest large school district based on school crime data, which is calculated annually by the state.
▪ New program addresses bullying
Since 2010, Gaston County Schools has been involved in the Rachel's Challenge program that encourages students to "start a chain reaction" toward compassion and kindness toward others. This year, our schools are transitioning from Rachel's Challenge to "STAND UP Gaston," a new character education/anti-bullying program being launched in October in partnership with The Shelter of Gaston County. This program, along with our school counselors and other student support personnel, will focus on anti-bullying efforts and provide resources for students and parents.
▪ 17 new buses; motorists should use caution
Approximately 16,000 children rely on school bus transportation. Gaston County operates 210 yellow school buses and 47 white activity buses – 16 new yellow buses and one new activity bus were added to the fleet to replace older buses. All buses were inspected over the summer. They are equipped with security cameras and a GPS (Global Positioning System) to ensure student and driver safety. Motorists are reminded to use extreme caution when approaching a school bus and to watch for children in the early morning and afternoon hours when the buses are on the road.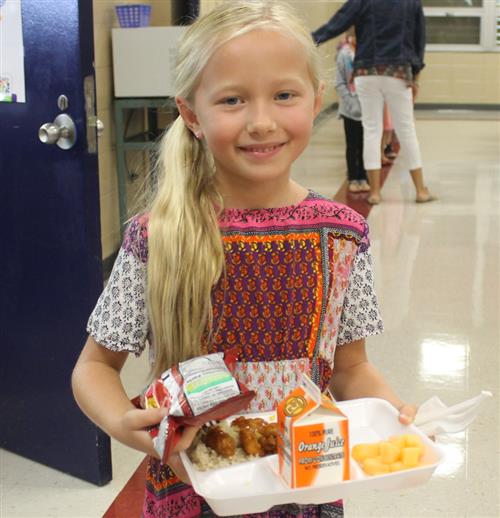 ▪ Meal prices unchanged, free meal program continues
Meal prices remain the same as last year. The student lunch price is $2.70 for elementary schools and $2.80 for middle and high schools. The adult lunch price is $3.75. Breakfast meals cost $1.20 for students and $1.50 for adults. Again this year, breakfast and lunch meals are being provided free-of-charge to all students at 19 schools: H.H. Beam Elementary, Bessemer City Central Elementary, Bessemer City Middle, Bessemer City Primary, Brookside Elementary, Carr Elementary, Chapel Grove Elementary, Gardner Park Elementary, Grier Middle, Lingerfeldt Elementary, North Belmont Elementary, Pleasant Ridge Elementary, Sadler Elementary, Southwest Middle, Springfield Elementary, Tryon Elementary, Warlick Academy, Woodhill Elementary, and York Chester Middle. The free meals are made possible through a program sponsored by the USDA Food and Nutrition Service. This summer, more than 100,000 breakfast and lunch meals were provided to approximately 2,450 children at 70 sites across the county. The annual summer feeding program ensures that children have nutritious meals even when they are away from the classroom.
▪ All schools cleaned, repairs made
School buildings were cleaned thoroughly over the summer and received various upgrades including minor repairs, painting, flooring (tile/carpet), windows, landscaping/grounds, etc. Significant projects were conducted at more than 30 school locations. The projects included water/sewer and restroom improvements, gymnasium and stadium work, HVAC upgrades, new signage, parking lot repairs, media center and auditorium lighting, and life safety updates.
▪ More school partnerships and mentors
Again this year, the school district is seeking caring adults to serve as school mentors. Mentors spend up to one hour per week at the school with a student, talking and offering encouragement, helping with homework, offering advice about college and career plans, and providing positive support. Mentors complete a background check and one-hour training session, which are held at various times throughout the school year. Anyone interested in joining the mentoring program should call (704) 866-6329 for more information. Additionally, efforts are under way to increase the number of school partnerships with businesses, civic groups, and community organizations.
▪ Stay connected with Gaston County Schools
Students, parents, employees, and the community are encouraged to stay connected with Gaston County Schools by visiting the district website (www.gaston.k12.nc.us), each school website, "liking" us on Facebook, following us on Twitter, watching us on Spectrum Cable Channel 21 and YouTube, and downloading our free mobile app from the Google Play or Apple iTunes online stores. Parents are reminded to contact their child's teacher or the school principal when they have a question, concern, or suggestion.