Return to Headlines
Students compete at inaugural Cyber Drones Expo
Five high school teams compete at inaugural Cyber Drones Expo
Drones zoomed over the football stadium at Bessemer City High School during Gaston County Schools' first Cyber Drones Expo.
Teams from five high schools competed against one another, showing off their drone flying skills and sharing proposals for drone-based businesses during the May 9 event.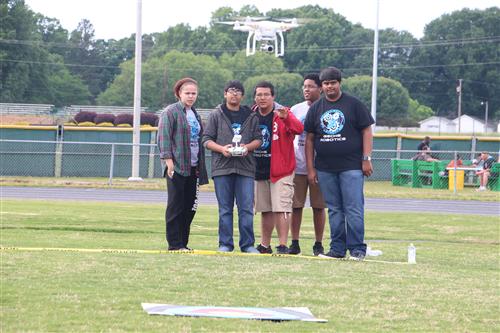 The Cyber Drones Expo showcased how Gaston County Schools students are getting the chance to learn about new technology and then connect it to their classroom lessons and real-world situations.
Over the last year, high school classes and after-school clubs learned how to fly the robotic drones while also discussing principles of physics, engineering, math, business and other topics.
Gaston County Schools hosts the program through a partnership with CyberKids Robotics. It offers many benefits to students, said Tammy Mims, curriculum facilitator.
"A large part of it is critical-thinking skills," she said. "Plus, they are exposed to flight engineering skills and have to learn about altitude, wind speed and wind direction; all the different things an airplane pilot would have to learn about."
Preparation for the Expo also gave them the chance to develop teamwork. Each student group designed a plan for a drone-based business and developed a presentation to give to judges.
Even though commercial use of drones is currently restricted, this project challenged students to envision how they might be used as legislation is developed.
"They have to anticipate cost and design and who they're going to contact for what resource and so on," Mims said. "These are life skills they're developing."
A team from Gaston Early College High School took home the trophy for best business plan. They envisioned a real estate company that would use drones to take photos and video of properties and assess their square footage.
Charles Gardner, a science teacher at Gaston Early College and the club sponsor, said it was an invaluable experience for his students.
"It goes way beyond just building and designing robots or business plans," he said. "The teamwork, camaraderie, leadership and social skills that are developed from working in such a small group over a long time period on a singular goal or focus is what the students will take with them for the rest of their lives. They learn how to work with each others' strengths and support each others' weaknesses to create something real and tangible that they will ultimately be judged upon."
GCS Cyber Drones Expo - Winning Teams
Best Overall Score: "HST Drones," Highland School of Technology
Best Business Presentation: "Spartans Team 2," Gaston Early College High School
Best Selfie: "Flight Club," Bessemer City High School
Teams participating
:
Bessemer City High School
Sponsor: James Hilburn
"Flight Club" - Abigail Carroll, Christian Ivey, Nick Tallent, Chris Turner, Cameron Walters
Cherryville High School
Sponsor: Joy Cash
"Black and Blue Crew" - Brenton Lawing, Garrett Burleson, JJ Jenkins, Wade Hicks, Josh Thornton
"Ironmen" - Hunter Thomas, Tyler Pruett, Davonta' Martin, Jacob Hannah
Forestview High School
Sponsor: Sam Braxton
Fall team - John Hueck, Will Booker, Madison Shoemaker, Bailey Campbell, Clayton Wilson, Reis Clark
Spring team - Reis Clark, Ashley Westerman, Mason Clement
Gaston Early College High School
Sponsor: Charles Gardner
Fall team - Brijesh Patel, Andy Rhyne, Selvin Lendos, Parth Patel, Shane Fogarty, Elijah Farrington, Ty Warsinsky, Kaleb Spicer, Hunter Gosnell
Spring team - Brijesh Patel, Selvin Lendos, Andy Rhyne, Parth Patel, Shane Fogarty, Chloe Lovelace, Adrian Elgin, Derrick Johnson
Highland School of Technology
Sponsor: Kevin Ingram
"HST Drones" - Caleb Kiser, Geovany Gomez, Benjamin Blackwell, Matthew Johnson, Sonny Whitlock