Return to Headlines
Mentoring is twice as nice for Scott Crabtree
Mentoring at H.H. Beam Elementary is twice as nice for Scott Crabtree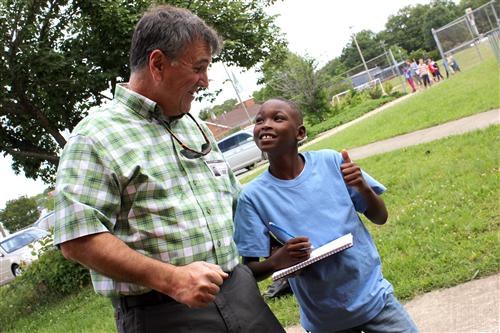 When Scott Crabtree first signed up to be a mentor in Gaston County Schools, he thought he would be asked to help students with math or reading. It turned out to be more fun and rewarding.
As a mentor to two fourth grade students at H.H. Beam Elementary School, he has spent time playing bocce ball, making paper airplanes, and building a model car along with other activities. With two mentees, the experience is "twice as nice" for Crabtree.
Crabtree said he chose to volunteer at H.H. Beam because "I think volunteering in this way is a great opportunity to care for our community."
He quickly realized that mentoring wasn't so much about working on academic skills. "It was more about just having a break for the kids - something they can look forward to, something that's different," he said.
Crabtree recognizes that it makes a difference when he shows up each week just to spend time with the boys. "It's the relational piece that is most important," he said. "Being able to model what was modeled for me when I was that age is an incredible opportunity."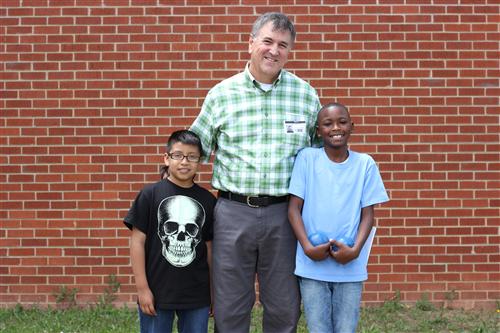 The mentoring program is an important way for the community to come alo
ngside teachers and invest in our schools, Crabtree believes. "I welcome the opportunity to lend a hand." Because community members take time to volunteer, he said, teachers and staff members can know "all these people really care about these kids, and we're not alone.
"
He also appreciates how flexible the program is. With a job that frequently takes him on trips around the country or even overseas, he is able to make changes to his mentoring schedule as needed.
Unlike test scores and the letters on a report card, a mentor's impact can't be measured, but Crabtree said he was able to catch a glimpse of it one afternoon last spring. He and his mentees were outside working on a paper airplane kit when a few students from another class noticed what was happening and immediately came over to join in. He remembers them asking his students, "Oh man, how can I get a mentor?"
"It is just really neat for the two boys," Crabtree said. "They had something that somebody else wanted."
Thank you, Scott Crabtree, and all mentors in our schools for making a difference!
Become a Mentor
Are you the one caring adult who can be a positive influence in a child's life? If you are, you should become involved in our mentoring program. January is National Mentoring Month and we are working to expand our program. All it takes is giving one hour a week to offer help, provide support, and serve as a role model to a student - just like Scott Crabtree does. Click here for more information and to register for our next training session.