Return to Headlines
BYOD the latest technology tool for schools
BYOD the latest technology tool for schools
Angela Datz Blanco gave her Spanish II students a research assignment: choose a topic they are passionate about, learn what it looks like in Spanish culture, and report back to the class.
Instead of going to the library or working on the project at home, the North Gaston High School students headed to the corner of the classroom to pick up their cell phones, which had been stored in the clear plastic pockets of a shoe organizer. Now, the phones became research tools.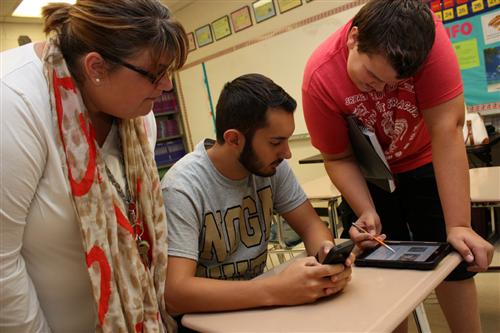 The students searched the Internet for topics like soccer, theater and the practice of medicine and shared what they were reading and learning by showing photos or playing movies. They compared rules about animal treatment in Spain and America and learned about Mexican lucha libre professional wrestling.
This practice is BYOD – or Bring Your Own Device – that brings learning into the classroom through technology. Thanks to recent investments in technology infrastructure such as wireless Internet access at all schools, Gaston County Schools is introducing BYOD learning to teachers and students – a trend that is taking place in school districts across the country.
North Gaston is one of the first schools in Gaston County to adopt the method, and all 56 campuses have the potential to implement BYOD this school year.
"Today, technology is a learning tool just like paper and pencils," said Cindee Matson, assistant superintendent of administration, who is overseeing the rollout of BYOD in Gaston County Schools.
Unlike paper and pencils, however, technology is expensive. While the district could not afford to buy a laptop for every student – Matson estimates that could cost $11 million – the BYOD program gives everyone access to a computing device. And as students and teachers bring their smartphones, tablets or laptops from home, they will have access on a daily basis to the ever-growing range of educational tools and content available on the Internet.
For several years, schools have had to work to keep cellphones out of students' hands during the day. But when this happens, Matson said, "We are taking a wonderful learning tool away from them. We have to say 'yes' to cellphones in a protected way."
With BYOD, students will get to use their devices for educational purposes in a safe, content-filtered environment. Each school planning to implement BYOD is required to create classroom management strategies such as North Gaston's clear plastic shoe organizers to ensure that devices are used for learning and not distraction.
Datz Blanco requires her students to keep the phone face down on the corner of the desk. If a student picks it up without permission, the student loses the privilege to use the phone in class.
"I don't have any issues because the students know I'm serious. If you lose the use of your phone, you may not be able to complete the work," said Datz Blanco.
Judy Moore, principal at North Gaston, is an advocate for BYOD because it allows students to take ownership of learning. Rather than having students listen passively to a lecture, BYOD might allow them to prepare a slideshow, record a video, or participate in a quiz game with their device.
"The whole purpose of BYOD is to change the teacher's paradigm from direct instructor to facilitator," Moore said. "Whoever is doing the work in the lesson plan is the one doing the learning."
Datz Blanco, the North Gaston Spanish teacher, said the first few weeks of BYOD have opened new opportunities for learning. The students are excited to bring their devices into the classroom and have used them responsibly.
"With technology, the sky's the limit on what we can do. We can make that connection between the classroom, the Spanish culture and the community outside of Dallas," she said.
Click here for a slideshow of pictures.
Questions and Answers about BYOD
▪
What is BYOD?
Bring Your Own Device (BYOD) means students and teachers can take their own smartphones, tablets or laptops to school to be used as part of classroom learning. It is a way to provide greater access to educational tools and content on the Internet and can help students become more engaged in learning.
▪ Will parents need to buy anything for students to participate in BYOD?
No. Students may bring their own phone, tablet or laptop. For students who do not have a device, Gaston County Schools has provided each school with Chromebook laptop computers. These will be available for students to borrow individually for use in the classroom, when needed. Also, since students will use the school's Wi-Fi network, they will not use their device's data plan and will not incur additional charges.
▪ Will students be safe when they are using their phones or tablets at school?
Yes. The Children's Internet Protection Act (CIPA) addresses concerns about children's access to harmful content on the Internet. School systems are required by this law to put in place protective measures that block or filter Internet content. Gaston County Schools' Internet filters block inappropriate content not only for computing devices on the BYOD network, but devices on all of the school district networks.
▪How will schools ensure the devices aren't used for games or other distractions?
Every school wishing to participate in BYOD must prepare a device management plan. At North Gaston High School, for instance, areas of the school are marked as red, yellow, or green to indicate where students are permitted to use their own devices. Additionally, each teacher has a classroom management plan.
▪ What if a phone or tablet stops working at school?
The student is responsible for his/her own device. Cindee Matson, assistant superintendent of administration, compared the BYOD network to getting on Wi-Fi at Starbucks. "The barista is not going to help you with your laptop; similarly, the teacher can't stop a lesson to help students fix their phone," said Matson, who believes the policy will encourage students to take good care of their devices.