Return to Headlines
Bess Elementary media specialist wins Kia award
Media specialist Julie Shatterly wins 2015 Kia Outstanding Educator Award
For Julie Shatterly, the second time was the charm.
The media specialist at W.A. Bess Elementary was the winner of a new Kia Soul Wednesday afternoon, as her name was selected in a random drawing from 56 nominees for the 2015 Kia Outstanding Educator Award.
It was the second year in a row Shatterly was nominated by her colleagues for the award, which recognizes the unsung heroes of Gaston County Schools.
This time around, her name was on the card pulled from the bin.
"I couldn't believe it," Shatterly said. "I'm overwhelmed and so excited."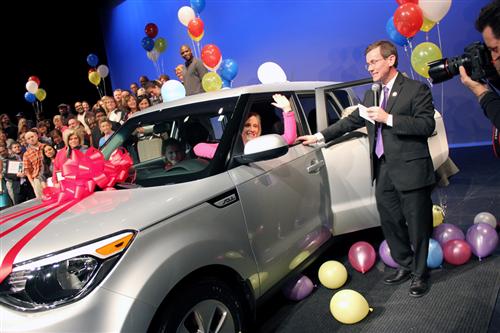 The ceremony was held at Stuart W. Cramer High School, where nominees were recognized for their contributions to Gaston County Schools and received a plaque from Superintendent of Schools W. Jeffrey Booker.
Each school and the central office selected a nominee for the award. They included teachers, custodians, office personnel, teacher assistants, cafeteria workers, bus drivers and support staff.
Booker thanked the nominees for their work.
"These folks have been recognized as unsung heroes," Booker told the audience. "They are the ones that do the little things that add up to the big things of student achievement."
At W.A. Bess Elementary, Shatterly is known for the way she cares for students and her dedication to sharing her love of books and reading.
In her nomination letter, Principal Laura Dixon described a day when the school lost electricity. Shatterly saw it as an opportunity: she brought entire grade levels of children into the media center to tell stories.
"She knows each and every student and what genre they enjoy reading," Dixon said. "She exhibits the heart and soul of W.A. Bess Elementary School."
In addition to her work in the library, Shatterly also serves as the school's network operator, Dixon said: "She is our go-to person when we have technology issues."
Shatterly's award marked the second time the Kia winner has come from W.A. Bess. The first-ever winner was custodian Omer Salazar, who was on stage Wednesday to congratulate Shatterly and celebrate with her.
Also present at the ceremony was Stevie Anderson, a custodian at Gardner Park Elementary, who won in 2014.
Chris Hafer, president of Kia of Gastonia, has sponsored the awards program for three years.
During the event Superintendent Booker, along with Board of Education members Dot Cherry, Lee Dedmon, Dot Guthrie, Kenneth Lutz, Jeff Ramsey and Catherine Roberts, thanked Hafer for his generous contributions to Gaston County Schools.
Hafer told the audience he wanted to recognize educators for their contributions to the community.
"Teachers and everybody in education have a tough job. They have a lot of hurdles to overcome," he said. "This is our small way of helping out and saying thank you."
For a photo slideshow of the ceremony, click here.