Return to Headlines
Pinewood's Kim Costner wins new car from Kia
Pinewood's Kim Costner wins a new car from Kia of Gastonia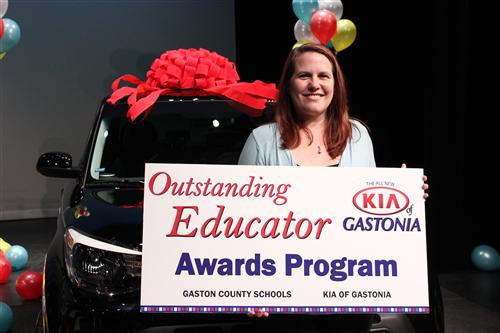 A new car will make a difference for a teacher who is already making a difference in children's lives. Kim Costner, the computer lab teacher at Pinewood Elementary, was the lucky winner of a brand new Kia Soul during Gaston County Schools' fourth annual Kia Outstanding Educator Awards ceremony.
"This is such a blessing," said Costner, after sitting down behind the steering wheel of her new car.
Along with 54 other nominees, Costner took the stage at Stuart W. Cramer High School on Wednesday afternoon to see who would win the random drawing for a new car donated by Kia of Gastonia. Every school in the district along with the central office selected one Kia award nominee. The nominees were honored for dedication to their job and outstanding service to children.
Costner said the car would be a big help for her family. She and her husband share one vehicle, and since she was recently diagnosed with multiple sclerosis, another car will help her with getting to doctor's appointments.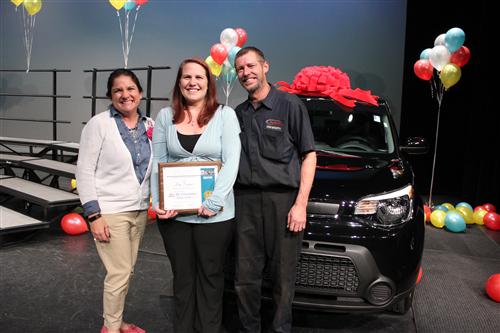 Helping teachers is the purpose of the awards program, said Chris Hafer, Kia of Gastonia owner. He explained that the car giveaway is a way to show his appreciation for what educators do each day.
"Just realize that you make a difference in kids' lives," he told the audience. "Your job is super important just by taking the time with those kids."
Superintendent of Schools W. Jeffrey Booker said the awards program gives educators an opportunity to be recognized for how important their work is, even if much of it happens behind the scenes. Many of the nominees were bus drivers, custodians, and other support staff members.
"Our awards today honor the 'unsung heroes' of our schools," Booker said. "Their colleagues recognize the difference these people make in the lives of children every day."
"All of you are winners because you represent the 'best of the best' in public education," added Jeff Ramsey, vice chairman of the Gaston County Board of Education, who thanked Hafer for continuing to partner with Gaston County Schools. "We are here today because Mr. Chris Hafer believes in supporting the community."
Want to see the recognition of award nominees and the winning announcement for Pinewood Elementary's Kim Costner? The ceremony will air on Time Warner Cable Channel 21 November 23 through December 4 at 9:00 a.m., 2:30 p.m., 5:00 p.m., 8:00 p.m., and 11:00 p.m.
■
Kia Outstanding Educator Award Nominees
Below is a list of the award nominees for 2016:
Ashbrook High – Andrew Collins
H.H. Beam Elementary – Amy Jackson
W. Blaine Beam Intermediate – Lara Britton
Belmont Central Elementary – Lisa Austin
Belmont Middle – Brianna Beaver
Bess Elementary – Tiffany Hobbs
Bessemer City Central Elementary – George Wilson
Bessemer City High – Marsha Beattie
Bessemer City Middle – Amy Medlock
Bessemer City Primary – Anne Hildreth
Brookside Elementary – Kelley Wright
Carr Elementary – Teresa Mauney
Catawba Heights Elementary – Ronnie Summey
Central Office – Lindy Perry
Chapel Grove Elementary – Kim Bolynn
Chavis Middle – Ed Ware
Cherryville Elementary – Katie Estes
Cherryville High – Scott Harrill
Costner Elementary – Dana Sturgill
Stuart W. Cramer High – Georgia Kirkland
Cramerton Middle – Jimmy Mason
East Gaston High – Billy Morrow
Forestview High – Kymme Barber
Friday Middle – Joseph Rothwell
Gardner Park Elementary – Druscilla Hill
Gaston Early College – Terri Springer
Grier Middle – Mike Moss
Hawks Nest STEAM Academy – Jeni Spottswood
Highland School of Technology – Rose Worley
Holbrook Middle – Lee Connor
Hunter Huss High – James Eason
Kiser Elementary – Jenna Brown
Lingerfeldt Elementary – Jeff Bowers
Lowell Elementary – Robin Bowen
McAdenville Elementary – Cindy Smith
Mount Holly Middle – Charles Bush
New Hope Elementary – Melanie Smith
North Belmont Elementary – Jennifer Cory
North Gaston High – Cathy Lineberger
Page Primary – Beverly Cook
Pinewood Elementary – Kim Costner
Pleasant Ridge Elementary – Tykevius McDowell
Rankin Elementary – James Mack
Robinson Elementary – Darlene Oakley
Sadler Elementary – Gary Brooks
Sherwood Elementary – Warren Williams
South Point High – Devares Friday
Southwest Middle – Beverly McCarter
Springfield Elementary – Michelle Bullock
Stanley Middle – Lorie Parker
Tryon Elementary – Jennifer Hatcher
Warlick Academy – Kathy Scott
Webb Street – Stan Neely
Woodhill Elementary – Robbin Currence
York Chester Middle – Reola Allen
Click here
to visit our Kia Outstanding Educator Awards webpage.