Return to Headlines
Stanley teacher gets award, new car from Kia of Gastonia
Stanley Middle School teacher wins Kia Outstanding Educator title and new car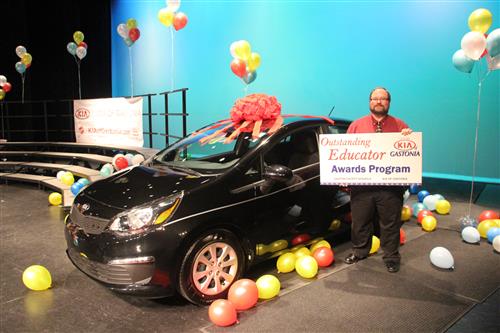 A Stanley Middle School teacher is ready to trade in his 1999 Honda Accord for a brand new Kia Rio.

John Stone, a seventh grade language arts teacher, was the lucky winner whose name was drawn during Gaston County Schools' fifth annual Kia Outstanding Educator Awards. The ceremony was held Thursday, November 16 at Stuart W. Cramer High School.

"Winning the car is amazing," said Stone, standing by his shiny new vehicle moments after hearing his name called as the winner. "I never thought it would happen."

Along with 54 other nominees, Stone dropped his name into a hopper where it was chosen at random to win the new car donated by Kia of Gastonia. Every school in the district and the central office nominated a candidate for the award based on dedication to their job and the outstanding service they provide for students.

Stone said while he's excited to win the grand prize, it was an honor just to be nominated and represent Stanley Middle at the event.

"It was amazing," he said. "I just love my school, and I was born to be a teacher. That's what I was meant to do."

Stone's wife, Trish, said she was excited about the car, but even more proud of her husband.

"He's been teaching for more than 20 years and is a true educator," she said. "He deserves this."

The ceremony marked the fifth year of the Kia Outstanding Educator Awards, a milestone that didn't go unnoticed by Superintendent of Schools W. Jeffrey Booker.

"This special partnership with Kia of Gastonia to recognize outstanding educators is an amazing opportunity," said Booker. "The program is designed to recognize our 'unsung heroes,' employees who deserve praise for a job well done, but don't always get their moment in the spotlight."

Congratulations to winner John Stone and all nominees for the Kia Outstanding Educator Award!

■ WATCH IT ON TV
The Kia Outstanding Educator Awards ceremony was recorded and will air on Spectrum Cable Channel 21 November 27 through December 3 at 9:00 a.m., 11:30 a.m., 2:00 p.m., 5:00 p.m., 8:00 p.m., and 10:30 p.m. each day. The video also will be available on the Gaston County Schools YouTube channel.

Click here to visit our Kia Outstanding Educator Awards webpage.