Return to Headlines
TIPS gets new teachers ready for the classroom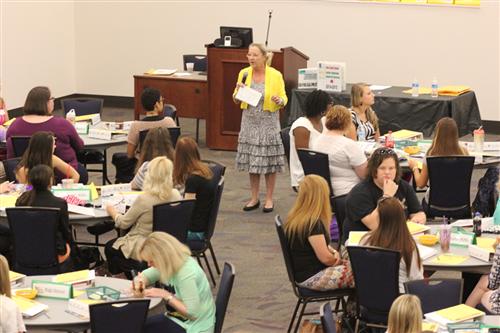 TIPS training gets new teachers ready for the classroom
More than 100 first-time teachers and those new to Gaston County Schools are getting ready to step into the classroom.
Last week, they spent three days participating in the Teacher Induction Program for Success (TIPS). The program introduces teachers to Gaston County Schools and helps them prepare for the year ahead.
The TIPS training included seminars about school safety, the student code of conduct, employee conduct and code of ethics, diversity, school policies and law, professional teaching standards, social media use, and other topics.
Marilyn Dedmon, who coordinates TIPS and professional development for Gaston County Schools, told the new teachers: "We are going to do everything in our power to make you successful teachers and you in turn will be able to produce successful students."
During the TIPS opening session on August 13, Jeff Ramsey, vice chairman of the Gaston County Board of Education, welcomed the new teachers. Superintendent of Schools W. Jeffrey Booker shared information about the school system and challenged the new teachers to go beyond expectations.
"Our new teachers are highly qualified educators who will make a significant difference in our classrooms," stated Booker. "We thank them for choosing Gaston County Schools to begin their career in public education, and we look forward to having them as part of our school family."
What They Had to Say ...
Gaston County Schools is welcoming more than 100 new teachers this year. At last week's Teacher Induction Program for Success (TIPS), four of them explained why they chose Gaston County Schools and what they are looking forward to in the year ahead.
"I want to make a big impact on the children's lives," said Jhaneese Simmons, third grade teacher at Rhyne Elementary.
"It's my turn to give something back to the school," said Kalinga Amarasinghe, computer networking teacher at the Highland School of Technology. He said he's thankful for the education his son received at Highland – Sam Amarasinghe was the 2013 valedictorian – and looks forward to teaching there after spending several years as an adjunct professor at York Technical College.
"It's nice they go out of their way to put this training on for us," said first-time teacher Brittany Belle Isle about TIPS. She will teach fifth grade at Hawks Nest Intermediate. "It will definitely be a challenge, and I'm excited about it."
"This will be a great opportunity to give back to what I love so much: school spirit, pride in your school, and the opportunity for an education," said Kiara Marshall, English teacher at East Gaston High School and junior varsity cheerleading coach.
Click here for a slideshow of pictures from the TIPS training.