Business and Community Partnerships
Return to Headlines
GCS says 'thank you' to mentors
Gaston County Schools honors mentors at luncheon
South Point High School's Reginald Dawkins is the recipient of the 2016 Paul Fuller Scholarship
They are making a difference, one child at a time.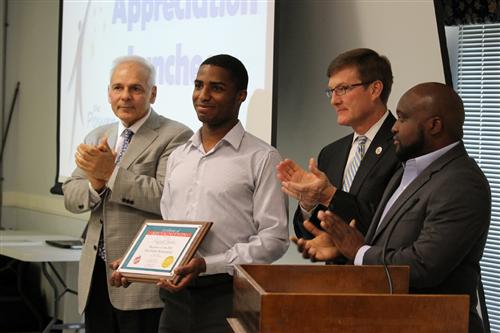 Gaston County Schools thanked community volunteers in its district-wide mentoring program during a luncheon on Thursday, May 5 at First A.R.P. Church in Gastonia. Founded in 1992, the mentoring program currently has 250 volunteers who meet with a student for one hour a week during the school year.
Superintendent of Schools W. Jeffrey Booker thanked the approximately 100 mentors who attended the luncheon, which
was sponsored by AIS Advanced Imaging Systems.
"Mentors are important not only to their students, but also to the teachers and staff members at every school," stated Booker. "We are very grateful for our mentors and thank them for the time they give to our children."
The event highlighted several mentoring success stories, including Reginald Dawkins, a South Point High School senior. Dawkins received the Paul Fuller Scholarship, which is a $1,000 award (re
newable for four years) that is presented annually to a senior who has participated in the mentoring program.
Dawkins will use his scholarship at Western Carolina University where he plans to study music education. He has been an outstanding band student and member of the color guard at South Point, including being part of the all-county and all-district bands as well as the Carolina Crown Drum and Bugle Corps Color Guard. Dawkins said his experience being mentored while in middle school helped to set him on a course for success.
"Thank you for inspiring me to do the best I can," he told his mentor,
Van Hawkins, who attended the ceremony.
A student currently in the mentoring program also shared about the difference mentoring has made in his life. Kezhon Boulware, a seventh grader at York Chester Middle School, said the weekly visits with his mentor have changed his perspective on school.
"I used to be the one who didn't care about grades, but now I'm on the A-B honor roll," Boulware said.
He described his mentor, Walt Windley, as a father figure: "He encourages me to keep my dreams up."
Matt Kuiken, pastor of First A.R.P. Church and a mentor at York Chester Middle School, encouraged the volunteers to invite others to join the mentoring program.
"It doesn't take any special degrees, talents or skills, just a willingness to show up and invest in the life of another person," he said.
"We receive as mentors just as much as we give, if not more," Kuiken said, adding that his time mentoring this year has "reminded me that trapped inside every human being is an extraordinary amount of potential. We get the privilege of helping unlock that potential."
To learn more about the Gaston County Schools mentoring program,
click here
.
Click here
to watch the Mentor Appreciation Luncheon ceremony.
IN THE PICTURE: South Point High School senior Reginald Dawkins receives the Paul Fuller Scholarship during the Mentor Appreciation Luncheon on May 5 at First A.R.P. Church in Gastonia. He is congratulated by Superintendent of Schools W. Jeffrey Booker; Brilliant Wilson (right), who was the first recipient of the scholarship; and Wilson's mentor, T.J. Solomon (left).