Business and Community Partnerships
Return to Headlines
Teachers honored for National Board Certification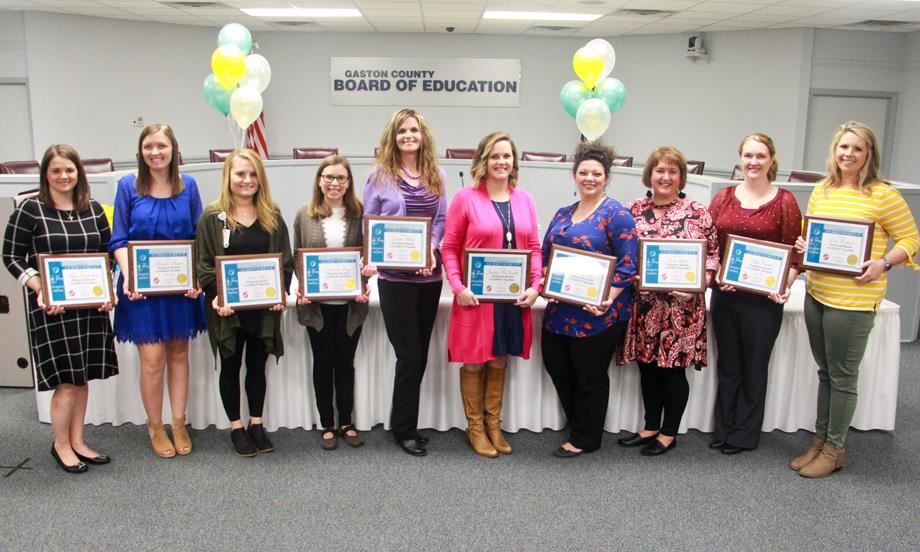 Teachers in Gaston County Schools earn national certification

Twelve teachers in Gaston County Schools have joined an elite group of educators by earning National Board Certification, the highest standard for the teaching profession. The newly-certified teachers were recognized during a reception on February 6 at the Gaston County Schools Central Office in Gastonia. Truliant Federal Credit Union sponsored the reception.

The 12 teachers in Gaston County are among 118,000 educators from across the United States who have earned certification from the National Board for Professional Teaching Standards (NBPTS).

Superintendent of Schools W. Jeffrey Booker stated, "Achieving National Board Certification is a very difficult assessment process in which teachers examine and reflect on every aspect of their teaching methods and classroom management. National Board Certified Teachers not only strengthen the teaching profession, but they also help students to be successful and achieve at higher academic levels."

Teachers earning National Board Certification must demonstrate their knowledge and skills through an extensive, year-long series of performance-based assessments. In Gaston County, more than 370 teachers have met the rigorous standards and achieved National Board Certification since the program began in 1996.

The following is a list of the 2018-2019 National Board Certified Teachers in Gaston County Schools:

■ Megan Christenbury, Lowell Elementary School
Christenbury is a first grade teacher, and she has been in education for 13 years. She has a bachelor's degree in elementary education and a master's degree in reading education from Appalachian State University. Her National Board Certification is for Generalist/Early Childhood.

■ Karen Coffey, McAdenville Elementary School

Coffey is a second grade teacher, and she has been in education for 25 years. She has a bachelor's degree and master's degree in education from East Carolina University. Her National Board Certification is for Generalist/Early Childhood.

■ Alexandra Fitschen, Lowell Elementary School

Fitschen is a fourth grade teacher, and she has been in education for seven years. She has a bachelor's degree in elementary education from Appalachian State University. Her National Board Certification is for Generalist/Middle Childhood.

■ Carla Fletcher, Page Primary School
Fletcher is a first grade teacher, and she has been in education for 17 years. She has a master's degree in the art of teaching. Her National Board Certification is for Literacy: Reading-Language Arts/Early and Middle Childhood.

■ Jaime Keller, North Belmont Elementary School
Keller is a second grade teacher, and she has been in education for six years. She has a bachelor's degree in elementary education from Belmont Abbey College. Her National Board Certification is for Literacy: Reading-Language Arts/Early and Middle Childhood.

■ Victoria Kiser, Stuart W. Cramer High School
Kiser is a high school math teacher, and she has been in education for 12 years. She has a bachelor's degree and master's degree in math from UNC-Charlotte and a degree in secondary school administration from Gardner-Webb University. Her National Board Certification is for Mathematics/Adolescence and Young Adulthood.

■ Jennifer MacDonald, Stuart W. Cramer High School
MacDonald is a high school counselor, and she has been in education for 11 years. She has a bachelor's degree in sociology and Spanish from Ohio University, and her master's degree is in school counseling from Kent State University. Her National Board Certification is for School Counseling/Early Childhood through Young Adulthood.

■ Jennifer Melton, Brookside Elementary School
Melton is a literacy teacher serving first, second, and third grade students. She has been in education for 11 years. She has an associate degree from Gaston College, a bachelor's degree in elementary education from Belmont Abbey College, and a master's degree in reading education from UNC-Charlotte. Her National Board Certification is for Literacy: Reading-Language Arts/Early and Middle Childhood.

■ Erin Morehead, Bessemer City Primary School
Morehead is a school counselor, and she has been in education for 13 years. She has a bachelor's degree in elementary education from Appalachian State University, and her master's degree is in school counseling from Gardner-Webb University. Her National Board Certification is for School Counseling/Early Childhood through Young Adulthood.

■ Ashley Rimmer, Ashbrook High School
Rimmer is a tenth grade English teacher, and she has been in education for six years. She has a bachelor's degree in sociology, a graduate certificate in teaching, and a master's degree in secondary education, all from UNC-Charlotte. Her National Board Certification is for English Language Arts/Adolescence and Young Adulthood.

■ Justin Willyoung, Cherryville High School
Willyoung is a high school counselor, and he has been in education for 10 years. He has a bachelor's degree in sport psychology and physical education from West Virginia University, and his master's degree is in school counseling from Edinboro University of Pennsylvania. His National Board Certification is for School Counseling/Early Childhood through Young Adulthood.

■ Samantha Wong, Carr Elementary School
Wong is a second grade teacher, and she has been in education for seven years. She has a bachelor's degree in art history from Brevard College and a master's degree in teaching from West Virginia University. Her National Board Certification is for Generalist/Early Childhood.

Congratulations to our National Board Certified Teachers!

Watch on Channel 21

The National Board Certified Teachers Reception will air on Spectrum Cable Channel 21 the week of February 25 - March 3 at 9:00 a.m., 11:30 a.m., 1:00 p.m., 3:30 p.m., 6:00 p.m., 7:30 p.m., 9:00 p.m., and 10:30 p.m. each day. Additionally, the video will be available on the Gaston County Schools YouTube channel.