Return to Headlines
Bus driver has been on the road for 40 years
Bus driver Francina Burris: For 40 years, she's been on the road
In 1979, Jimmy Carter was in the White House, "Laverne & Shirley" was the highest-rated TV show, and the Oldsmobile Cutlass was the best-selling car in America. That was 42 years ago, and while a lot has changed since then, one thing has remained the same at Rankin Elementary School in Mount Holly.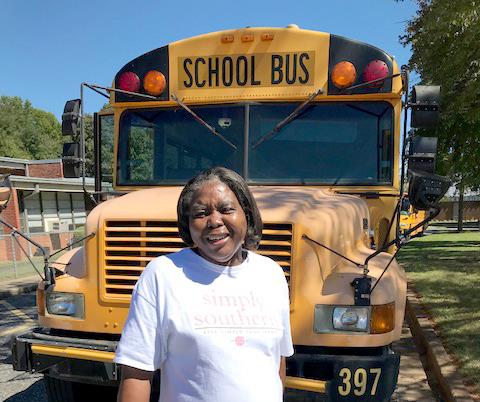 Meet Francina Burris. Back when people were driving around in Oldsmobiles, she took her place in the driver's seat of bus number 126. The transmission was manual, and there was no air conditioning. When she drove the bus off the lot for the first time, it marked the beginning of a four-decades stint that has resulted in her becoming a disciplinarian, role model, and second mother to an estimated 1,600 children.

"My friends told me the school needed a bus driver and they talked me into it," said Burris, who thought about working as a truck driver, but says driving a bus comes pretty close. "I always wanted to be on the road."

In addition to driving a bus, she worked in the school cafeteria for 20 years. Although she has retired from the lunch line, she is still up every weekday morning bright and early, preparing to start her day at 6:30 with a 17-mile route.

"They are my kids while on my bus," said Burris, who expects the students to behave and follow the rules. "Some say I am mean, but I am not mean. You have to be stern, and sometimes, you have to show tough love."

Burris' "tough love" philosophy is part of her commitment to school bus safety. As a driver, safety ranks high on her list, and it is an internal/external approach. She knows that students have to be in a safe environment on the bus; that is why she enforces the rules and expects good behavior. But, she also realizes that safety is about keeping her eyes on the road and watching out for other motorists and potential hazards. It is a bus-driving safety approach that she shares with her colleagues.

It is no secret that Burris' influence reaches far and wide. She is recognized around town and often has people stopping her to see how she is doing and share a story. The question she is asked most often is "Do you remember me?" Today, she has students on her bus that are the grandchildren of some of her first bus riders.

"I feel like I am doing something good for the students," she said. "I have always said they are our future and that one day they might be my doctor or my lawyer."

Burris is one of the most dependable school bus drivers in Gaston County. She has been rewarded for perfect attendance year after year. "The only time I am out is if I am sick and can't make it," she said. "I know the kids are counting on me."

So, after 42 years, is retirement from the driver's seat in the near future?

"As long as I have good health and keep passing the DOT test, I am going to be a bus driver," said Burris. "It has been my calling. To be at the same school for 40 years, it is important to me."

During this National School Bus Safety Week (October 18-22), we salute Francina Burris and all drivers in Gaston County Schools for their dedication and commitment to bus safety. After all, they are transporting the most important and precious cargo – our children.