Return to Headlines
Recognition honors Board of Education members
Recognition honors Board of Education members and Superintendent of Schools

Three members of the Gaston County Board of Education and the Superintendent of Schools are the recipients of special recognition for their outstanding efforts and contributions.

Below is information about each honor: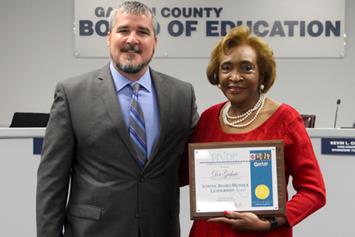 ■ School Board Member Leadership Award
Dot Guthrie, who represents the Gastonia Township, was awarded the School Board Member Leadership Award. The recognition is presented annually by the North Carolina School Boards Association (NCSBA) to a deserving school board member in North Carolina.

Guthrie is a staunch believer in the importance of literacy in schools, and she has been recognized locally, statewide, and nationally as an advocate for books, school libraries, and reading.

Before being elected to the Board of Education in 2012, Guthrie worked for Gaston County Schools for more than 30 years. She served as the district's library/media services director, and after retiring from Gaston County, she was a librarian in the Clover school district.

One of Guthrie's callings in life is to promote the importance of reading and ensure that the necessary resources are available to engage children in reading. She wholeheartedly believes that a child's academic success is dependent on their strong foundation in reading, which puts students on the right path toward success in school and in life.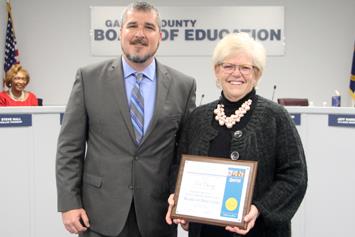 ■ NCSBA Board of Directors
Board of Education at-large member Dot Cherry was appointed to serve on the Board of Directors for the North Carolina School Boards Association (NCSBA).

During her seven-plus years on the Board of Education, Cherry has worked closely with the Gaston County commissioners, business and civic leaders, and others in the community to make them aware of the school district's needs and the necessity of strong local support for excellence in public education.

Additionally, Ms. Cherry has been a strong proponent of quality instructional programs and effective teaching. As a member of the Board's curriculum and instruction committee, she always makes a conscious effort to support teachers, speak up for more classroom resources, and be a champion for new and innovative academic programs and initiatives.

As a member of NCSBA Board of Directors, she will work closely with Board of Education members from across the state to support the NCSBA's efforts to provide support for local school boards and advocate for public education.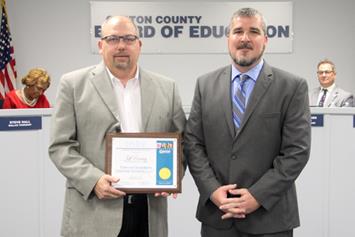 ■ Cramerton Lifetime Citizen Award
Board of Education at-large member Jeff Ramsey received the Lifetime Citizen Award from the Town of Cramerton.

A former town commissioner in Cramerton, Ramsey knows the importance of recreation in the town where he grew up. Rebuilding those programs was important to him during his time as a commissioner, and the town saw tremendous growth in youth recreational activities. Ramsey also led the charge to invest in infrastructure and Cramerton as a whole. As a result, the town has experienced a burst in population, enjoyed the addition of Goat Island Park and Stuart W. Cramer High School, and provided programs and services that have made Cramerton a great place to work, live, and play.

Ramsey was first elected to the Board of Education in 2008, and he served as vice chairman for six years. He is a member of the Board's operations committee. Because of his leadership, knowledge, and service to the Town of Cramerton and Board of Education, Ramsey has made a significant difference both in Cramerton and across the county.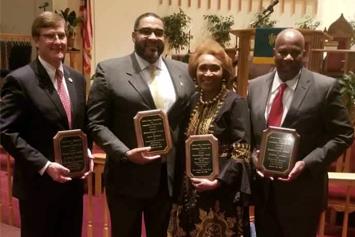 ■ Humanitarian Award
Board of Education member Dot Guthrie and Superintendent of Schools W. Jeffrey Booker received the Humanitarian Award during the annual Dr. Martin Luther King, Jr. celebration in Gastonia. The award recognizes the work of Guthrie and Booker to support the community.

In addition to serving on the Board of Education, Guthrie is the curator of the African American Museum of History and Culture at Loray Mill. She had a significant role in establishing the museum in Gastonia that highlights the life, accomplishments, and contributions of African Americans in Gaston County and beyond.

Dr. Booker has served as Superintendent of Schools since January 2014. Because of his vision, leadership, and collaboration, two new school campuses have opened (Pleasant Ridge Elementary and Stanley Middle) and a third one (Belmont Middle) will open in 2021; voters approved a $250 million school bond referendum; the number of school choice programs for students tripled; and various efforts have enhanced school safety, classroom technology, Career and Technical Education, community/business engagement, and other areas. The Humanitarian Award is presented by the Gaston County Organization for Community Concerns.