Return to Headlines
School offers Spanish lessons for its teachers
Sherwood Elementary offers Spanish lessons for its teachers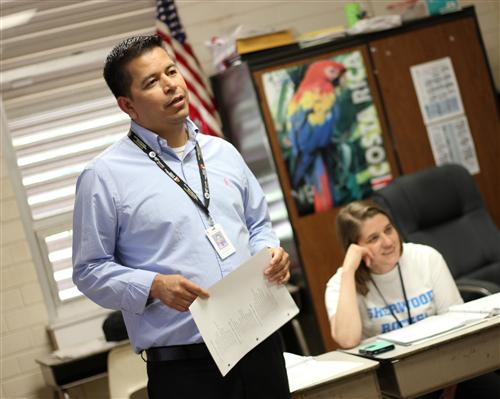 Three days a week, teachers at Sherwood Elementary become students for the afternoon so they can learn basic grammar, spelling, and pronunciation. In Spanish, that is.
For the second year in a row, Sherwood's ESL (English as a Second Language) teacher Edgar Coronado is offering Spanish lessons to any interested teachers. The classes are giving teachers new ways to communicate with their students, and perhaps more important, with their students' parents.
It's a win-win for everyone involved: Coronado is also using the class curriculum as material to publish a book about teaching Spanish to adults.
Since around 25 percent of the school's student population is Hispanic, the class is a great benefit to the school, said principal Tyler West. "The teachers are excited about learning a new skill for supporting our students and their families," she said.
Coronado, who has been the ESL teacher at Sherwood for 10 years, came up with the idea for the class last year. He has previously written a textbook for teaching English to Spanish speakers, and a colleague at Borealis Language Academy in Charlotte recommended he write one for teaching Spanish to English speakers.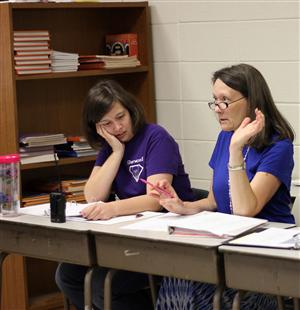 The teachers at Sherwood have had the opportunity to test it out, one lesson at a time, and even helped him with proofreading along the way. "The course is really conversational," Coronado explained. "The purpose is so they can communicate with the students."
Karen Rogers, a first grade teacher, took the course last spring and continued it in the fall. She said that learning how letters are pronounced differently in Spanish and English has been helpful for her in understanding her students. "I'm realizing how hard it is for them to pronounce English words," she said.
Rogers is also working on a personal goal: "I'm trying to learn how to write notes on homework for parents to read," so that they can stay connected with what their children are learning.
Improved communication with Spanish-speaking parents all around the school will be a great benefit from the course, West said. "The biggest help I see is with the parents," she explained. "Sometimes we have to use students to interpret, and we're not sure if the message is getting across correctly."
Teachers are enjoying the course and even the homework. Coronado told them, "I'm going to promise you that you're going to learn and you have to learn fast."