Return to Headlines
'Do the Right Thing' award winners for January
'Do the Right Thing' award winners chosen for January
Every day in our schools, there are students who set themselves apart by doing things that make a difference in the lives of others. They do these things without expecting anything in return.

These students are recognized by The Gaston Gazette's 'Do the Right Thing' program. In partnership with Gaston County Schools, The Gazette honors a student at each school level every month from September through May.

The program brings attention to students who distinguish themselves by their actions, whether big or small. From something like organizing a fundraiser or a food drive for those in need to holding open the door for students on their way to class, these exemplary students make sure that their classmates and others are cared for and treated well.

The students' attitudes, accomplishments, and efforts make them stand out as positive role models for others, and faculty and staff are always sure to take notice. The information about each 'Do the Right Thing' winner is provided by the principal.

Here are the profiles for our 'Do the Right Thing' award winners for January 2021: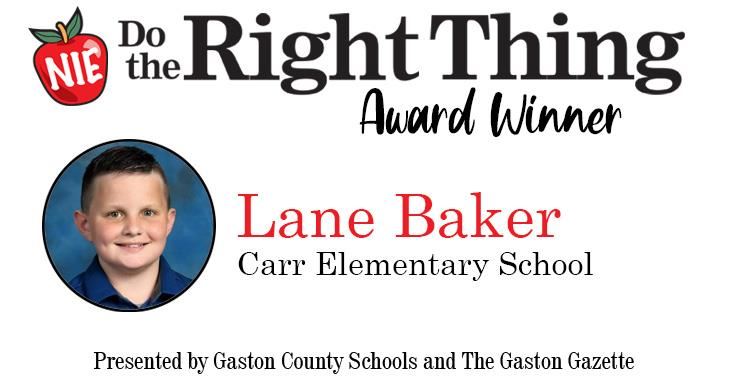 Elementary School Winner
William "Lane" Baker
Carr Elementary School
Parent: Jena Henderson

William "Lane" Baker's fifth-grade teacher describes him as a kind and caring student. He works very hard both inside and outside of the classroom to achieve his goals and puts a lot of effort into his school work. Lane is best described as a mediator in the classroom, as he tries to get students to understand each other's points of view, even if they do not share the same opinion. He is an empathetic student and a friend to all. His goal is to make everyone happy and to be an avid listener and problem solver -- traits that make him stand out to his teachers and the faculty at Carr Elementary. Lane is a great example of a student who is willing to "Do the Right Thing" every day.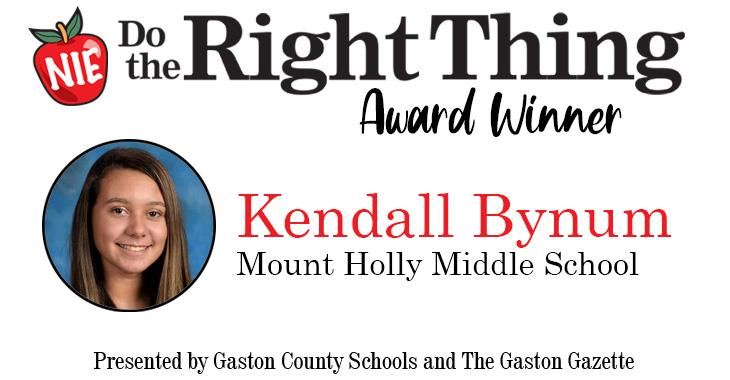 Middle School Winner
Kendall Bynum
Mount Holly Middle School
Parents: Doug and Carlette Bynum

Kendall Bynum plays a huge role in leading the Impact Club at Mount Holly Middle School. The eighth grader is never negative and always serves as a positive role model for her peers. She consistently treats others with kindness. Kendall is often the first to respond when the group is asked to volunteer, and she has been generous with her time and resources over and over again. Kendall stands out as a student who has a heart for helping people. Furthermore, she excels in the classroom and on Mount Holly Middle sports teams, too. Faculty and staff appreciate the difference that Kendall makes in their school community and are so proud of all of her hard work and outstanding personality.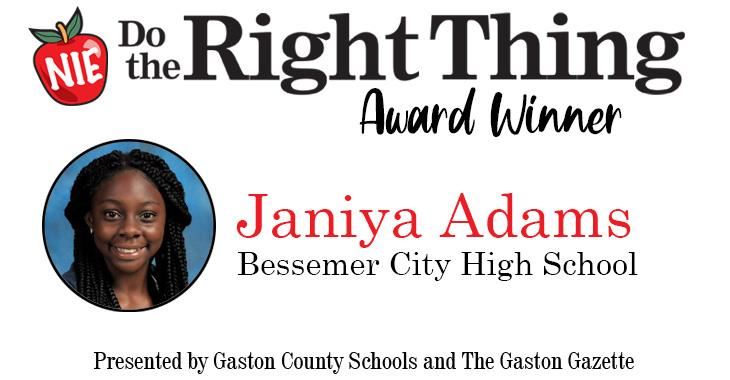 High School Winner
Janiya Adams
Bessemer City High School
Parents: George and Amy Adams, and Gloria McConnell

Sophomore Janiya Adams is an excellent student and athlete at Bessemer City High School. She is quick to help her peers understand assignments or get caught up with school work if they've fallen behind. Quite often, Janiya will volunteer to make sure her classroom is in order before she goes to her next class. She is selfless, kind, and a friend to all. She is a team leader on the basketball team and the cheerleading squad, too. At our last home game, after playing a game and then cheering for the boys' game, she took initiative to carry the teams' water coolers to empty them without being asked. This is a prime example of her selflessness. Janiya maintains excellent grades while juggling a very busy schedule with basketball and cheerleading. Her discipline and motivation are inspiring to so many others on a daily basis.

Congratulations to our 'Do the Right Thing' award winners!