Return to Headlines
It's back to school time for Gaston County Schools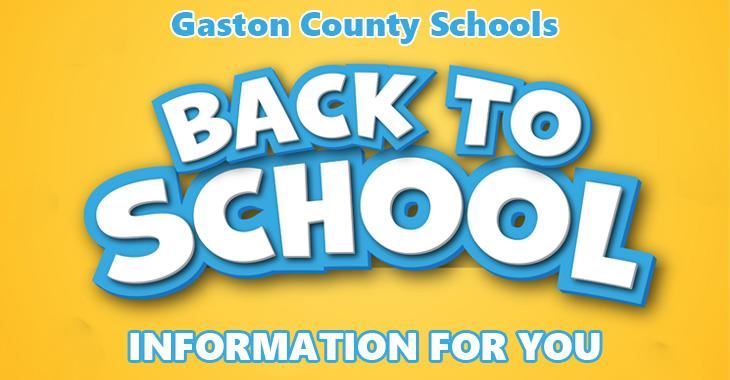 It's back to school time for Gaston County Schools
Students return to class on Wednesday, August 16 to begin the 2023-2024 academic year
It's back-to-school time in Gaston County! On Wednesday, August 16, approximately 30,000 students (pre-kindergarten through high school) and more than 1,900 teachers in Gaston County Schools return to class to begin the 2023-2024 academic year.

Students, parents, and school employees are looking ahead to the new school year with enthusiasm and optimism. It is the goal of all teachers and school employees to provide quality opportunities for students to learn, grow, and thrive at the district's 56 schools.
Elementary schools operate from 7:30 a.m. until 2:30 p.m., and middle schools and high schools operate from 8:30 a.m. until 3:30 p.m. Parents should check with their child's school for the exact schedule as start/end times for some schools may vary.
The start/end times coincide with a two-tier model used for bus transportation. The two-tier model makes it possible for bus drivers to complete two routes in the morning and two routes in the afternoon – a driver has an elementary route first and then a middle school or a high school route. The two-tier model is intended to get students to school and back home in a timely manner and ensure that there are enough bus drivers.
In addition to focusing on continued academic growth and higher achievement, providing a safe school environment for students and employees remains a priority. Gaston County Schools is proud of its on-going partnership with the Gaston County Police Department, Gaston County Sheriff's Office, and municipal law enforcement agencies, which are committed to doing everything possible to ensure that schools are secure and personnel are prepared should any type of emergency situation occur.

Each school follows its comprehensive safety plan; as part of the plan, schools conduct evacuation, lockdown, fire, and tornado/severe weather exercises periodically. All schools are assigned a police resource officer, which provides a direct link between the school and law enforcement. Schools will continue the practice of random metal detection screenings for students and staff, and metal detection screenings will be in place for athletic events and extracurricular activities.
If parents have a question or concern, they are reminded to contact their child's teacher or the school principal to discuss the issue or schedule a meeting. Parents should make sure that their child's school has up-to-date contact information (home address, telephone number, e-mail address, etc.) on file. Parents should contact the school office to provide updates.
Back-To-School Highlights
Here are five back-to-school highlights for students, parents, and school employees:
▪ School calendar with earlier start date
The first day of school for students is Wednesday, August 16. In February, the Board of Education adopted the 2023-2024 school calendar with an earlier start date to allow students to complete mid-year exams prior to the winter break while having a similar number of days in each semester. The Board's decision is based on the district's school calendar survey that showed 85.1 percent of respondents (students, parents, employees, and others) favoring a school calendar with the first semester ending in December and the second semester beginning in January. Additionally, the 2023-2024 calendar with an earlier start date and the mid-year break in December coincides better with the community college calendar.
The August 16th start date also means students will get out of school earlier. The last day of school is Wednesday, May 22, 2024, and high school graduation day is Friday, May 24, 2024. The last workday in the 2023-2024 calendar for teachers/certified personnel is Friday, May 31, 2024.
▪ Board of Education searches for new superintendent
The Gaston County Board of Education is continuing its search for the next superintendent of Gaston County Schools. The N.C. School Boards Association (NCSBA) is facilitating the superintendent search process for the Board of Education, and currently, the NCSBA is preparing applicant materials to present to the Board for review (the deadline to apply was August 7).

The superintendent search timeline calls for the Board to conduct the first round of interviews in September. In July, as part of the search process, a survey was made available for school district employees, parents, business/civic leaders, and other people in the community to provide input. More than 3,400 survey responses were submitted, and survey takers were able to weigh in on the qualities, characteristics, and skills they would like to see in the next superintendent.
In the interim, Stephen C. Laws, Ed.D., is serving as superintendent. Laws began his career in 1981 as a workforce development teacher at Bessemer City High School. He later served as an assistant principal, principal, and human resources administrator in Gaston County Schools before becoming superintendent of Elkin City Schools in 1998. He also served as superintendent of Wilkes County Schools before retiring in 2011 and becoming an associate professor of education at Gardner-Webb University.
Laws became the interim superintendent on July 1, 2023, succeeding W. Jeffrey Booker, Ed.D., who informed the Board of Education in April of his intention to conclude his service to Gaston County Schools at the end of the 2022-2023 academic year. Booker, who became superintendent on January 1, 2014, now works as the chief operating officer for Gaston College.
▪ More breakfast and lunch meals for free
This school year, more students will have free breakfast and lunch meals available to them. The number of schools participating in the Community Eligibility Provision (CEP) program increases from 19 to 40. Click here for a list of the schools that qualify for CEP, which is sponsored by the U.S. Department of Agriculture (USDA) Food and Nutrition Service. All students who attend a school that is involved in the CEP program receive a free breakfast and a free lunch – completing the free or reduced-price meals application is not necessary for students at CEP schools.
For schools not involved in CEP, meal prices are in effect. Breakfast is $1.40 for students (all grade levels) and $2.00 for adults. Lunch is $2.90 for students in grades K-5 and $3.00 for students in grades 6-12. The price for adults is $4.00. Parents may apply for free or reduced-price meals for their child. Click here for the application.
▪ Professional development opportunity for assistant principals
Two years ago, through the Superintendent's Leadership Academy, teachers in Gaston County Schools were given an opportunity to complete the coursework to become an assistant principal. Last year, teacher assistants were able to pursue the coursework/licensure requirements to become classroom teachers. Now, assistant principals are going to be able to prepare to become principals.
A group of assistant principals will be chosen this fall to participate in a series of professional development seminars to equip them with a better understanding of what it means to be a school principal. The program is part of Gaston County Schools' effort to "grow our own" at a time when there is a nationwide shortage of people pursuing careers in education and many principals in Gaston County Schools already have 20-plus years of service.
The Superintendent's Leadership Academy is an on-going partnership between Gaston County Schools and three of its partners in education: Gaston College, Belmont Abbey College, and Gardner-Webb University. The premise for the Academy is to "invest in our workforce today so our schools will have leaders tomorrow."
▪ Summertime renovation and repair projects
This summer, more than 50 renovation and repair projects took place at schools across the county. School bonds, which were approved by voters in 2018, and capital funds from the county are being used to pay for the various projects.
Some of the most noticeable renovation projects include parking lot paving at South Point High School, North Gaston High School, Southwest Middle School, and Kiser Elementary School and gym floor replacement at East Gaston High School, Costner Elementary School, Carr Elementary School, and Brookside Elementary School. Additional projects include roofing, lighting, painting, carpet/flooring, life safety, security vestibules, and other upgrades.
Additionally, site work is being completed and construction will begin soon on a new school to replace Grier Middle School in Gastonia. Essentially, the campus will flip – the new school is being built where the athletic fields were, and once the new school is open, new athletic fields will be constructed on the site of the old building. A groundbreaking celebration will be held in September with completion of the new school scheduled for 2025.