Return to Headlines
'Do the Right Thing' award winners for December
'Do the Right Thing' award winners chosen for December
Every day in our schools, there are students who set themselves apart by doing things that make a difference in the lives of others. They do these things without expecting anything in return.

These students are recognized by The Gaston Gazette's 'Do the Right Thing' program. In partnership with Gaston County Schools, The Gazette honors a student at each school level every month from October through April.

The program brings attention to students who distinguish themselves by their actions whether big or small. From organizing a fundraiser or a food drive to holding open the door for students on their way to class, these exemplary students make sure that their classmates and others are cared for and treated well.

The students' attitudes, accomplishments, and efforts make them stand out as positive role models for others, and faculty and staff are always sure to take notice. The information about each 'Do the Right Thing' winner is provided by the principal.

Here are the profiles for our 'Do the Right Thing' award winners for December 2021: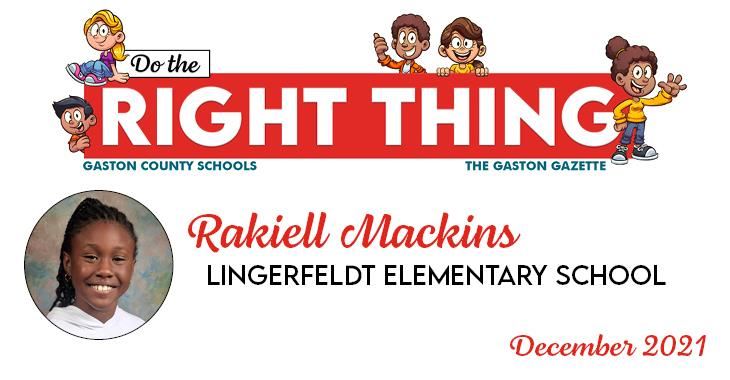 Elementary School Winner
Rakiell Mackins
Lingerfeldt Elementary School
Parents: Latekia Jefferies and Ronald Mackins

Third grader Rakiell Mackins is friendly, loves her school, and works hard every single day to keep a positive attitude. When there is a student struggling in her class, she makes sure that the student feels welcome and has friends. She will even greet her classmate in the hall and escort her new friend to their classroom. She strives to make sure that her classmates have everything they need. Rakiell makes a difference in the lives of others through her efforts to make sure her fellow students feel included and supported so they can have a good day at school.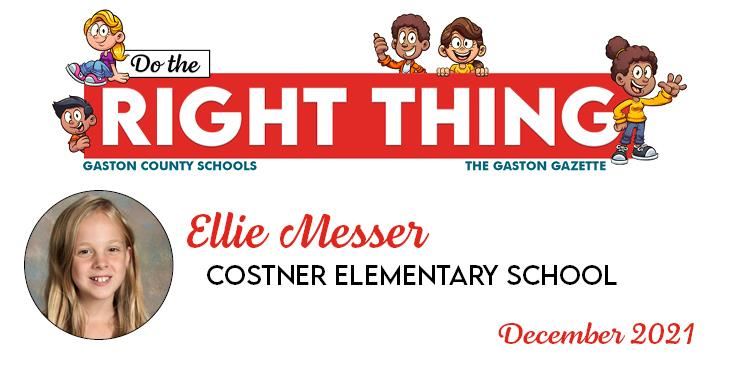 Elementary School Winner
Ellie Messer
Costner Elementary School
Parents: Heather and Charlie Messer

Fourth grader Ellie Messer shows strong leadership qualities in the classroom every day. She is kind to others and is always very responsible. Her positive attitude makes her shine, and she is always smiling. Ellie has a strong work ethic in class, but is also willing to go out of her way to help others and go the extra mile. She is a kind-hearted soul and free spirit, who enjoys helping her peers achieve the same qualities. Ellie is a great example of what it means to be an outstanding student, who is focused on doing the right thing in every situation.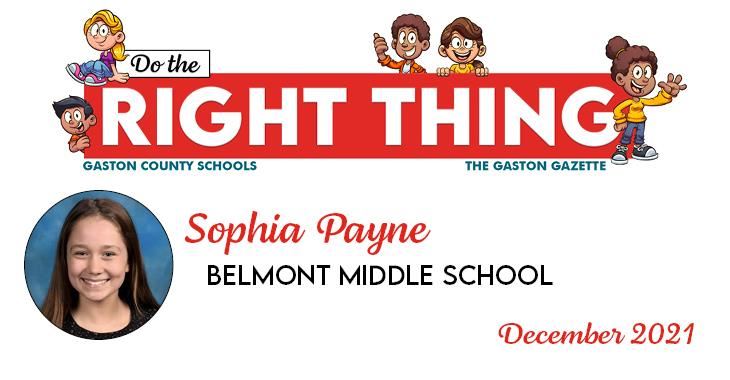 Middle School Winner
Sophia Payne
Belmont Middle School
Parents: Jessica Holland-Payne and Christopher Payne

Sophia Payne, an eighth grader, is a bright student who shows care and kindness toward others. She works hard inside and outside of the classroom, and she stands up for what is right. One time when Sophia thought some of her classmates were making bad decisions, Sophia alerted a teacher, which kept the situation from escalating. This took courage on her part to speak up especially when that is not always the popular thing to do. Sophia is a great role model for other students, and she shows what it means to be a leader among her peers.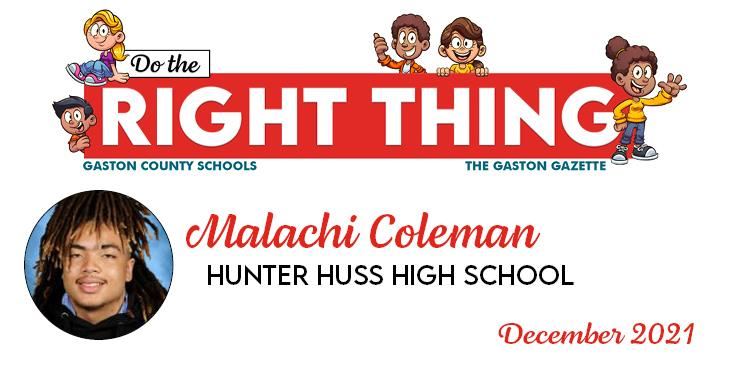 High School Winner
Malachi Coleman
Hunter Huss High School
Parents: Kinyada and Antonio Coleman

Senior Malachi Coleman is a true leader at Hunter Huss High School. He is very respectful and compassionate and always goes above and beyond to help whenever he can. Malachi manages to balance working hard in his honors classes with being a member of the football team. He also sets a great example for other students. When a student lost his wallet, Malachi was quick to turn it in, and later, he followed up to make sure the student had received it back. This situation shows how Malachi exemplifies honesty and integrity, which are admirable qualities.

Congratulations to our 'Do the Right Thing' award winners!
Click here to see our "Do the Right Thing" page that appeared in the December 10, 2021 edition of The Gaston Gazette.