Return to Headlines
Guthrie receives lifetime achievement award
Board of Education member Dot Guthrie receives lifetime achievement award
Gaston County Board of Education member Dot Guthrie is the recipient of the prestigious Coretta Scott King-Virginia Hamilton Award for Lifetime Achievement that is presented by the American Library Association (ALA).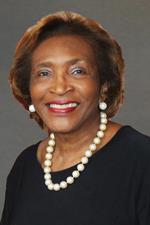 A veteran educator with more than 40 years of dedicated service as a teacher, school librarian, central office administrator, and Board of Education member, Guthrie is "the epitome of an educational leader who goes beyond the call of duty to do what is best for children," according to Superintendent of Schools W. Jeffrey Booker, who wrote a recommendation letter in support of Guthrie's award nomination.

Long before becoming the Gastonia Township representative on the Board of Education, Guthrie worked for Gaston County Schools for more than 30 years. She served as the district's library/media services director and was named the Media Coordinator of the Year for three consecutive years. After retiring from Gaston County, she served as a librarian in the neighboring Clover, South Carolina school district.

Well-known and respected in the community, Guthrie wrote the book, "Integrating African-American Literature in the Library and Classroom," and coordinated the first Gaston County Diversity Book Fair. She has served as a leader, conference presenter, and contributor for the ALA, and two years ago, she was instrumental in founding the first African-American history and culture museum in Gaston County. Additionally, she is active in Tabernacle Baptist Church in Gastonia, serving as an associate minister.

In 2019-2020, the North Carolina School Boards Association acknowledged Guthrie's many contributions by presenting the School Board Member Leadership Award to her.

Perhaps most of all, Guthrie is known for her love of books, reading, and libraries.

"It is appropriate to say that one of Mrs. Guthrie's callings in life is to promote the importance of reading by making sure that the necessary resources are available to engage children in reading," wrote Dr. Booker. "She wholeheartedly believes that a child's academic success is dependent on a child's strong foundation in reading."

As chairperson of the Board of Education's curriculum and instruction committee, Guthrie has worked with the committee members to make a commitment to ensuring that classroom libraries and school media centers are the best they can be.

"She has provided guidance and leadership on two important projects in Gaston County Schools: our efforts to update classroom library collections and our efforts to renovate school media centers," said Dr. Booker. "The progress we have made in this area is largely because of Mrs. Guthrie's oversight, her regular reminders about how crucial our school libraries are to the overall instructional program, and her unique ability to rally support and consensus from her fellow Board members."

The Coretta Scott King-Virginia Hamilton Award for Lifetime Achievement is named for author and civil rights leader Coretta Scott King and award-winning children's author Virginia Hamilton, who wrote more than 35 books during her career and received the prestigious Newbery Medal in 1975.

The award is presented (in even years) to African-American authors and illustrators for their successful efforts to produce and publish quality literature for children and young adults. In odd years, the award is given to practitioners who use African-American literature to engage youth in reading and related activities. Further, all recipients have a proven record of making a significant and lasting literary contribution.

As the 2021 practitioner winner, Guthrie was recognized during the ALA's Youth Media Awards virtual presentation on January 25. She received a medal and $1,500 check.

■ Read more
Click here for a feature article that was published in The Gaston Gazette.