Return to Headlines
'Do the Right Thing' award winners for March
'Do the Right Thing' award winners chosen for March
Every day in our schools, there are students who set themselves apart by doing things that make a difference in the lives of others. They do these things without expecting anything in return.

These students are recognized by The Gaston Gazette's 'Do the Right Thing' program. In partnership with Gaston County Schools, The Gazette honors a student at each school level every month from September through May.

The program brings attention to students who distinguish themselves by their actions, whether big or small. From something like organizing a fundraiser or a food drive for those in need to holding open the door for students on their way to class, these exemplary students make sure that their classmates and others are cared for and treated well.

The students' attitudes, accomplishments, and efforts make them stand out as positive role models for others, and faculty and staff are always sure to take notice. The information about each 'Do the Right Thing' winner is provided by the principal.

Here are the profiles for our 'Do the Right Thing' award winners for March 2021: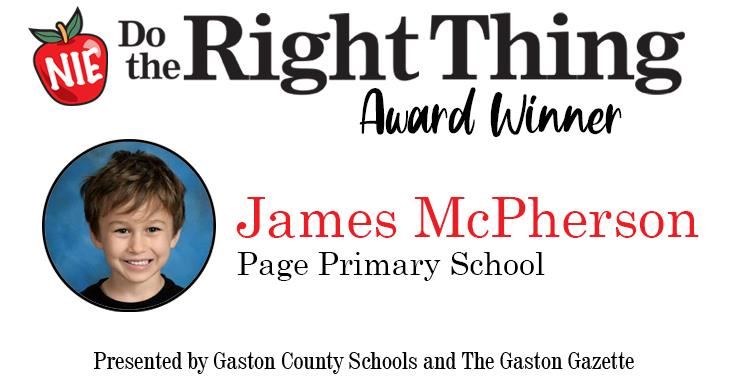 Elementary School Winner
James McPherson
Page Primary School
Parent: Scott and Ashley McPherson

First grader James McPherson knows that a positive attitude is important both inside and outside of the classroom. It's one of the traits that makes him stand out from his peers. Whether he is racing classmates outside during recess or trying to learn a new subject he does not understand, James never gets frustrated. An all-around great student, he sets a good example for his classmates by always paying attention in class and sharing his strategies for solving difficult math problems and reading tricky words with his peers. These are just a few of the characteristics that made faculty and staff choose James as the 'Do the Right Thing' elementary school winner for March.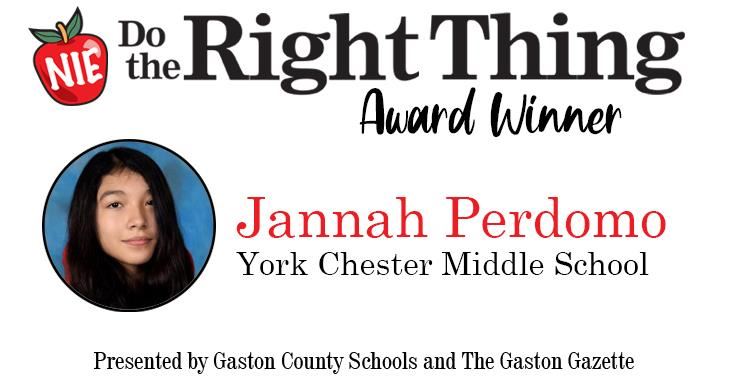 Middle School Winner
Jannah Perdomo
York Chester Middle School
Parent: Jorge and Brenda Perdomo

Jannah Perdomo is constantly taking the initiative to succeed in her classes. In addition to having earned a 100 in eighth grade advanced math for all three reporting periods so far, Jannah has completed extra work in all of her classes (both online and in person), and she also helps her classmates when needed. Going above and beyond what is expected of her, she sets a great example for her peers by asking questions and completing extra iReady lessons at home. Jannah also knows the importance of making her classmates feel at ease. When someone was being rude to another student, she confronted the student and then comforted the student who was upset. These characteristics are just a few that make Jannah an excellent leader for her school.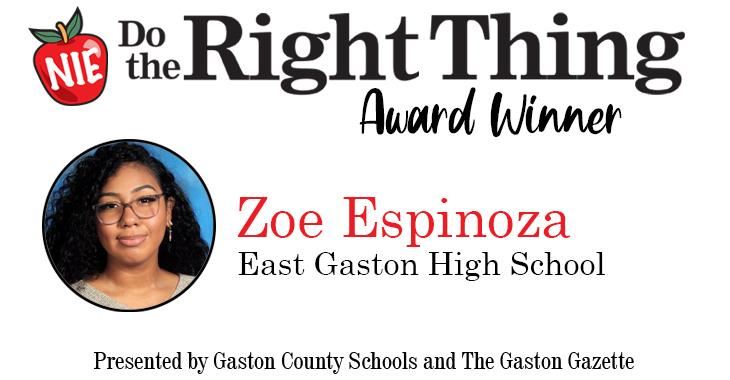 High School Winner
Zoe Espinoza
East Gaston High School
Parents: Madelayne Espinoza

Zoe Espinoza stands out as a leader at East Gaston High School. The junior has found ways to adapt to a school year that has been difficult for many students, and she has done so without complaining. During COVID times, she took the initiative to work on an incredible recruitment video for the JROTC program. While students would usually visit local middle schools to talk about JROTC, they have not been able to do that this year, and Zoe found a solution that could work for everyone. Her passion and enthusiasm to recruit for the JROTC program is an example of the dedication and leadership skills she shows every day at school.

Congratulations to our 'Do the Right Thing' award winners!