Return to Headlines
Businesses donate funds and items to schools

Businesses show support for schools through generous contributions
The holiday season of giving seems to have arrived a few months early for Gaston County Schools, thanks to significant contributions from two business partners.

On Monday, September 21, Academy Sports + Outdoors provided 200 items to Southwest Middle School, and Office Depot presented more than $3,300 to Brookside Elementary School.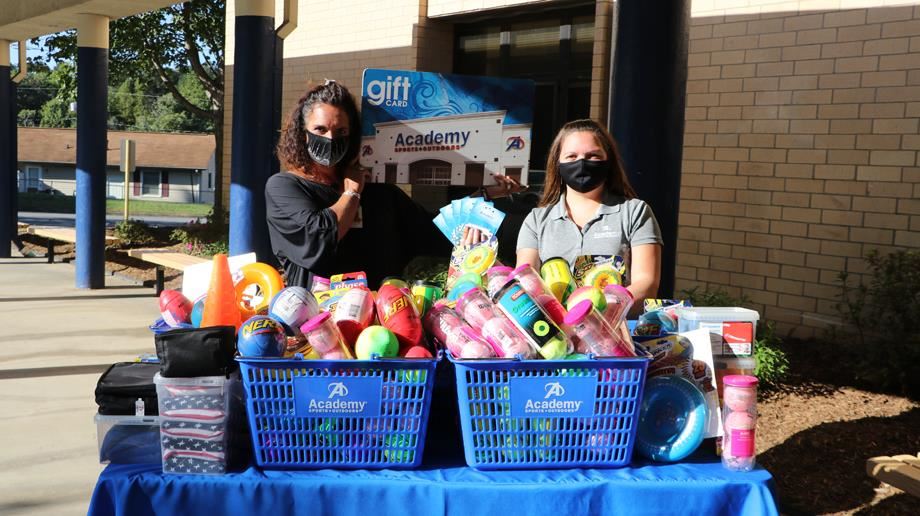 ■ Academy Sports + Outdoors
Academy Sports + Outdoors donated $1,000 worth of various items, including Nerf footballs, frisbees, sports cones, bean bags, tennis balls, and flash cards, that can be used during physical education classes or in classrooms for individual movement activities.

In addition, Academy Sports provided $2,500 in gift cards to support physical education programs at other schools.

Academy's donation is in conjunction with North Carolina's Healthy Active Children program that encourages students to stay active, develop exercise skills, and make a commitment to healthy living.

Southwest Middle School principal Cindy Hester said, "Our students and staff are so appreciative of Academy Sports + Outdoors for their generous donation of sports equipment. Because of Academy Sports, we will be able to have 'brain breaks' with brand new equipment throughout the day while still maintaining our COVID-19 protocols."

Health education coordinator Sandie Rudisill and Southwest physical education teacher Pricilla Johnson were instrumental in the selection and planning of activities to use the equipment.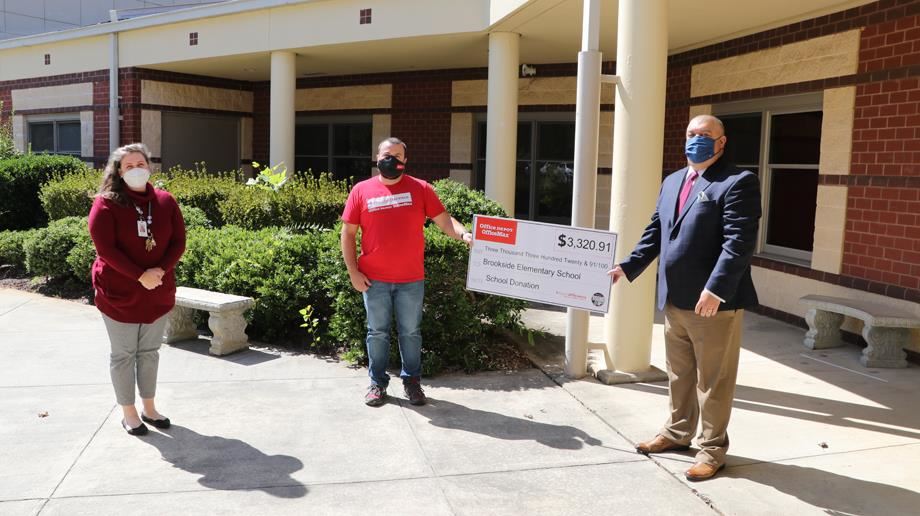 ■ Office Depot
For the past several years, Office Depot has played a significant role in the Gaston County Schools "Stuff That Bus" school supplies collection. Even though "Stuff That Bus!" had to be canceled this year because of COVID-19, Office Depot still found a way to help students.

Store manager Patrick Modlin presented a check in the amount of $3,320.91 to Brookside Elementary principal Chad Hovis. The school plans to use the money to purchase supplies for students and teachers.

"As customers make a store purchase, they have the opportunity to donate a dollar amount or round up their transaction," explained Modlin. "This promotion began in July and runs through October 31 at our Gastonia, Hickory, and Shelby stores. The funds contributed today were raised through the end of August so the school can expect another check in November."

Hovis said, "Office Depot has always been a great community partner of ours. This is a blessing for Brookside, and the opportunity that we have to support our students and teachers through the partnership with Office Depot is phenomenal."

Thank you, Academy Sports + Outdoors and Office Depot, for your outstanding support of our schools!