Return to Headlines
'Do the Right Thing' award winners for September
'Do the Right Thing' award winners chosen for September
Every day in our schools, there are students who set themselves apart by doing things that make a difference in the lives of others. They do these things without expecting anything in return.

These students are recognized by The Gaston Gazette's 'Do the Right Thing' program. In partnership with Gaston County Schools, The Gazette honors a student at each school level every month from September through May.

The program brings attention to students who distinguish themselves by their actions, whether big or small. From something like organizing a fundraiser or a food drive for those in need to holding open the door for students on their way to class, these exemplary students make sure that their classmates and others are cared for and treated well.

The students' attitudes, accomplishments, and efforts make them stand out as positive role models for others, and faculty and staff are always sure to take notice. The information about each 'Do the Right Thing' winner is provided by the principal.

Here are the profiles for our 'Do the Right Thing' award winners for September 2020: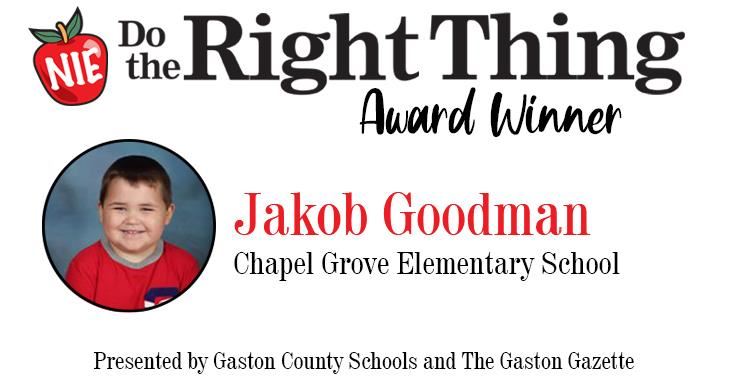 Elementary School Winner
Student: Jakob Goodman
Parent/Guardian: Diana Welch
School: Chapel Grove Elementary School

Jakob Goodman is the definition of kindness. He is the first to greet everyone in the morning and wave goodbye in the afternoon. On the first day of kindergarten, another student was crying and Jakob was concerned about her. He held her hand and walked with her and kept telling her, "It's OK. I'm here with you." Another time, a new classmate was afraid to use the sink, and he helped him turn on the water and wash his hands. From helping a friend when she had a tough morning to showing a new friend how to use the sink and showing another friend how to use a Chromebook, Jakob displays what it means to be kind to others and is a model of the golden rule.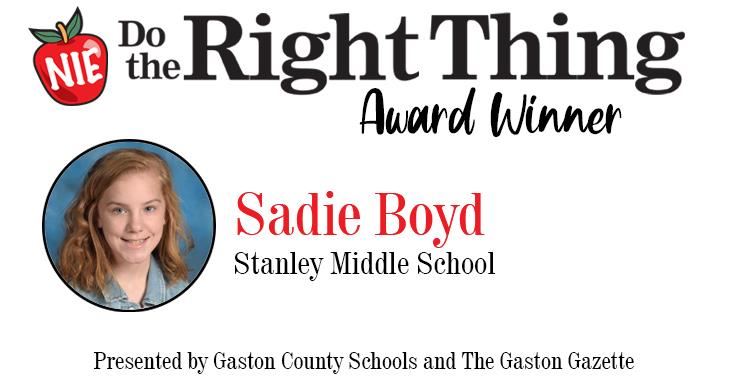 Middle School Winner
Student: Sadie Boyd
Parents/Guardian: Joshua and Stacey Boyd
School: Stanley Middle School

Eighth grader Sadie Boyd has always shown a kind heart for others. She recently expressed concern about a student's well-being after learning the student was unable to purchase new clothes for the school year. Reaching out to faculty and staff at Stanley Middle, Sadie was able to provide clothing for the student and even offered to use her allowance to help pay for it. Her act of kindness demonstrates her compassion for others, a trait that her classmates and teachers admire in her.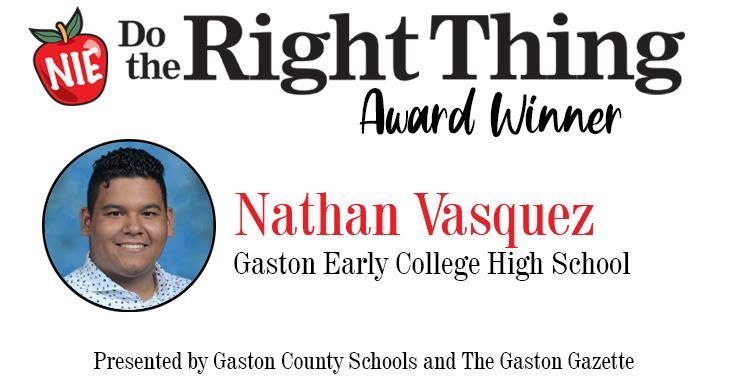 High School Winner
Student: Nathan Vasquez
Parents/Guardian: Sylvia Castillo and Moises Vasquez
School: Gaston Early College High School

This year as president of the school's Beta Club, Nathan Vasquez recognized that some families are experiencing difficulty buying food during the COVID-19 pandemic. To help provide assistance to the families, Nathan teamed up with teacher and Beta Club adviser Lauren Dixon to reach out to Crisis Assistance Ministries (CAM). Thanks to Nathan's leadership and efforts to motivate others, Beta Club members travel to CAM every Tuesday and Thursday afternoon to help provide food for families in need. Through teamwork with his classmates, Nathan organizes food collections and determines the loading, unloading, and sorting process for the collections.

Congratulations to our 'Do the Right Thing' award winners!