Return to Headlines
'Do the Right Thing' award winners for January
'Do the Right Thing' award winners chosen for January
Every day in our schools, there are students who set themselves apart by doing things that make a difference in the lives of others. They do these things without expecting anything in return.

These students are recognized by The Gaston Gazette's 'Do the Right Thing' program. In partnership with Gaston County Schools, The Gazette honors a student at each school level every month from October through April.

The program brings attention to students who distinguish themselves by their actions whether big or small. From organizing a fundraiser or a food drive to holding open the door for students on their way to class, these exemplary students make sure that their classmates and others are cared for and treated well.

The students' attitudes, accomplishments, and efforts make them stand out as positive role models for others, and faculty and staff are always sure to take notice. The information about each 'Do the Right Thing' winner is provided by the principal.

Here are the profiles for our 'Do the Right Thing' award winners for January 2023: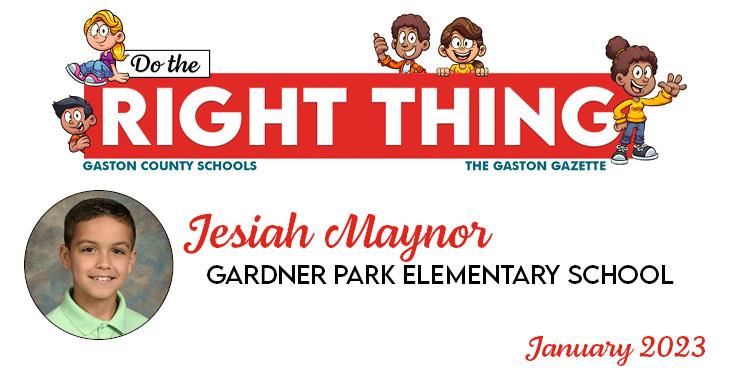 Elementary School Winner
Jesiah Maynor
Gardner Park Elementary School
Parents: Amanda Dorn and Vincent Jackson, Jr.

Fourth grader Jesiah Maynor is a patient and understanding friend. He goes out of his way to listen to others and to make sure they feel heard. Recently, when a student was struggling with the end-of-day transition, Jesiah took it upon himself to calm the student down. He has built a friendship with the student and managed to get him to trust him. Jesiah is a great role model for other students in his class, and he leads by example.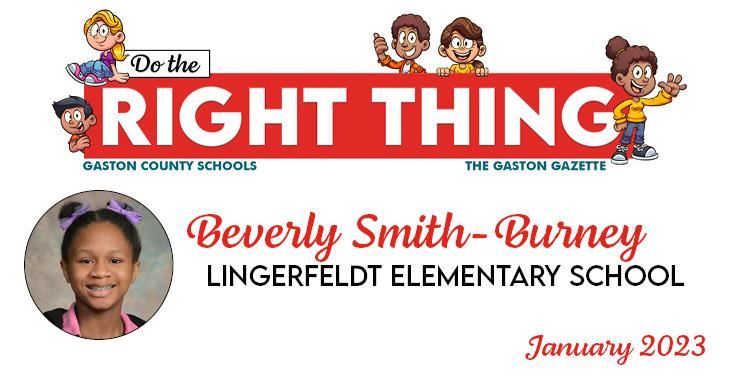 Elementary School Winner
Beverly Smith-Burney
Lingerfeldt Elementary School
Parent: Jewel Smith

Beverly Smith-Burney is constantly helping others without being asked to do so. Her teacher says she is always kind, thoughtful, and helpful and is consistently on her best behavior. Beverly serves as a fifth grade mentor for younger students and does her best to set a good example for them. She is always looking on the bright side, and she works hard in class to do her best. Beverly is a positive influence on everyone around her.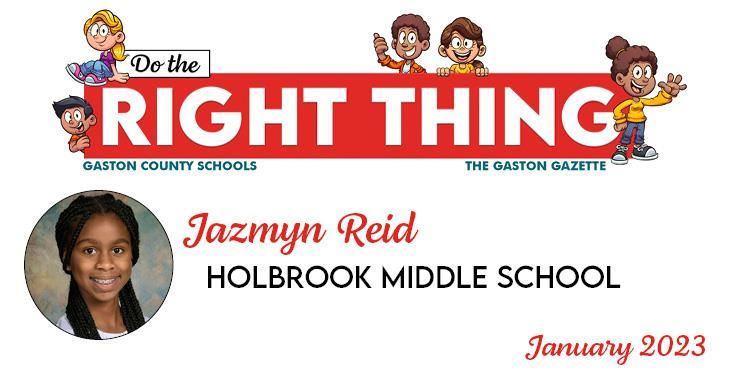 Middle School Winner
Jazmyn Reid
Holbrook Middle School
Parents: Jerod Reid and Karleen Solomon
Jazmyn Reid stands out among her peers because of her strong character. She is helpful, polite, and respectful to both her peers and school staff. Recently, after a bullying prevention training, Jazmyn got permission from her teacher to write the information she had learned during the presentation on the whiteboard in her class. Jazmyn thought the information was so important that she wanted the rest of the class to know about it, too.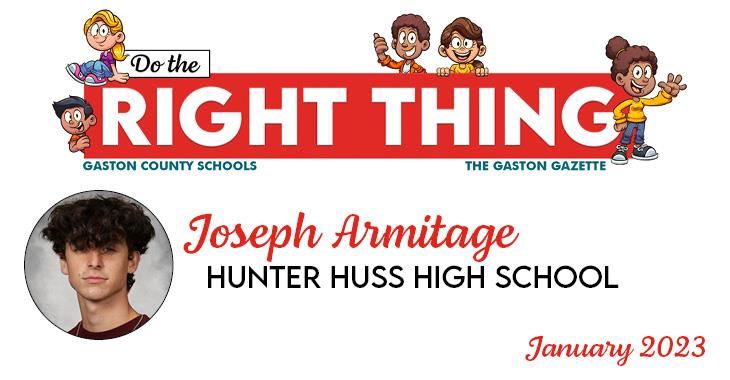 High School Winner
Joseph Armitage
Hunter Huss High School
Parent: James Thomasson

Senior Joseph Armitage is an outstanding student, athlete, and leader at Hunter Huss. When he found out that one of his classmates was experiencing homelessness, Joseph worked together with the staff to organize a benefit at his church to help the student and family. He partnered with his church youth group, and in just a few days, they raised $400 to benefit the student. Joseph did all of this on his own as a way to show kindness to another student.

Congratulations to our 'Do the Right Thing' award winners!