Return to Headlines
Booker transitioning to new career opportunity
Superintendent Booker will transition to new career opportunity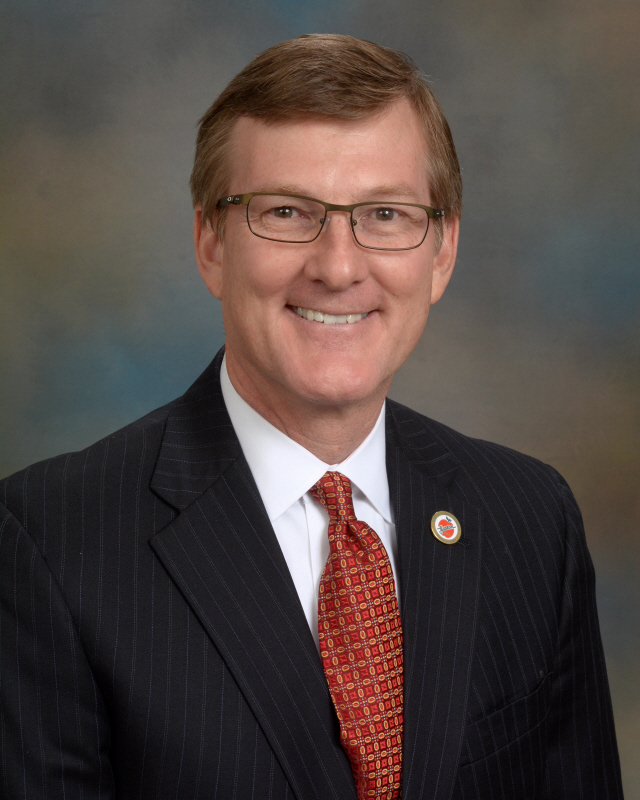 Superintendent of Schools W. Jeffrey Booker, Ed.D., will transition to a new career opportunity, thus ending his service to Gaston County Schools at the conclusion of the 2022-2023 academic year. Booker informed the Board of Education of his decision Monday night during the Board's regular monthly meeting.
"It has been a distinct honor and privilege to serve as Superintendent of Gaston County Schools," stated Booker. "I am extremely proud of what we have accomplished over the past 14 years during my tenure as Deputy Superintendent and Superintendent of Schools."
"My decision to leave Gaston County Schools was not made in haste; it involved much thought, prayer, and input from my family," added Booker. "In February, I celebrated my 60th birthday. The milestone caused me to reflect about my career and what I want to do during my last several years of professional work. Working for Gaston County Schools has been a humbling and rewarding experience, and I will always cherish my time with the school system. Now, I am ready to concentrate my attention on making an impact in other ways."
Booker joined Gaston County Schools in May 2009 as Deputy Superintendent of Operations. In November 2013, he was selected by the Board of Education to serve as the district's seventh superintendent, succeeding L. Reeves McGlohon, who retired in December 2013. Click here for Booker's biography.
Booker praises the employees of Gaston County Schools for providing a positive learning environment where students can grow, thrive, and succeed. He also expresses appreciation to current and past members of the Board of Education for their unwavering support of and confidence in his leadership.
"Together, we have accomplished much since I became Superintendent on January 1, 2014. From focusing on academic progress and expanding programs for students to building strong partnerships and celebrating countless achievements, we have moved Gaston County Schools forward, and this makes me extremely proud. I am grateful for all employees – our school system is strong, productive, and successful because of our employees' steadfast commitment to the students of our community."
During Booker's nine-plus years as Superintendent of Schools:
▪ District leaders have been able to work with the county commission and county government to secure more local funding for Gaston County Schools. The additional funds have gone toward facility maintenance and capital projects, employee/teacher pay supplements and benefits, expansion of programs, technology, inflationary costs, and other areas of need.

▪ Gaston County Schools was able to expend remaining funds from the 2007 school bond referendum that included many capital needs projects, the renovation of Hunter Huss High School, and the construction of three new school facilities – Stuart W. Cramer High School in 2013, Pleasant Ridge Elementary School in 2017, and Stanley Middle School in 2018. In May 2018, the citizens of Gaston County approved a $250 million school bond referendum – the largest in Gaston County Schools' history – with overwhelming support. The 2018 school bonds have made it possible to address much-needed renovation and repair projects at many schools across the county, open a new Belmont Middle School in 2021, and replace the aging Grier Middle School campus with a new school that is scheduled to open in 2025.

▪ Gaston County Schools has become a model district for school safety, thanks to the investment in and constant focus on safety and security. The district's ongoing partnership with the Gaston County Police Department, Gaston County Sheriff's Office, municipal/city police departments, and other agencies as well as various school security initiatives have contributed to Gaston County having one of the best school safety rates in the state when compared to the largest school districts.

▪ In academics, Gaston County Schools recorded steady progress in student proficiency and academic growth prior to the COVID-19 pandemic and saw the graduation rate reach an all-time high. Coming out of the pandemic, students have achieved significant academic growth, a sign that schools are moving in the right direction toward improved student achievement. In the area of Career and Technical Education (CTE), the district gained statewide recognition for the number of industry-recognized credentials earned by students, and renewed attention on CTE connected students with local businesses and created job-related opportunities for students.

▪ The global pandemic was an unprecedented time for everyone, and Gaston County Schools was not immune from the drastic effects of COVID-19. Fortunately, through careful leadership and cooperation with the local health department and other agencies, Gaston County Schools was able to implement a plan that took the health, safety, and well-being of students, employees, and others into consideration while being able to operate schools on a staggered schedule – doing so kept students engaged in academics and lessened the impact of learning loss.
▪ The number of school choice/magnet school options for students and families increased from two to 22 in a seven-year span. Prior to 2016 when Hawks Nest Intermediate School was transformed into the Hawks Nest STEAM Academy magnet school for grades K-5, Gaston County Schools had only two choice schools in the district – Highland School of Technology and Gaston Early College High School. The school choice options also include the Gaston Virtual Academy, which was one of the few virtual/online schools operated by a school system when it was established in 2017.
▪ Gaston County Schools also saw advancements in the areas of technology and communication. The district reached its goals of providing a computing device for every student, expanding WiFi access at all schools, upgrading technology infrastructure, and ensuring that schools have up-to-date technology for teacher and student use. Further, the district updated its website and introduced a mobile app.

▪ Numerous business and community partnerships have been established, renewed, and expanded to enhance academics, athletics, professional development, and other areas. Most notable are Gaston County Schools' partnerships with CaroMont Health, Gaston College, Belmont Abbey College, Gardner-Webb University, Courage Kia, Wells Fargo, Truist, GSM Services, Duke Energy, the Gaston County Health Department, and the Gaston County Education Foundation, to name just a few.

▪ Professional development opportunities for teachers, administrators, classified staff, and other employees became an area of concentration to coincide with Gaston County Schools' vision of inspiring lifelong learning. For example, through the Superintendent's Leadership Academy, the district has been able to grow, encourage, and develop the next generation of classroom teachers and school/central level administrators.
▪ Gaston County Schools has consistently exhibited the spirit of caring and giving. The district's annual contribution to the United Way of Gaston County has ranged from approximately $90,000 to $100,000-plus, and over three separate years as part of the "Nickels 4 Neighbors" campaign, the schools collected a total of $65,000 for school districts in North and South Carolina that were affected by hurricanes/floods. Additionally, the schools have raised thousands of dollars for charitable organizations and conducted various collection drives to help people in need.

▪ And, during the 2018-2019 academic year, Gaston County Schools celebrated its 50th anniversary in a big way with a parade, museum exhibit, photo display, employee talent show, and other special activities.
In addition to the accomplishments listed above, Booker was chosen by his fellow superintendents as the Southwest Region Superintendent of the Year in 2016-2017 and 2022-2023 and was selected as a finalist both times for the N.C. Superintendent of the Year recognition.
The Board of Education is responsible for appointing Booker's successor and will develop a plan and timeline for selecting the next Superintendent of Schools.
Board of Education Chairman Jeff K. Ramsey stated, "Words cannot adequately express how much we appreciate Dr. Booker and his many significant contributions to Gaston County Schools. Certainly, he will be missed. We will be forever grateful for his vision, leadership, and willingness to do everything possible to move us forward. Without question, he has left his mark on Gaston County Schools, and we sincerely appreciate everything that he has done for us."
Ramsey added, "It is the goal of the Board of Education to find someone for the Superintendent position who can lead us in continuous improvement, guide us to achieve more, and encourage us to be the best we can be in much the same way that Dr. Booker has over the past nine years. We want our next Superintendent to help us build on everything we have achieved during Dr. Booker's tenure."