District News
Page Navigation
Return to Headlines
'Do the Right Thing' award winners for October
'Do the Right Thing' award winners chosen for October
Every day in our schools, there are students who set themselves apart by doing things that make a difference in the lives of others. They do these things without expecting anything in return.

These students are recognized by The Gaston Gazette's 'Do the Right Thing' program. In partnership with Gaston County Schools, The Gazette honors a student at each school level every month from October through April.

The program brings attention to students who distinguish themselves by their actions, whether big or small. From organizing a fundraiser or a food drive to holding open the door for students on their way to class, these exemplary students make sure that their classmates and others are cared for and treated well.

The students' attitudes, accomplishments, and efforts make them stand out as positive role models for others, and faculty and staff are always sure to take notice. The information about each 'Do the Right Thing' winner is provided by the principal.

Here are the profiles for our 'Do the Right Thing' award winners for October 2021: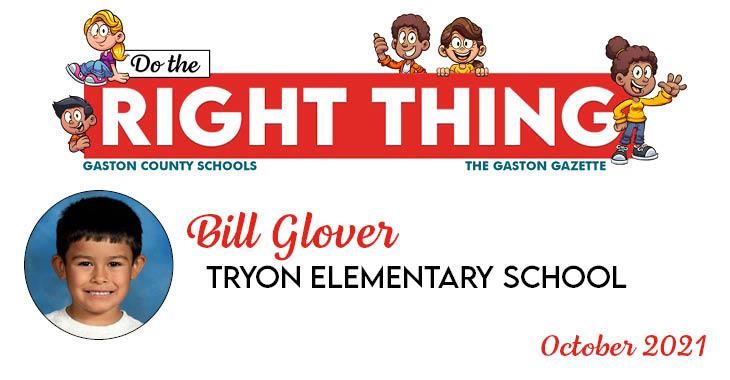 Elementary School Winner
Bill Glover
Tryon Elementary School
Parents: Travis and Beth Glover

Tryon first grader Bill Glover is an eager learner, who always works hard in class to achieve his best. In addition to these wonderful characteristics, Bill is also mindful about including his classmates and reaching out to help others. Recently, the students in Bill's first grade class were going over safety drills and procedures. When one of his peers got overwhelmed, he went over to reassure him that everything would be OK. He sets a great example for treating others how you would like to be treated.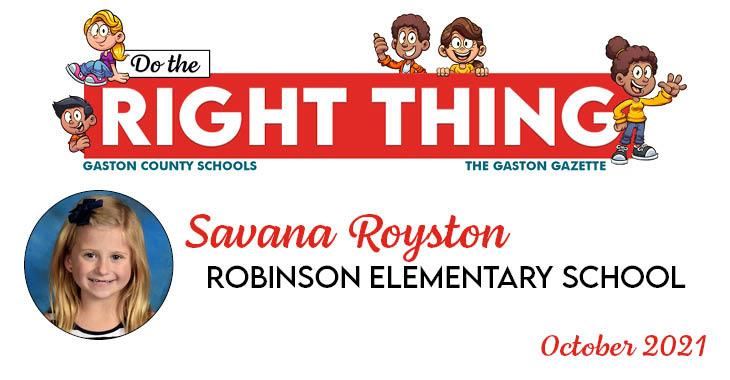 Elementary School Winner
Savana Royston
Robinson Elementary School
Parent: Paige Royston

Savana Royston, a third grader, is a prime example of an outstanding student at Robinson Elementary. Savana enjoys school and loves to learn every day. Her kindness toward the faculty, her teachers, and her peers sets her apart from the rest. An Academically or Intellectually Gifted (AIG) student, Savana works hard in all of her classes. She is always willing to help her peers and go the extra mile by volunteering to help her teachers. Her thoughtfulness does not go unnoticed, and it is so appreciated.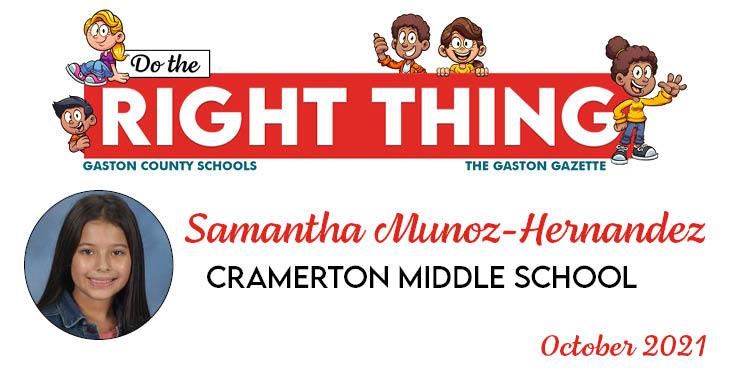 Middle School Winner
Samantha Munoz-Hernandez
Cramerton Middle School
Parents: Jonathan Munoz and Angie Hernandez

Samantha Munoz-Hernandez is an amazing student, but an even better person. She is always willing to lend a helping hand. During her language arts class, Samantha volunteered to help a new Spanish-speaking student to adjust. She did not hesitate in stepping up and offering to assist her. Having moved here in the third grade not knowing English, Samantha wanted to make sure she could help encourage her new friend and translate for her as needed during the school year. Her willingness to help is very encouraging.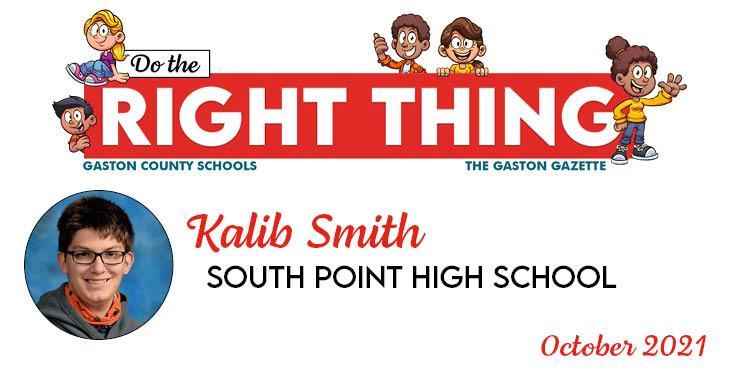 High School Winner
Kalib Smith
South Point High School
Parents: Jeffrey and Kristine Smith

Kalib Smith stands out at South Point High School. He is always respectful of his teachers and peers and always has a positive attitude. The sophomore is known for going above and beyond what is asked of him. You can often find him picking up trash that isn't his or helping put away chairs to assist his teachers. He is always polite toward the faculty and staff. He also works well with others and does a great job of helping to keep his group on task during assignments. His thoughtfulness is appreciated by everyone around him.

Congratulations to our 'Do the Right Thing' award winners!
Click here to see our "Do the Right Thing" page that appeared in the October 8, 2021 edition of The Gaston Gazette.