Return to Headlines
Recognition for bus transportation employees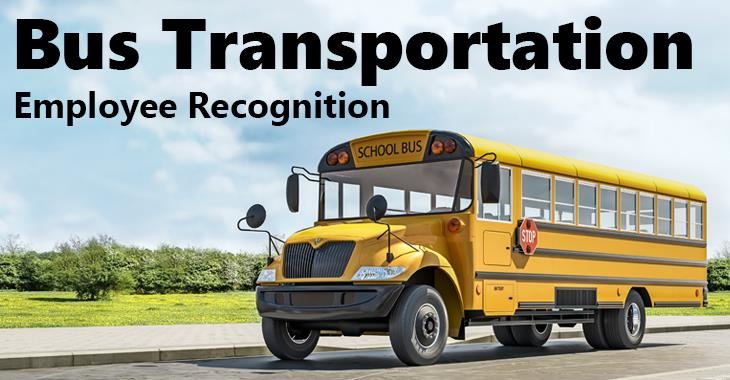 Bus transportation employees recognized for outstanding service, perfect attendance

Gaston County Schools' bus drivers and transportation personnel have plenty of reasons to celebrate.

The Bus Transportation Department has recognized its employees for outstanding service and perfect attendance during the 2019-2020 school year. Usually, a banquet is held in May to honor the employees, but the celebration was canceled because of coronavirus concerns.

■ Outstanding Service
Twenty-seven employees were recognized for their years of outstanding service. The recognition is presented in five-year increments, ranging from five years to 30 years. An achievement pin and certificate were given to each employee based on the number of years they have worked for Gaston County Schools.

5 years
Bryan Gardner, Transportation
Mark Wilson, Transportation
Johnny Guffey, Transportation
Lisa Bradley, Ashbrook
David Wilcox, Ashbrook
Paula Perdiguero, Belmont Central
Lisa Houston, Forestview
Terressa Hester, South Point
Sandra Lowery, Southwest
Charlotte Bumgardner, Stuart W. Cramer

10 years
Steve Gaston, Transportation
Samantha Wallace, Bessemer City Middle
Evelyn Wilson, Carr
Lisa Layel, Lowell
Doretta Cureton, Pleasant Ridge
Cynthia Campbell, Warlick
Jessie Wilson, Webb Street

15 years
Ricky Penland, Transportation
David Luoto, Transportation
Kim Baker, Bessemer City Central
Lisa Funderburk, Catawba Heights
Connie Coleman, Forestview
Wayne Goodson, Holbrook

25 years
Sheritta Lowery, Hunter Huss
Sylvia Purcell, South Point
Robin Sigmon, Tryon

30 years
Pam Yager, Transportation

■ Perfect Attendance
Additionally, 95 employees achieved perfect attendance recognition for missing no days of work during the 2019-2020 school year. Each employee received a certificate.

Lisa Bradley, Ashbrook
Mike Watson, Ashbrook
Lathan Meeks, H.H. Beam
Peggy McPherson, Belmont Central
Erika Veasey, Belmont Central
Donald Darby, W.A. Bess
Bryan Hoffman, W.A. Bess
Daniel Lee, W.A. Bess
Linda Hutchens, Bessemer City Central
Tawanna Sanders, Bessemer City Central
Jeffrey Smith, Bessemer City Middle
Samantha Wallace, Bessemer City Middle
Claude Ingram, Brookside
Marc Philor, Brookside
Sylvia Shepherd, Brookside
Dwayne Williams, Carr
Evelyn Wilson, Carr
Melissa Wooten, Carr
Lisa Funderburk, Catawba Heights
Jamie Spencer, Chapel Grove
Danny Williams, Chapel Grove
Dana Wilson, Chapel Grove
Darla Stone, Cherryville High
Teresa Brooks, Cramerton
Priscilla Blalock, East Gaston
Janet Hamm, East Gaston
Michael Jackson, East Gaston
Walt Sowards, East Gaston
Lorene Usery, East Gaston
Tim Wilson, East Gaston
Kyetra Armstrong, Forestview
Connie Coleman, Forestview
Patricia Fellows, Forestview
Heather Fry, Forestview
Lewis McCluney, Forestview
Fran Phillips, Forestview
Hiram Gardin, Gardner Park
Lee Spencer, Grier
Crystal Laughrun, Holbrook
Jonathan Laughrun, Holbrook
Tongha Jeffries, Holbrook
Mark Burris, Hunter Huss
Augustine Durham, Hunter Huss
Ramona Lewis, Hunter Huss
John McGill, Hunter Huss
Steve Smarr, Hunter Huss
Albert Tolbert, Hunter Huss
Lisa Layel, Lowell
Donna Montsinger, Lowell
Priscilla Mack, North Belmont
Kymara Cooper, North Gaston
Nancy Hill, North Gaston
Sherry Jenkins, North Gaston
Jenny Kiser, North Gaston
Eric Ray, North Gaston
Donna Watson, North Gaston
Karen Sandry, Pinewood
Billy Willoughby, Pinewood
Glenn Brotherton, Pleasant Ridge
Doretta Cureton, Pleasant Ridge
Francina Burris, Rankin
Kathy Leviner, Rankin
Isaiah Sturgis, Robinson
William Robinson, Sadler
Terressa Hester, South Point
Michael Robinson, South Point
Mark Fitzgerald, Southwest
Sandra Lowery, Southwest
Michelle Williams, Southwest
Christine Chavers, Springfield
Robin McNabb, Springfield
Michael Mongillo, Springfield
Wiley Harris, Stuart W. Cramer
William Powell, Stuart W. Cramer
Benny Watkins, Stuart W. Cramer
Karen Ware, Transportation
Steven Neal, Transportation
James Hyman, Transportation
Samantha Spargo, Transportation
Barbara McCorkle, Tryon
Robin Sigmon, Tryon
Chassity Spencer, Tryon
Cynthia Campbell, Warlick
Dawn Moore, Warlick
LaShanda Roberts, Warlick
Shannon Armstrong, Webb Street
Michael Frost, Webb Street
Mary Hemphill, Webb Street
James Hill, Webb Street
Rebecca Johnson, Webb Street
William Ledbetter, Webb Street
David Snyder, Webb Street
Sharon Stackston, Webb Street
Dewitt Youngblood, Jr., Webb Street
Jasmine Brown, Woodhill

Superintendent of Schools W. Jeffery Booker said, "We are extremely proud of the bus drivers and transportation department employees who earned recognition for outstanding service and perfect attendance. While we could not celebrate their achievements this year in person, we still want to bring attention to their hard work and dedication and commend them on a job well done. Please join me in congratulating all of our bus transportation personnel for their steadfast commitment to Gaston County Schools."

Congratulations to all of our bus transportation honorees. We appreciate your service!