Return to Headlines
'Do the Right Thing' award winners for April
'Do the Right Thing' award winners chosen for April
Every day in our schools, there are students who set themselves apart by doing things that make a difference in the lives of others. They do these things without expecting anything in return.

These students are recognized by The Gaston Gazette's 'Do the Right Thing' program. In partnership with Gaston County Schools, The Gazette honors a student at each school level every month from October through April.

The program brings attention to students who distinguish themselves by their actions whether big or small. From organizing a fundraiser or a food drive to holding open the door for students on their way to class, these exemplary students make sure that their classmates and others are cared for and treated well.

The students' attitudes, accomplishments, and efforts make them stand out as positive role models for others, and faculty and staff are always sure to take notice. The information about each 'Do the Right Thing' winner is provided by the principal.

Here are the profiles for our 'Do the Right Thing' award winners for April 2022: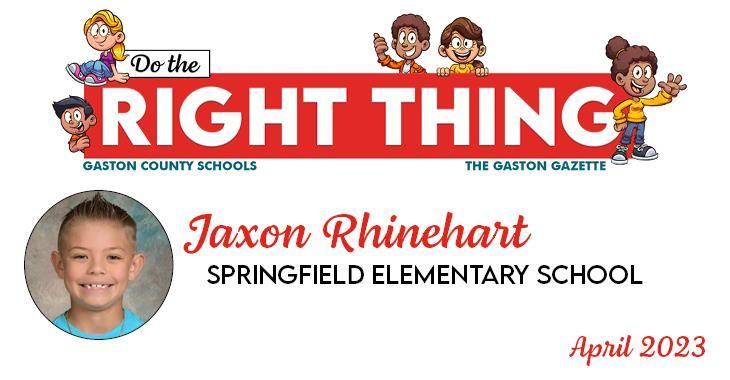 Elementary School Winner
Jace Lineberger
Page Primary School
Parents: Ashley and Michael Lineberger

First grader Jace Lineberger is often recognized for his positive attitude and good character. A kind and caring student, Jace is considerate of his classmates and teacher and goes out of his way to be helpful. Recently, when his friends needed a mask to ride on the bus, he was prepared to help out and shared new masks from his book bag with them. Jace is a great example of doing the right thing when no one is looking, and he sets a strong example for his peers.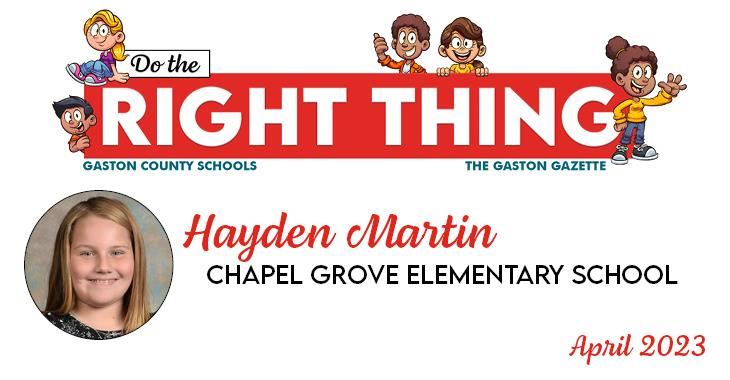 Elementary School Winner
Zayden Miller
Brookside Elementary School
Parent: Dana Miller

Fifth grader Zayden Miller has a heart of gold. He is always very respectful and speaks to any person who he passes in the hallway. He always has a bright smile and a warm hug for staff members. Zayden exemplifies a positive role model for his peers because he is always willing to help others without being asked. He goes above and beyond to encourage his peers on a daily basis, which really sets him apart. He is the perfect example of a student "doing the right thing."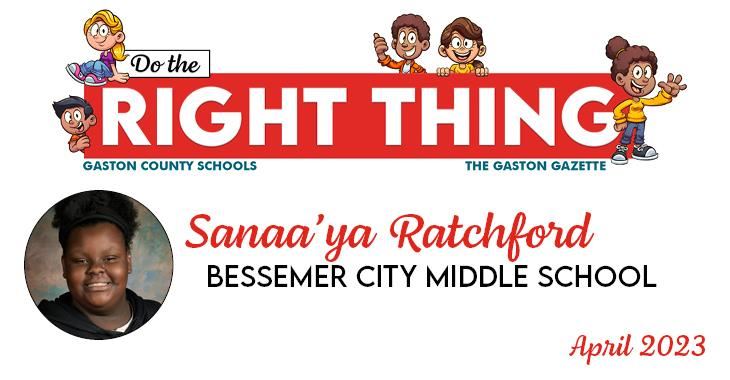 Middle School Winner
Alexandria Price
Southwest Middle School
Parent: Lori Price

Seventh grader Alexandria Price encourages other students to make good choices and comes to class every morning ready and eager to learn. Alexandria is a great tutor for her peers in both math and English/language arts. Recently, when a classmate was confused about an assignment, she was able to help her friend come to a better understanding of the assignment so the friend could get to work. Alexandria takes pride in being a good student and a good friend to her classmates.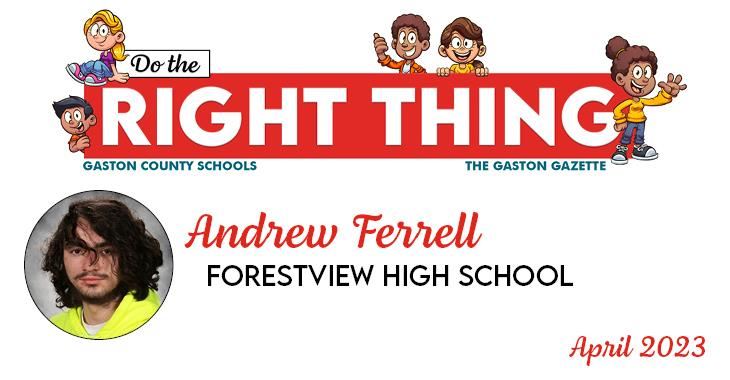 High School Winner
Sydney Crain
North Gaston High School
Parents: Mark and Sabrina Crain

Senior Sydney Crain has a heart for serving others. Actively involved in her church youth group, Sydney has spent many hours volunteering for organizations like the Crisis Pregnancy Center and Least of These Gaston. She has taken time out of her schedule to act as a community service leader while also balancing her rigorous schoolwork with extracurricular activities. Sydney is a member of the National Honor Society, National Technical Honor Society, and Beta Club.

Congratulations to our 'Do the Right Thing' award winners!