Return to Headlines
'Do the Right Thing' award winners for March
'Do the Right Thing' award winners chosen for March
Every day in our schools, there are students who set themselves apart by doing things that make a difference in the lives of others. They do these things without expecting anything in return.
These students are recognized by The Gaston Gazette's 'Do the Right Thing' program. In partnership with Gaston County Schools, The Gazette honors a student at each school level every month from October through April.
The program brings attention to students who distinguish themselves by their actions whether big or small. From organizing a fundraiser or a food drive to holding open the door for students on their way to class, these exemplary students make sure that their classmates and others are cared for and treated well.
The students' attitudes, accomplishments, and efforts make them stand out as positive role models for others, and faculty and staff are always sure to take notice. The information about each 'Do the Right Thing' winner is provided by the principal.
Here are the profiles for our 'Do the Right Thing' award winners for March 2023: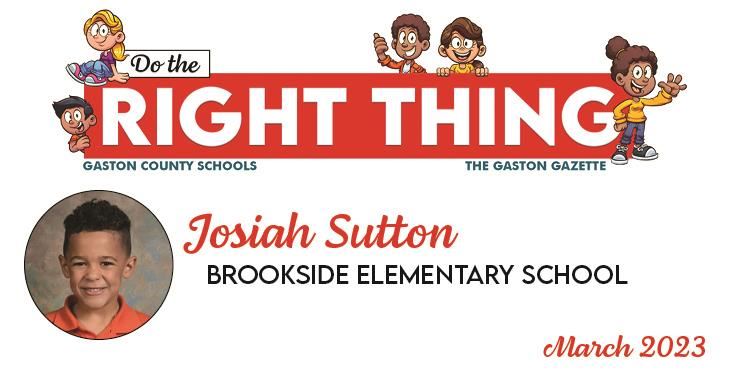 Elementary School Winner
Josiah Sutton
Brookside Elementary School
Parents: Lauren and Caleb Spears
First-grader Josiah Sutton is a good student with a good attitude. This year, he has made some key decisions that have contributed to him having a successful school experience. He has become a great role model for his classmates and is a positive influence on them. A perfect example of a student doing the right thing, Josiah is kind, smart, and thoughtful, and he cares about helping others do their best.
Elementary School Winner
Jayla Matthews
Pinewood Elementary School
Parents: Jayanna and Joseph Matthews
Jayla Matthews is always eager to volunteer to help in her third grade classroom. She is the last one out of the classroom for lunch and at the end of the day because she often stays behind to clean up. Always happy and helpful, Jayla has never been asked to help with these responsibilities, but does so out of the goodness of her heart. If one of her classmates needs help, she is always willing to be there for the student.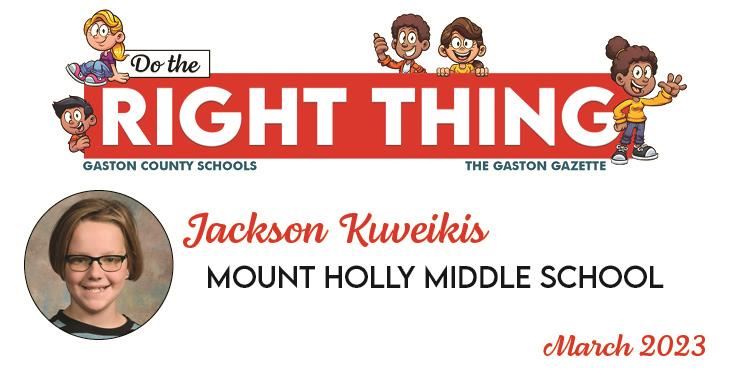 Middle School Winner
Jackson Kuveikis
Mount Holly Middle School
Parents: Lee and Tara Kuveikis
Seventh grader Jackson Kuveikis is a member of the Unified Champions Club, which serves to include students with special needs in the school community. He has been a standout leader in the club and has taken it upon himself to build friendships and spend time with the students in the school's adapted curriculum class. Jackson has a kind and patient heart and goes above and beyond expectations to do what is right.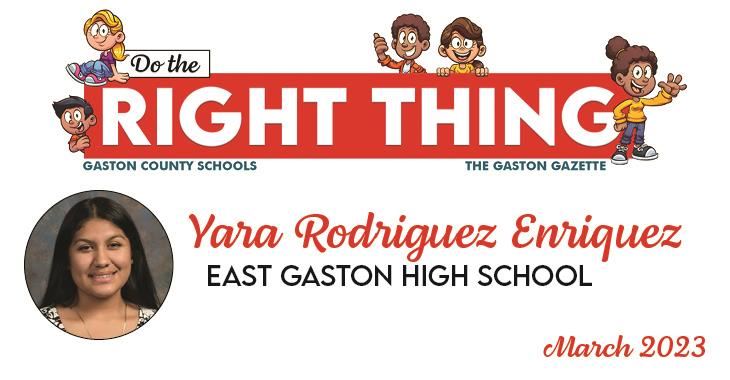 High School Winner
Yara Rodriguez Enriquez
East Gaston High School
Guardian: Alberta Enriquez
Tenth grader Yara Rodriguez Enriquez has a smile that lights up a room, and she is always so kind to anyone she meets. Yara is genuine and dependable and ready to help at any time. When the school had multiple Spanish-speaking students enroll this year, Yara was there to lend a helping hand to interpret. She has welcomed so many students to the school with open arms, and she is a great example of what it means to be a friend.
Congratulations to our 'Do the Right Thing' award winners!