Return to Headlines
'Do the Right Thing' award winners for November
'Do the Right Thing' award winners chosen for November
Every day in our schools, there are students who set themselves apart by doing things that make a difference in the lives of others. They do these things without expecting anything in return.

These students are recognized by The Gaston Gazette's 'Do the Right Thing' program. In partnership with Gaston County Schools, The Gazette honors a student at each school level every month from October through April.

The program brings attention to students who distinguish themselves by their actions, whether big or small. From organizing a fundraiser or a food drive to holding open the door for students on their way to class, these exemplary students make sure that their classmates and others are cared for and treated well.

The students' attitudes, accomplishments, and efforts make them stand out as positive role models for others, and faculty and staff are always sure to take notice. The information about each 'Do the Right Thing' winner is provided by the principal.

Here are the profiles for our 'Do the Right Thing' award winners for November 2021: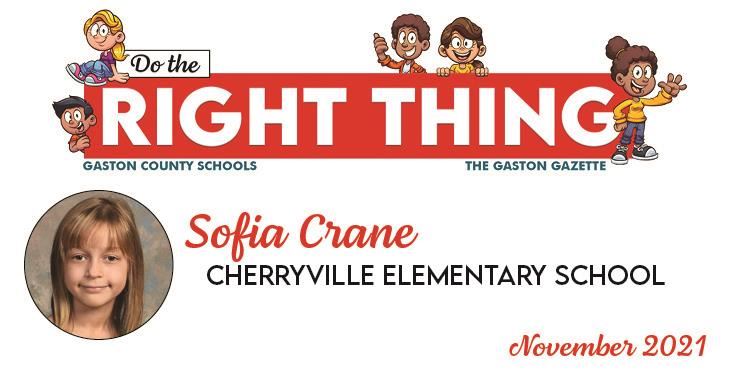 Elementary School Winner
Sofia Crane
Cherryville Elementary School
Parents: Thomas and Leslie Crane

Third grader Sofia Crane always exhibits a positive attitude while at school. She is an eager learner, who listens to comments and ideas from others without interrupting. Sofia is kind and helpful to everyone in her class, and she steps up to offer assistance when she sees other students having difficulty with their work. She always shows respect and kindness to others, and she encourages her classmates to do their best and to not give up. Her helpfulness sets a great example for her peers.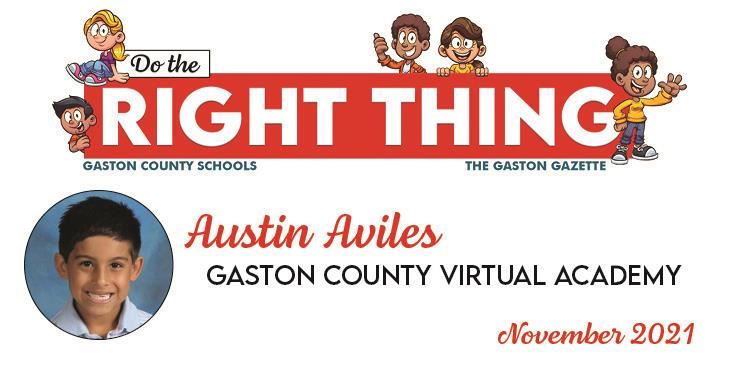 Elementary School Winner
Austin Aviles
Gaston County Virtual Academy
Parents: Cesar and Charlene Aviles

Fourth grader Austin Aviles is gracious, positive, and a great helper. He goes above and beyond to encourage his classmates, and he is always trying to help his peers. On more than one occasion, Austin has been able to find ways for his fellow students to access learning materials in a simple and direct way. Aware of the importance of not interrupting his teachers and classmates, he asks for permission to share his thoughts during a class discussion and does so in a concise manner that contributes to the online learning environment.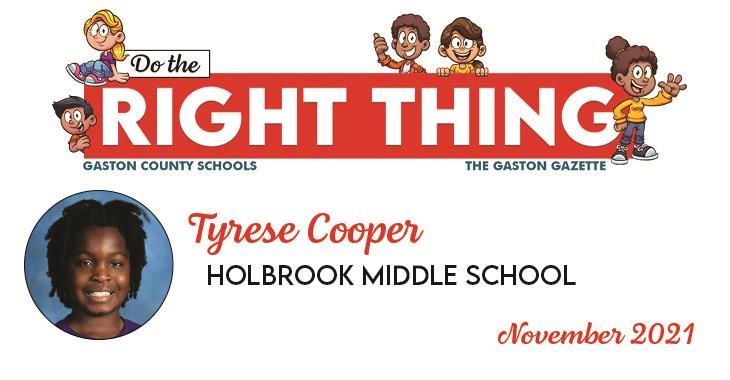 Middle School Winner
Tyrese Cooper
Holbrook Middle School
Parents: Terrence and Kymara Cooper

Tyrese Cooper is doing his part to ensure that his school is a great place for learning. His wonderful personality and the responsibility he shows every day make him stand out among his peers. Tyrese is known for being a helper. Once, when other students weren't keeping the boys' restroom tidy, Tyrese decided to pick up after them as a way to help out the custodians. He is a great example of students who are willing to set the bar high for their fellow classmates and encourage others to do their very best.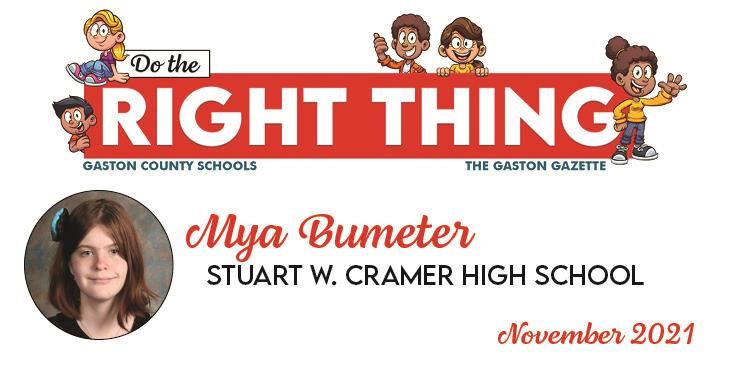 High School Winner
Mya Bumeter
Stuart W. Cramer High School
Parents: Brett Bumeter and Becky Perkins

Eleventh-grade student Mya Bumeter is a thoughtful and kind young lady. She assists her peers when they need help during class and communicates well with teachers and staff. She treats everyone she meets with kindness and respect. Mya is always the first to volunteer for activities such as putting up the flags and school clean-up projects, and she is eager to help whenever there is a need. She is always willing to step up and do the right thing in every situation, which sets a great example for her classmates.

Congratulations to our 'Do the Right Thing' award winners!
Click here to see our "Do the Right Thing" page that appeared in the November 12, 2021 edition of The Gaston Gazette.