Return to Headlines
Bessemer City graduate wins mentoring scholarship
Bessemer City High School graduate wins Paul Fuller Mentoring Scholarship

Chloe Lamtman-Dillon will tell you that her mentor shaped her into the confident young woman she is today.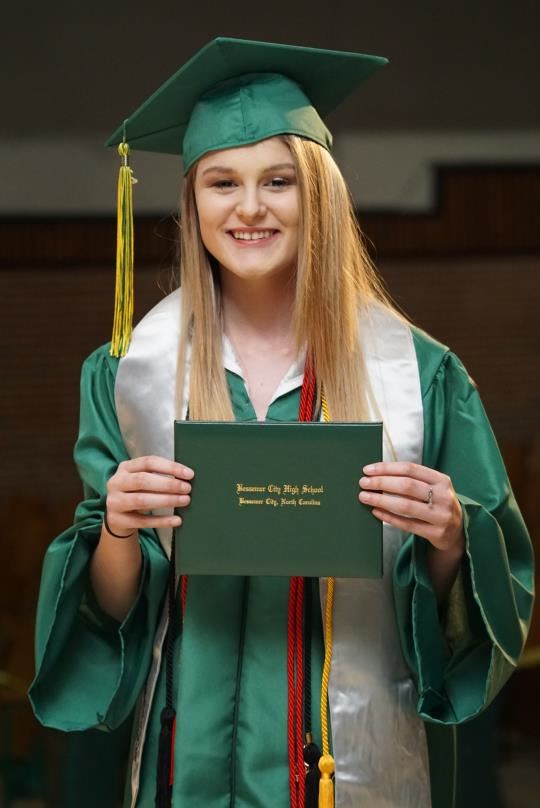 She became involved in the mentoring program as a student at Cramerton Middle School, which gave her an amazing opportunity to talk to her mentor, Julie Watkins, about the struggles that were going on at home.

"Mrs. Watkins would always give words of encouragement, and I would look forward to days when I would meet with her," explained Lamtman-Dillon. "Having her as my mentor meant having someone who was devoted to building me up and steering me toward success."

The Bessemer City High School graduate is this year's winner of the Paul Fuller Mentor Scholarship, which is given each year to an outstanding student who has been involved in the school district's mentoring program. The $1,000 scholarship is renewable for up to four years.

The mentoring scholarship is named in memory of Paul F. Fuller, who was one of the first mentors in Gaston County Schools and was an avid supporter of the program. The program began in 1992 with just 10 mentors at Mount Holly Junior High School. Today, it involves approximately 250 adults who serve as mentors at more than 30 schools.

"The amount of kindness and support I received from my mentor helped me believe that I have the potential to become the person I always dreamed of as a child," added Lamtman-Dillon. "Because of her, I pushed myself to set goals and become successful in high school."

Lamtman-Dillon plans to study political science and criminal justice at Gaston College and obtain an Associate of Science degree. After Gaston College, she plans to apply to UNC-Charlotte and pursue a major in political science. Ultimately, she wants to attend Wake Forest University School of Law.

"Although I went through many things, I never let it affect my school work, and I always bounced back from anything life threw at me," said Lamtman-Dillon, who graduated fourth in her class. "With the help of my mentor, I became stronger."

Bessemer City High School counselor Katrina Hopkins said that Lamtman-Dillon is an outstanding student who has been through quite a bit and pushes forward without complaining.

Hopkins added, "She is an exceptional young lady, and all she needs is a chance and opportunity to be successful in life."

Congratulations to Chloe Lamtman-Dillon, our Paul Fuller Mentoring Scholarship recipient in the Gaston County Schools Class of 2020!