Return to Headlines
'Do the Right Thing' award winners for April
'Do the Right Thing' award winners chosen for April
Every day in our schools, there are students who set themselves apart by doing things that make a difference in the lives of others. They do these things without expecting anything in return.

These students are recognized by The Gaston Gazette's 'Do the Right Thing' program. In partnership with Gaston County Schools, The Gazette honors a student at each school level every month from September through May.

The program brings attention to students who distinguish themselves by their actions, whether big or small. From something like organizing a fundraiser or a food drive for those in need to holding open the door for students on their way to class, these exemplary students make sure that their classmates and others are cared for and treated well.

The students' attitudes, accomplishments, and efforts make them stand out as positive role models for others, and faculty and staff are always sure to take notice. The information about each 'Do the Right Thing' winner is provided by the principal.

Here are the profiles for our 'Do the Right Thing' award winners for April 2021: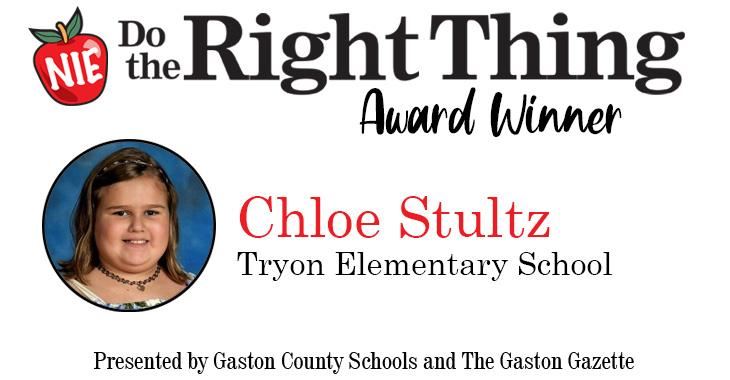 Elementary School Winner
Chloe Stultz
Tryon Elementary School
Parent: Jessica Stultz

Fifth grader Chloe Stultz is a wonderful student who works very hard to complete her school assignments. Despite the difficult circumstances of the school year with the pandemic, she has shown growth in all areas and is kind and helpful to her peers. One of the traits Chloe is most known for is her courage. Recently, when her grandfather was burning a brush pile and tripped over the gas can, Chloe reacted quickly and helped him stop the fire. These are just a few of the reasons why the faculty and staff chose Chloe as the 'Do the Right Thing' winner for April.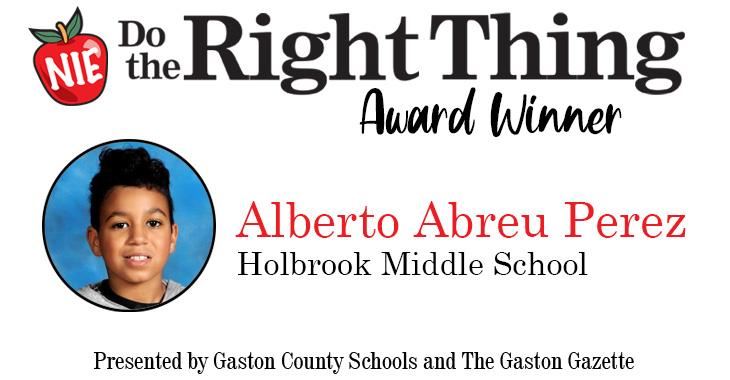 Middle School Winner
Alberto Abreu Perez
Holbrook Middle School
Parents: Luis and Martha Abreu

Alberto Abreu Perez, a sixth grader at Holbrook Middle School, is a great example of strength in the face of adversity. Through hardship and personal struggles this year, Alberto remained focused on his academic success. He advocates for himself by asking questions in class and will help clarify concepts for his classmates, too. Alberto was nominated to participate in the Dear Freedom Writers book project, which will feature student letters from around the globe. In addition to excellent academic performance, Alberto is a student with outstanding character. He constantly puts others before himself and never seeks personal recognition.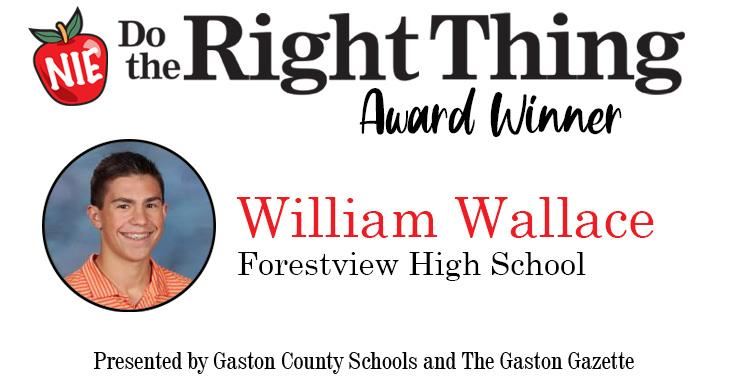 High School Winner
William Wallace
Forestview High School
Parents: Tammy and Alec Wallace

William Wallace stands out at Forestview High School. He always has a positive attitude, encourages his peers, and cares about his school. William sets an example for others through his pleasant demeanor, his diligence with classwork, and his willingness to volunteer and help others. As a surprise, he recently brought breakfast biscuits for his classmates and several staff members just to boost morale and tell everyone to persevere during the last few weeks of school. His thoughtfulness does not go unnoticed and is appreciated by everyone around him.

Congratulations to our 'Do the Right Thing' award winners!