Return to Headlines
'Do the Right Thing' award winners for January
'Do the Right Thing' award winners chosen for January
Every day in our schools, there are students who set themselves apart by doing things that make a difference in the lives of others. They do these things without expecting anything in return.

These students are recognized by The Gaston Gazette's 'Do the Right Thing' program. In partnership with Gaston County Schools, The Gazette honors a student at each school level every month from October through April.

The program brings attention to students who distinguish themselves by their actions, whether big or small. From organizing a fundraiser or a food drive to holding open the door for students on their way to class, these exemplary students make sure that their classmates and others are cared for and treated well.

The students' attitudes, accomplishments, and efforts make them stand out as positive role models for others, and faculty and staff are always sure to take notice. The information about each 'Do the Right Thing' winner is provided by the principal.

Here are the profiles for our 'Do the Right Thing' award winners for January 2022: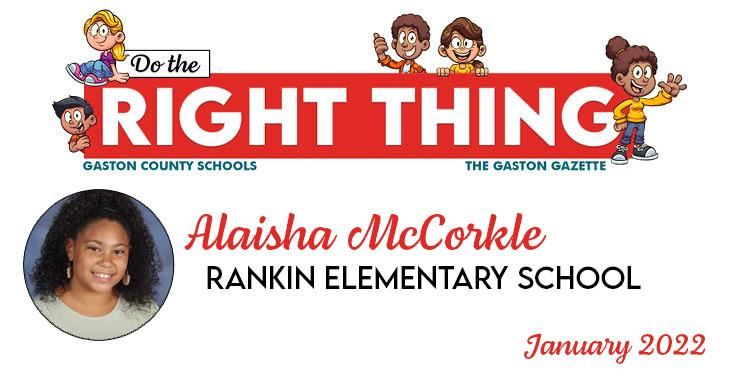 Elementary School Winner
Alaisha McCorkle
Rankin Elementary School
Parents: Ashley Mashaw and Chapz McCorkle

Fifth grader Alaisha McCorkle shows kindness without being prompted or needing accolades. She is selfless and helpful and does the right thing, even when no one is looking. Alaisha has a classmate who needs additional support on a daily basis. She has taken it upon herself to help write down assignments and notes and to help when her teacher is assisting other students. She does this without expecting anything in return, all while not wanting to draw extra attention to her classmate or herself. Her caring personality and thoughtfulness toward others sets her apart from her peers and provides a great example of what it means to be a good friend.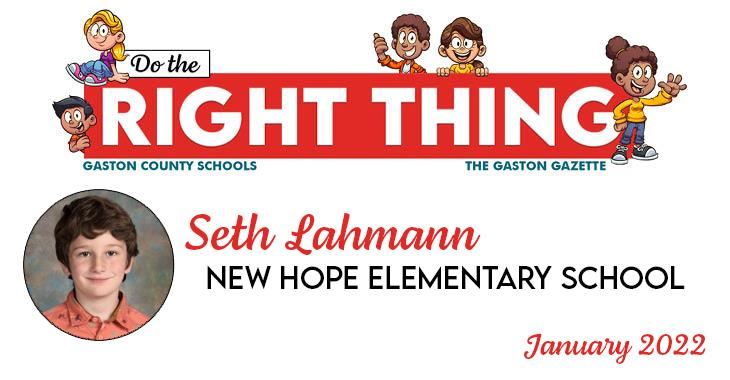 Elementary School Winner
Seth Lahmann
New Hope Elementary School
Parent: Tracy Parker

In addition to being a standout student, Seth Lahmann, a fifth grader, is very observant and always looking out for others. One time, while his class was watching a movie during lunch, Seth noticed that another student near the front of the room seemed to be choking, and he went to check on her. By drawing the teacher's attention to her, he was able to get adults to come to her aid. Everything turned out fine, thanks to his quick action and care for a classmate. Seth is a great example of a 'Do the Right Thing' student, as he shows compassion and concern for his classmates and goes above and beyond to help others when he can.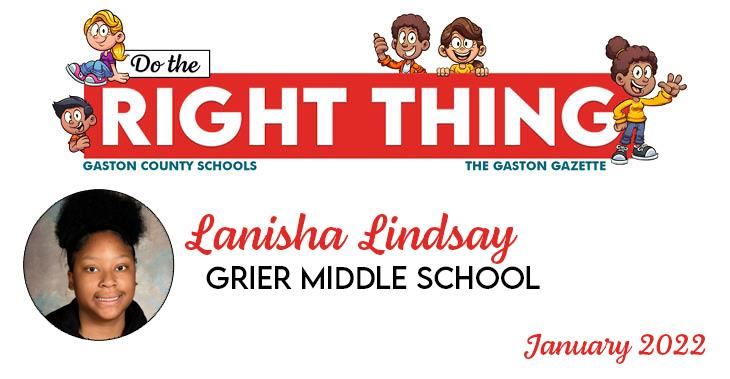 Middle School Winner
Lanisha Lindsay
Grier Middle School
Parents: Brandon Lindsay and Nustashia Tuttle

Eighth grader Lanisha Lindsay is a respectful, responsible, and dedicated student. She always offers to help her classmates and her teachers without being asked. There are countless times when she has taken it upon herself to sweep the classroom, collect other students' trash, and get everyone lined up with transitioning between classes. Lanisha also completes all of her work on time and demonstrates excellent behavior, serving as a role model for other students in her classes. Her motivation, willingness to help, and striving to be an all-around good student are some of Lanisha's most admirable qualities.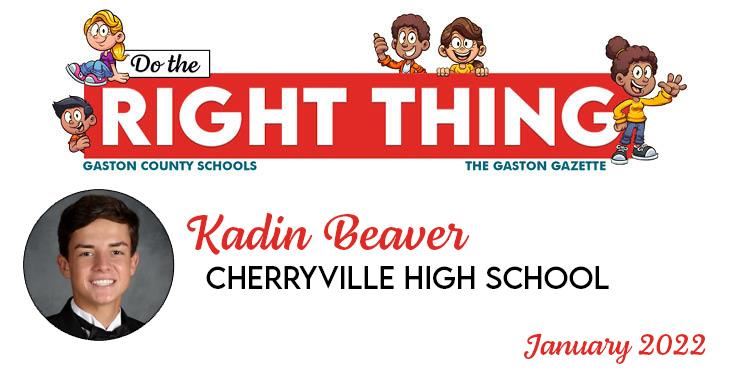 High School Winner
Kadin Beaver
Cherryville High School
Parents: Buster and Ashley Beaver

Senior Kadin Beaver consistently goes above and beyond what is expected of him. He is kind, courteous, helpful, and compassionate. Kadin has a strong work ethic and exemplary character. Last semester, he was instrumental in helping the football team visit the local elementary school to greet students as they arrived at school. His efforts helped to build a bond with the young students, who look up to the football players and see them as hometown stars. Kadin is the kind of student who goes out of his way to make others feel comfortable in every situation. He is a true leader and will be successful in all that he does.

Congratulations to our 'Do the Right Thing' award winners!
Click here to see our "Do the Right Thing" page that appeared in the January, 2022 edition of The Gaston Gazette.