---
The Red Ribbon Campaign is the largest and oldest drug prevention program in the nation. Red Ribbon Week will be recognized at Hawks Nest STEAM Academy the week of October 23rd. With the goal of helping kids grow up safe, healthy and drug free, HNSA will participate in Red Ribbon Week classroom guidance lessons, Spirit Week and a classroom door decorating contest.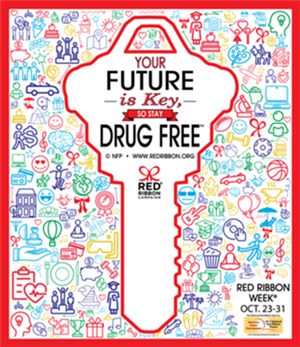 Red Ribbon Spirit Week 2017
*Monday, October 23rd: "REaDy for a successful future... stay drug free" - wear as much red as possible.
*Tuesday, October 24th: "Smarties choose to be drug free"- wear a college shirt.
*Wednesday, October 25th: "Orange you glad you're drug free- wear orange for Unity Day to stand against bullying and for Red Ribbon Week
*Thursday, October 26th: "Oh, the places you will go ...if you're drug free" - wear a shirt of a place you've visited.
*Friday, October 27th: "Give drugs the boot and corral a great future."- dress in western gear.
Congratulations to Red Ribbon Week Door Decorating Winners!
Ms. Patz & Mrs. Branton (Grades K - 2nd)
Ms. Blake (Grades K-2nd)
Ms. Minnich (Grades 3-5)