Return to Headlines
'Do the Right Thing' award winners for March
'Do the Right Thing' award winners chosen for March
Every day in our schools, there are students who set themselves apart by doing things that make a difference in the lives of others. They do these things without expecting anything in return.

These students are recognized by The Gaston Gazette's 'Do the Right Thing' program. In partnership with Gaston County Schools, The Gazette honors a student at each school level every month from October through April.

The program brings attention to students who distinguish themselves by their actions whether big or small. From organizing a fundraiser or a food drive to holding open the door for students on their way to class, these exemplary students make sure that their classmates and others are cared for and treated well.

The students' attitudes, accomplishments, and efforts make them stand out as positive role models for others, and faculty and staff are always sure to take notice. The information about each 'Do the Right Thing' winner is provided by the principal.

Here are the profiles for our 'Do the Right Thing' award winners for March 2022: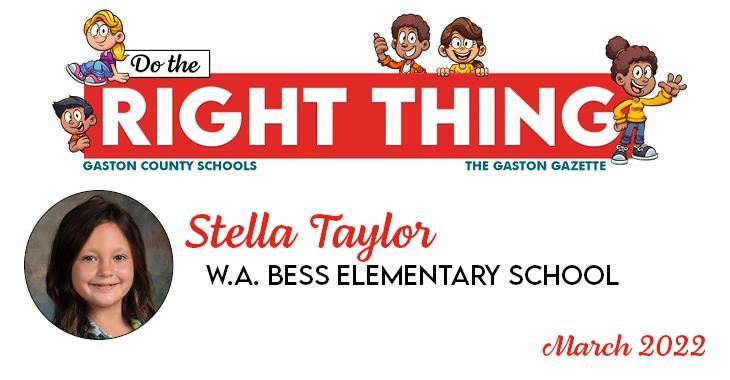 Elementary School Winner
Stella Taylor
W.A. Bess Elementary School
Parents: Nathan and Laura Taylor

Third grader Stella Taylor is an amazing role model for her peers. She goes out of her way to make others feel included and always wants to lend a helping hand. After seeing a presentation about Holy Angels, Stella decided she wanted to collect money for children with special needs who lived there. To raise the money, Stella sold some of her gently-used toys on Facebook Marketplace. She also made chocolate chip cookies and lemonade to sell at her family's garage sale. Stella was able to donate $150, which is a great example of "doing the right thing."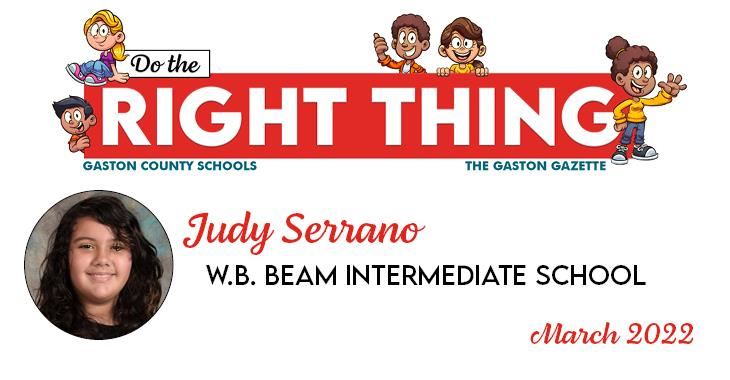 Elementary School Winner
Judy Serrano
W.B. Beam Intermediate School
Parent: Valerie Serrano

Fifth grader Judy Serrano is a great student, who is a delight to teach. She is kind and hard-working, which are qualities that make her stand out among her peers at Beam Intermediate School. She also is trustworthy. A good example of her great character is when she recently found some money that had been lost in the girls' restroom and turned it in. The person who lost the money was very thankful for Judy's honesty. It is clear that Judy is someone who is responsible and does the right thing, even when no one is looking.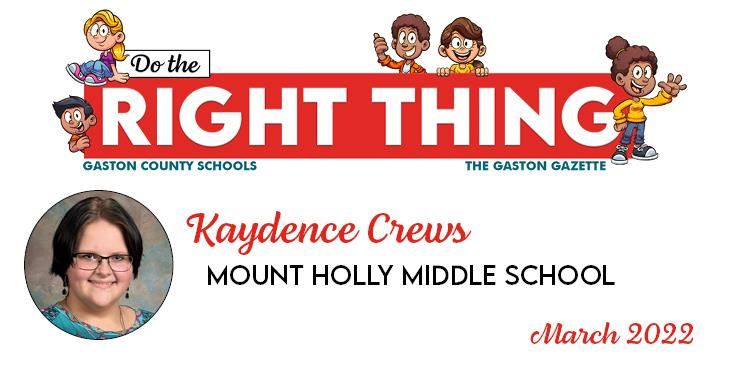 Middle School Winner
Kaydence Crews
Mount Holly Middle School
Parent: Pashia Newman

Kaydence Crews is an all-star student and a genuine friend to her peers. The eighth grader is kind and inviting to all students and wants to make sure everyone is included. She is great at helping others by listening to their problems and giving advice. When a classmate was having a difficult problem, Kaydence sat with and listened to her friend. She was able to help calm her friend and give good advice on how to better handle the situation. Because of this, her peers have learned they can trust Kaydence, and she will help them when they need it.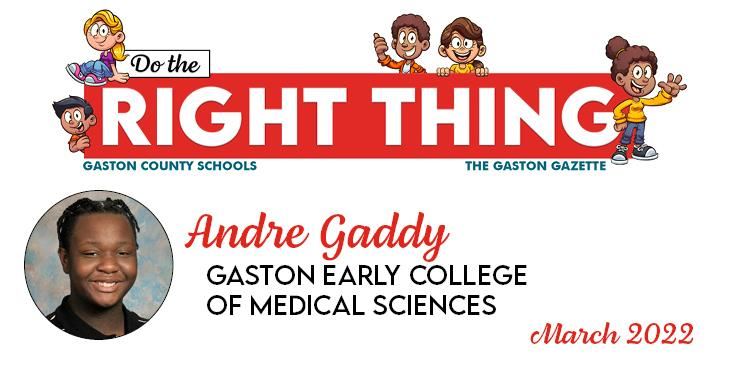 High School Winner|
Andre Gaddy
Gaston Early College of Medical Sciences
Parent: Andrea Gaddy

Ninth grader Andre Gaddy is outgoing and inclusive and sets a great example for everyone at the Gaston Early College of Medical Sciences. He goes out of his way to greet students, teachers, and staff at the school upon arrival and dismissal, and he is respected and well-liked by his peers. Andre has been very helpful in assisting students with how to navigate the online program for their spring semester college courses, which goes to show that he wants his classmates to do well. He is patient with his peers and always gives helpful advice and guidance.

Congratulations to our 'Do the Right Thing' award winners!