Mentoring is a supportive relationship between a school-aged child and a caring adult volunteer. The mentor provides support, guidance and assistance as a role model and friend. As a result of this relationship, the student gains valuable life skills, an increased sense of accomplishment and new tools to help set and achieve goals.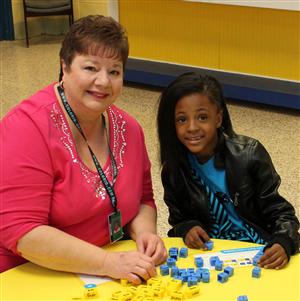 The purpose of the mentoring program is to improve self-esteem, attitudes and attendance and to offer motivation to stay in school and plan for the future. Mentoring ultimately has a powerful impact on academic performance. Gaston County Schools Office of Business and Education Partnerships facilitate the Mentoring Program with recruitment, training and matching of volunteers from business, community, and civic organizations.
To be approved as a Gaston County Schools mentor, an on-line volunteer application with criminal background check is required. The application is available at
www.gastonschoolvolunteers.com
.
The term mentor has become synonymous with a wise and trusted guide, teacher and friend. This year, we have 266 volunteers serving as mentors in Gaston County Schools. Mentoring transforms relationships and has a profound impact on students. "When you give your time, experience and wisdom to young people, you are sowing seeds of pride, confidence and accomplishment," writes Thomas Dortch Jr. in his book, The Miracle of Mentoring. Mentoring is also surprisingly fun and rewarding for the volunteer!
Annual program data, as well as documented success stories from teachers, illustrate the positive outcomes of Gaston County Schools' Mentoring Program.
Volunteers can enter the mentoring program at any time throughout the school year. Training sessions are held monthly in the Gaston Regional Chamber Seminar Room, 601 W. Franklin Blvd. Gastonia. Group trainings for businesses, civic, community and faith based organizations are available upon request at you site.
For more information or to reserve a seat for mentor training call Valerie Yatko, Director, Office of Business & Community Partnerships at 704-866-6329 or email
businesspartnerships@gaston.k12.nc.us
.
The Mentor Training Sessions are held in the Gaston Regional Chamber Training Seminar Room, 601 W. Franklin Boulevard, Gastonia, N.C.
Training sessions are:
August 17, 2016
November 16, 2016
August 31, 2016 December 14, 2016
September 14, 2016 January 18, 2017
October 19, 2016 February 15, 2017
Office of Business and Community Partnerships
943 Osceola Street
Gastonia, NC 28054
704-866-6329