Return to Headlines
Booker named Regional Superintendent of the Year
Immediate Release
June 21, 2016
Contact: Todd Hagans
Chief Communications Officer
Office: (704) 866-6118
Cell: (704) 718-0279
E-mail: tthagans@gaston.k12.nc.us

Gaston's Superintendent of Schools earns regional recognition
W. Jeffrey Booker named Southwest Regional Superintendent of the Year

Gastonia, N.C. – W. Jeffrey Booker, Superintendent of Gaston County Schools, has earned the prestigious Southwest Region Superintendent of the Year recognition for 2016-2017.

Superintendents in the Southwest Region, which includes 11 public school districts in nine counties across the greater Charlotte region, selected Booker for the honor, which is presented by the Southwest Education Alliance.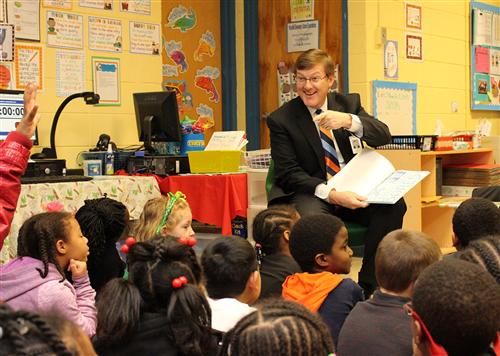 Booker will compete against other regional winners for the North Carolina Superintendent of the Year title. The state winner will be named in November during a ceremony sponsored by the N.C. School Superintendents Association, N.C. Association of School Administrators, and the N.C. School Boards Association.

During the Gaston County Board of Education meeting on June 20, Board chairman Kenneth R. Lutz, Jr. publicly announced Booker's selection as the Regional Superintendent of the Year.

Lutz stated, "Superintendent Booker is most deserving of this important recognition, and we are extremely proud to have the Regional Superintendent of the Year leading Gaston County Schools. Since becoming our Superintendent in January 2014, Mr. Booker has demonstrated excellent leadership and exemplary vision, which has moved us forward in a very short amount of time."

"In two and half years, we have seen improvements in academics, technology, communication, community involvement, school safety, professional development, and many other areas," added Lutz. "These improvements are a result of Mr. Booker's hard work, expertise, and steadfast dedication to our schools and the children of Gaston County."

Lutz continued, "Mr. Booker's service and commitment to excellence also extends beyond Gaston County Schools. Not only is Mr. Booker a leader for our schools, he also is a leader for our community through his involvement in organizations such as the United Way of Gaston County and Gaston Together."

"The Board of Education joins me in congratulating Mr. Booker – we are very fortunate to have him as our Superintendent of Schools," concluded Lutz. "We have known for some time that we have an outstanding leader in Jeff Booker, and now, the entire Charlotte region knows it."

Because of Booker's leadership, Gaston County Schools has experienced the most progress and success over the past two years in the following areas:

▪ Academics: Overall student proficiency is higher and more schools are exceeding academic growth expectations. The district's graduation rate has reached an all-time high of 86.3 percent, and the dropout rate continues to be lower than the state average.

▪ Safety: Gaston continues to rank as the safest large school district in the state because of work to enhance security. Efforts include updating school camera surveillance and visitor check-in equipment, installing front door buzz-in entry systems at schools, and securing grant funding for more police resource officers.

▪ Communication and Community Support: The district increased communication with audiences through a revamped website and new mobile app and by producing more video content for social media and the district's educational television channel. To engage parents, students, employees and others, Booker hosted on-going community meetings and parent forums. Further, he strengthened the district's partnership with the Gaston Regional Chamber to involve more businesses and civic organizations in education.

▪ Technology: Realizing the need for the latest instructional technology and to improve the student-to-computer ratio, Booker led efforts to secure $1.1 million and purchase more than 4,300 Chromebook computers. He made it a priority to replace out-of-date computers, upgrade SMART Board technology, and install wireless Internet access at all schools.

Other successful projects and initiatives during Booker's tenure include:

▪ Overseeing plans for a new elementary school and middle school;
▪ Establishing an elementary magnet school that focuses on STEAM (Science, Technology, Engineering, Arts, and Mathematics);
▪ Bringing attention to the importance of Career and Technical Education in preparing students for the workforce;
▪ Providing more professional development opportunities for teachers to ensure effective instruction and best practices;
▪ Working with the Board of Education to obtain funds for increasing the local supplement pay for teachers and other certified personnel;
▪ Leading various endeavors to improve morale and attract and retain quality employees; and
▪ Approving a district-wide fundraiser that collected more than $25,000 to help schools in South Carolina affected by a devastating flood.

Ric Vandett, director of the Southwest Education Alliance, stated, "We are extremely fortunate to have Mr. Jeff Booker as our Regional Superintendent of the Year. He is a visionary school leader who wants the very best for the students and employees in his district. Superintendent Booker goes beyond the call of duty in everything he does to promote our schools and serve as an advocate for public education. He is the epitome of what a school superintendent should be."


The South
west Region Superintendent of the Year honor is the second significant recognition of its kind for Gaston County Schools this year. In April, B
obbie Cavnar, an English teacher at South Point High School in Belmont, was selected as the North Carolina Teacher of the Year for 2016-2017. Cavnar was named the Southwest Region Teacher of the Year in December.
IN THE PICTURE: Superintendent of Schools W. Jeffrey Booker spends time with children on Read Across America Day.
Click here for a link to Superintendent Booker's biography.