Return to Headlines
Students earn scholarships named for Paul Fuller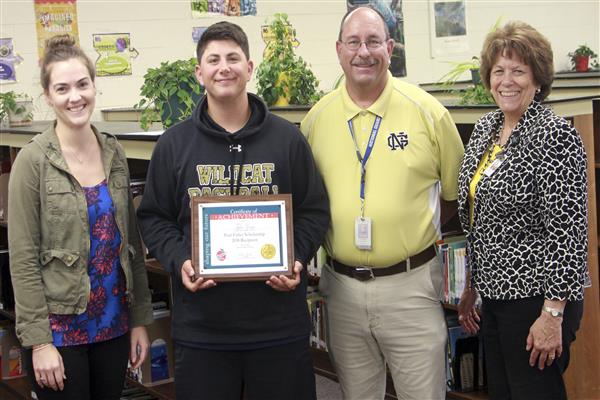 Students receive scholarships named for Paul Fuller

Tyler Zonin is a true testament to how the Gaston County Schools mentoring program can change lives.

A New Jersey native, Zonin had difficulty adjusting to life after the move to North Carolina. He became involved in the mentoring program as a sixth-grade student at Holbrook Middle School. Zonin graduated in June from North Gaston High School and is looking toward the future with a mentoring scholarship in hand.

Zonin was chosen to receive the Paul F. Fuller Scholarship, which is given each year to an outstanding student who has been involved in the school district's mentoring program. The $1,000 scholarship is renewable for up to four years.

Zonin plans to use the scholarship to attend Western Carolina University where he will study in the four-year paramedic program and pursue a degree in emergency medical care. He has already participated in the GEMS (Gaston Emergency Medical Services) Explorers program and completed Emergency Medical Training (EMT) basic certification at Gaston College.

Looking back on his journey with the mentoring program, Zonin said going into middle school, he was nervous about finding new friends and meeting new teachers. He spent a lot of time dealing with anxiety during his first few months of school. Then, he met Mr. Campbell, the husband of Zonin's art teacher, who would sometimes substitute when she was out of class.

"He helped me when times were rough, and I couldn't handle the change in scenery by myself," Zonin said of Campbell.

Their favorite topic? Yankees baseball. "I love baseball and I love the Yankees," Zonin said. "Whenever I talked about baseball, it would change my mood. I would go from sad and angry to happy."

While Zonin talked about baseball with Mr. Campbell, a former ball player himself, he dreamed of becoming a professional baseball player. But when in the ninth grade, Zonin found his passion for emergency care.

Zonin is excited to see where the future takes him at Western, one of the only schools in the state that offers a degree in emergency medical care. And looking back on his journey through middle and high school, he knows he wouldn't be where he is today without the help of Mr. Campbell.

■ Three students get trades and technical training scholarships

For the first time this year, three additional graduating seniors were recognized with the Paul F. Fuller Scholarship for Trades and Technical Training. The trades and technical training scholarships were created through a partnership with the Noon Optimist Club of Gastonia.

The Paul F. Fuller Scholarship for Trades and Technical Training is worth $500 and renewable for an additional $500.

Rodney Brooks, who graduated from Hunter Huss High School, said it took him a while to get used to having a mentor. But once he did, he couldn't imagine his life without one.

"My mentor always told me I was a better person," he said. "He made me say it to myself, and I believed it."

Brooks will attend Gaston College to study Broadcasting and Audio Production Technology.

Another Hunter Huss graduate, Angelica Huffstetler, also received the trades and technical scholarship.

Through the mentorship program, Huffstetler developed a love for working with children. She plans to attend Gaston College and get her associate degree in early childhood education. She wants to pass on the help she got from the mentor program to someone else who was in her position in school.

"I would love to help kids any chance I get because I got that chance when I was younger," she said. "Returning the favor would mean so much to me."

East Gaston's Evan Summerlin is the third recipient of the trades and technical scholarship. Summerlin worked as a state-approved apprenticeship with Tindol Ford Subaru ROUSH in Gastonia.

In the fall, Summerlin will attend Guilford Technical Community College to receive his Ford factory certification and automotive associate degree while continuing to be employed at Tindol Ford Subaru ROUSH. Summerlin says without his mentor, he wouldn't have been able to achieve any of these future plans.

"Without the input and influence of my mentor, I would be unsure of my plans after graduation," he said. "Thanks to Mr. Hawkins, I have a job and a state-approved internship, which I could never have obtained without him."

■ Become a Mentor

Gaston County Schools is seeking caring adults to serve as mentors for the 2018-2019 school year. If you would like to learn more about the mentoring program, call Valerie Yatko, director of business and community partnerships, (704) 866-6329.