Return to Headlines
A time of adjustment for the performing arts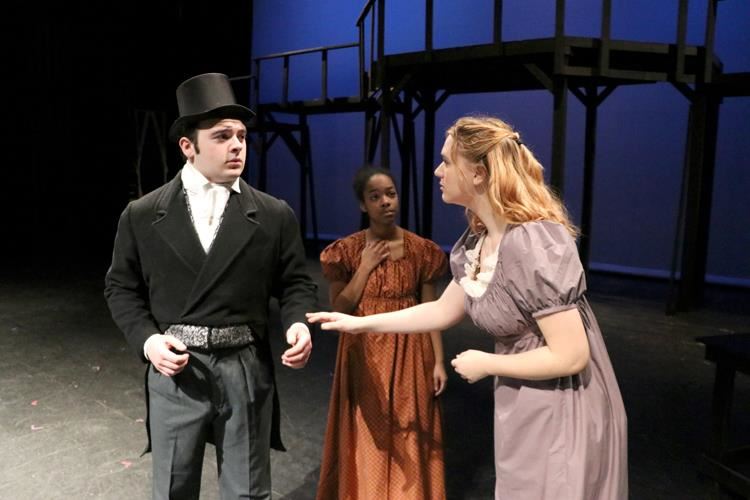 Stuart W. Cramer High School had to cancel its spring production of "Les Misérables" because of the coronavirus pandemic. In this picture from February, student
Alex Manley rehearses a scene with Katie Watkins (right) and Angel Tucker.
It's a time of adjustment for the performing arts amid the coronavirus pandemic
When you think about the ways the coronavirus has affected the United States, you probably think about jobs, education, and the economy. What you probably don't think about is how COVID-19 has adversely influenced the performing arts.

Schools across the country are continuing to adjust to the "new normal" when it comes to theater arts, chorus, and band, and performing arts teachers are doing their best to ensure their students gain a quality education while staying safe and still being able to enjoy what they love.

COVID-19 restrictions have resulted in limitations for the performing arts since activities are usually conducted in a group setting with participants in close proximity to others. That doesn't bode well in a time when social distancing and wearing a mask to prevent the spread of germs are the expectations.

▪ Shutdown cancels the performing arts

The live events industry was one of the first aspects of everyday life that shut down, and it will be one of the last to return in the future. With the switch to virtual learning that occurred in March across the state, students participating in performing arts classes and spring productions had to put their time in the spotlight on hold. This was true of large-scale theater productions, performance assessments, concerts, and trips that were all interrupted.

Though teachers tried to keep a positive outlook for their students, facing the unknown was the hardest part. Chuck Stowe, the theater teacher at Stuart W. Cramer High School, said they weren't quite ready to accept that the school's spring musical, "Les Misérables," wouldn't be able to go on as they had planned.

"Every day, we were missing rehearsal and preparation," Stowe said. "You're losing ground with music, and with acting, too. When it happened, we thought, 'Maybe we'll get over this and it can still happen.' We were trying to find ways we could still make it work, but it just wasn't possible. We waited two months to take the set down, just in case."

Steven Austin, the chorus teacher at Forestview High School, experienced a similar situation with the spring production of "Guys and Dolls." In addition, his students were working toward their music performance assessment and had a trip planned to Atlanta where they were scheduled to perform at the National Center for Civil and Human Rights, participate in a choral competition, and see the touring production of the mega-hit musical "Hamilton." It was all canceled.

"My students and I were in the midst of our busiest season of the year," Austin said. "My students had been working so incredibly hard, and then everything just stopped in its tracks."

It's the same story for Heaven Watson-Weary, the band director at Hunter Huss High School.

Gathering a group of students together on March 12 with other county band students, none of them realized that it would be the last time they would get to perform as a unit for the rest of the school year. They would soon face a canceled spring concert, band banquet, and other activities that usually represent the end of the school year for students involved in the performing arts.

▪ School is back in session

Now that schools have reopened with a varied schedule (students attend school two days a week for in-person learning and take part in virtual learning three days a week), teachers say they have seen a shift in attitudes as students have adjusted to the new schedule and been able to engage in the performing arts even if it's in a limited way.

"I'm thrilled to be seeing my students in some capacity and am grateful to be able to foster relationships with my students face-to-face," said Austin, who had to adapt along with the many teachers across Gaston County Schools who are responsible for teaching the performing arts curriculum.

"I teach my classes in the auditorium at Forestview, allowing us to distance students as much as possible in most classes," added Austin. "We are focusing on music theory, the anatomy and structure of singing, and heavily reinforcing music literacy."

Austin thinks the current approach will help students in the long run once they are able to return to singing and playing instruments in a full-capacity setting. "The time we are putting in now will allow students to be more successful when we are given the green light to perform again," he said.

Watson-Weary said while students are having to take a different approach to learning in the band room, she is able to remind students about why they love music through learning.

"We're learning music history and music theory," she said. "These are things that students were already learning about daily in my band classes; it's just taken on a different form."

Stowe pointed out that high school theater productions are extracurricular, and students spend time outside the classroom preparing for their roles. Inside his classroom, he is lining up guest speakers from Charlotte and beyond to participate in Zoom calls with his students. He also is planning to host the theater arts students' annual cemetery tour at New Hope Presbyterian Church – an outdoor event that can adhere to social distancing rules.

▪ Students are passionate and resilient
Students with a passion for the arts are resilient. After all, they know better than most that the show must go on. Watson-Weary says although so much has changed, her students are still able to see the positive in the situation despite the challenges they face.

"My students have been excited to return," she said. "They have been excellent, considering the strange circumstances that surround us each day. I'm very proud of them."

"Our students have adapted remarkably well to their new school environment," Austin said of his chorus students. "They are taking health procedures very seriously and doing their part to keep our schools safe."

In lieu of the traditional means for teaching about music, instruments, and vocal performance, teachers are relying on technology and software to show students how to listen for and recognize certain notes. Practicing on an individual basis at home is encouraged, and schools are considering the use of slitted masks and instrument bell covers by band students. Obviously, the return to normal for the performing arts depends on what happens with the pandemic.

"If you don't learn anything else from being involved in the performing arts in high school, you learn to be flexible," Stowe added. "Some people get stuck looking at the problem. We're going to deal with this and find a way to do what we need to do safely and still be able to find a creative outlet for these students. My colleagues in the arts are finding ways to adapt and create solutions."

And while no one knows what the future holds for the performing arts, Austin is optimistic about what will happen with chorus and other programs.

"(Arts education) is essential to our students," he said. "I am confident that high school programs across the county and state will adapt to meet the needs of our students and communities. Gaston County has a long standing tradition of excellence with our performing arts programs, and it's not something that is just going to disappear. Our teachers are outstanding educators who are among the most dedicated that I know."

After all, the show will go on – in some form or fashion.