Return to Headlines
'Do the Right Thing' award winners for October
'Do the Right Thing' award winners chosen for October
Every day in our schools, there are students who set themselves apart by doing things that make a difference in the lives of others. They do these things without expecting anything in return.

These students are recognized by The Gaston Gazette's 'Do the Right Thing' program. In partnership with Gaston County Schools, The Gazette honors a student at each school level every month from September through May.

The program brings attention to students who distinguish themselves by their actions, whether big or small. From something like organizing a fundraiser or a food drive for those in need to holding open the door for students on their way to class, these exemplary students make sure that their classmates and others are cared for and treated well.

The students' attitudes, accomplishments, and efforts make them stand out as positive role models for others, and faculty and staff are always sure to take notice. The information about each 'Do the Right Thing' winner is provided by the principal.

Here are the profiles for our 'Do the Right Thing' award winners for October 2020: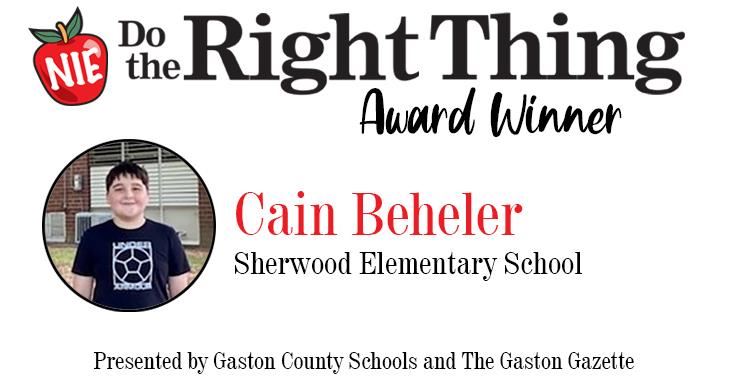 Elementary School Winner
Cain Beheler
Sherwood Elementary School
Parents: Brandi Beheler and Jeremy Beheler

Cain Beheler, a fifth grade student, consistently surpasses expectations for outstanding behavior. He leads by example, displaying Sherwood's character traits of responsibility, a positive attitude, manners, and safety at all times. Cain participates in classroom activities and discussions with enthusiasm and makes sure his peers at school always feel welcome and comfortable. At the beginning of the school year, Cain befriended a student who was not only new to Sherwood, but was also new to North Carolina. He strives to make Sherwood a positive place for students and faculty to learn and grow. While the school year has looked a bit different this year, Cain has gone above and beyond to make the most of the 2020-2021 year.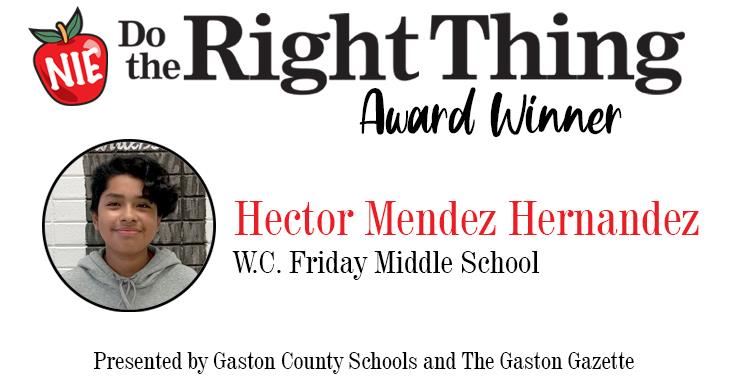 Middle School Winner
Hector Mendez Hernandez
W.C. Friday Middle School
Parent: Guadalupe Mendez Hernandez

Eighth grader Hector Mendez Hernandez is best described as a kind, generous leader at W.C. Friday. Despite the unusual circumstances surrounding school this year, he has taken the initiative to make sure all of his work is complete both in the classroom and at home during his remote learning days. In addition to making sure he puts his best foot forward with his school work, Hector has generously taken on the responsibility of helping another student by translating for him, supporting him, and helping him when he needs it. He goes beyond expectations inside and outside of the classroom to make sure his classmates are striving for their best.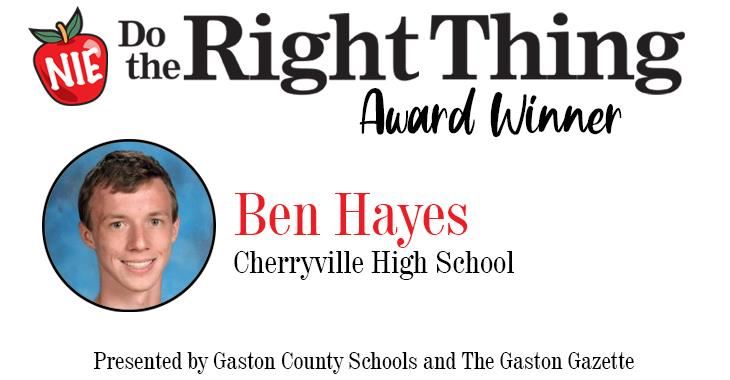 High School Winner
Ben Hayes
Cherryville High School
Parents: Jeff and Allison Hayes

At the top of his class, Ben Hayes is very active both at school and at church. An Eagle Scout, Ben and another student took the initiative to start a kindness club at Cherryville High School. He thought this would be a good way to spread joy during the hard times we are all experiencing right now. Always looking out for others, you won't find someone more friendly and more outgoing than Ben. To help promote kindness in the Cherryville community, the club held a "kindness spirit week" for students with a different theme each day.

Congratulations to our 'Do the Right Thing' award winners!