Return to Headlines
Hawks Nest STEAM Academy earns state honor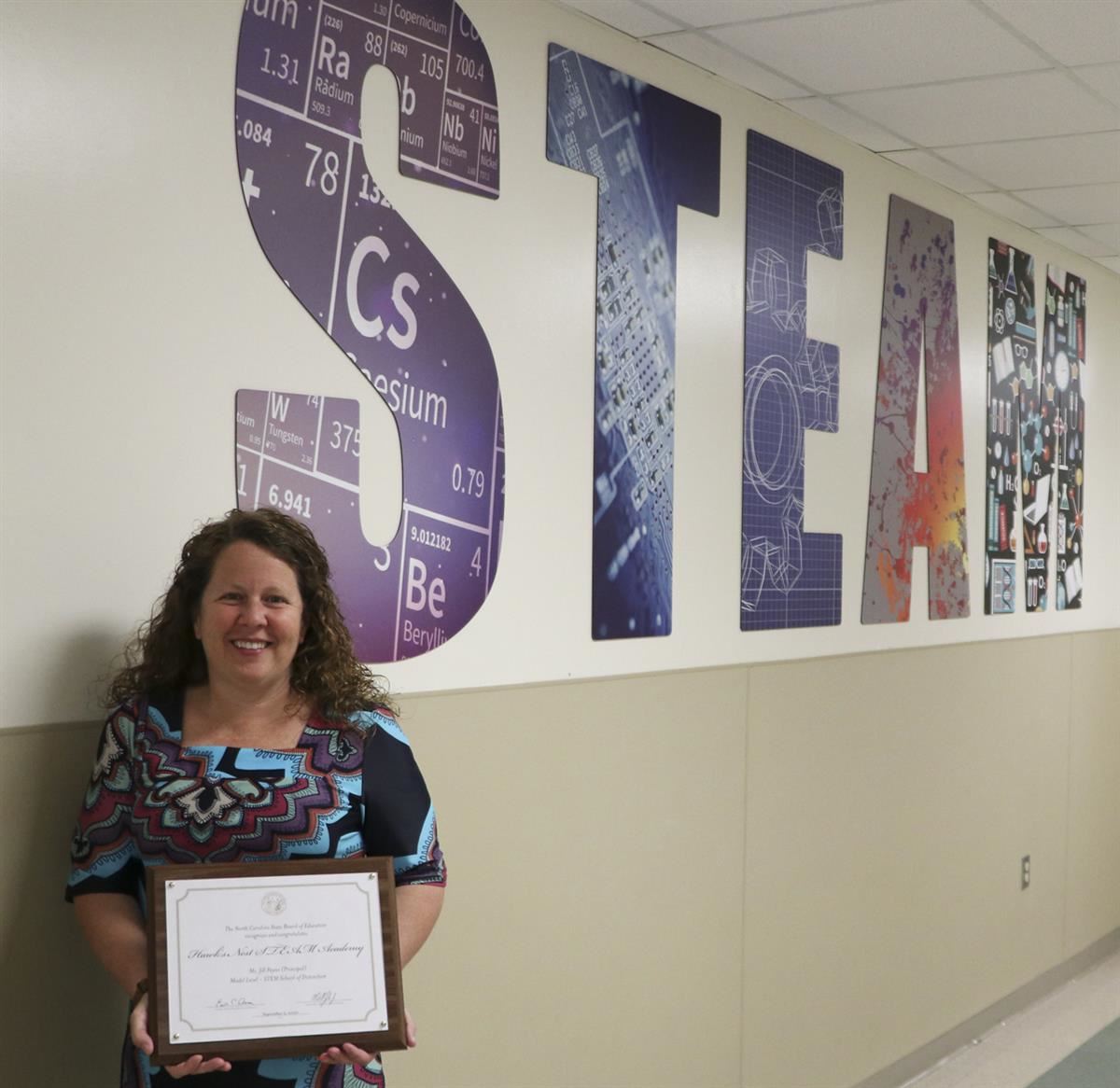 Dr. Jill Payne, principal of Hawks Nest STEAM Academy, shows off the North Carolina STEM School of Distinction award.

Hawks Nest STEAM Academy earns N.C. STEM School of Distinction title
Hawks Nest STEAM Academy is recognized across Gaston County for its focus on science, technology, engineering, arts, and mathematics. Now, Hawks Nest has gained attention at the state level for earning the North Carolina STEM School of Distinction title.

The Department of Public Instruction and State Board of Education began recognizing schools in 2014 for outstanding efforts in STEM education. Hawks Nest is one of only 16 schools statewide to earn the STEM model school designation, and it is the only model school winner for 2020.

The award recognizes Hawks Nest for its concentrated emphasis on science, technology, engineering, and mathematics across the curriculum, according to Dr. Jill Payne, principal.

Hawks Nest STEAM Academy opened in August 2016 as the only elementary magnet school in Gaston County with a focus on STEAM. Becoming a model school was on the radar from the beginning.

"We started the process four years ago by looking at the STEM rubric and using the information to create the foundation for our school," she said, adding that it takes most schools a number of years to prepare for the application process. "It's been a group effort since we started the process. Our staff chartered our course from day one. They sat down and created a plan, and we have worked together to make it happen."

STEM Schools of Distinction are recognized by the Department of Public Instruction for exemplifying outstanding leadership and challenging students to think creatively. With a focus on teamwork, teachers and staff help students develop the ability to reason and embrace essential STEM attributes they need to be successful in today's society.

"One of our main goals is to make sure our school is a place where students thrive. They're growing academically because of our efforts to take a whole-school approach to the STEM curriculum and also integrating the arts," she said.

Of the schools that applied, Hawks Nest was selected as one of the top 36, which led to a follow-up visit to further explore the school's qualifications. The follow-up was done virtually because of the coronavirus pandemic. While it usually takes 24 hours to find out the results, Hawks Nest received confirmation only three hours after its presentation.

"It's been very exciting," Payne said of the process. "There are so many good things going on here at Hawks Nest, and I'm so proud of the work that is being done."

Payne says even more important than the recognition is seeing her students grow in their love for learning.

"To watch our students accomplish the things they can do, it is amazing," she said. "To see them connect with something they love and something they might want to do when they're older, that has been very powerful to experience."

Learn more about Hawks Nest STEAM Academy and the N.C. STEM School of Distinction recognition by watching the video below.