Return to Headlines
Read all about it: Our first day of school for 2021-2022

Read all about it: Our first day of school in Gaston County!
Early Monday morning, school buses and parents alike traveled across Gaston County, dropping off students at school for the first day of the 2021-2022 academic year. Staff greeted students upon their arrival, some of them with a friendly fist bump and others with big smiles as they recognized familiar faces and met some new ones, too.

"It's going to be a great first day," said Amy Giles of H.H. Beam Elementary School as she fist-bumped students when they hopped off the bus. "I'm so excited to see our students again!"

Leslie Myers said she is looking forward to having face-to-face interactions with her first graders.

"I can't wait to watch them grow and learn in the classroom," she said. When asked about her colorful classroom and popsicle-themed door decorations, Myers smiled. "I spent many sleepless nights planning for this day. I just wanted the room to look amazing for the students."

■ Inside the classroom on opening day

H.H. Beam second-graders in Carol Johnson's class were greeted with yellow paper plates made to look like a sun on the door to her classroom, with the words "Beaming with Joy to See You" above them. And, Johnson absolutely was.

Giving her students a positive start to the day, she asked them, "Did you win by getting up today? Did you win by coming to school?" And, when they all replied with a resounding yes, she led a "we won!" chant throughout her classroom that left students feeling positive and uplifted.

Using a few of the school supplies she had placed on their desks, Johnson reminded them that they have a bright future ahead of them. Speaking metaphorically, she told them they could use the eraser for erasing bad things that had happened in the past. Second grade is a new year, she told the students.

"I see a room of smart people. Kind people. Funny people," Johnson said. "You can do anything you want to do, and I am going to teach you how."

Johnson kept the sunshine theme (and school pride) going as she asked her students, "how are you beaming?" Each letter in the word "beam" stands for different positive aspects she wants her students to bring to class with them each day.

■ Happening at other schools
Students at Pleasant Ridge Elementary got similar motivational talks from their teachers as they went over rules and what is expected of them in their classes. Starting the day by organizing their desks, filling out worksheets, and reading, students were eager and ready to learn in the classroom again.

There was a similar feeling in the halls of Hunter Huss High School as students transitioned from first to second period. In Sara Dodson's Spanish I class, students were asked what their expectations for the school year are and how they are going to achieve them.

Seniors in Carrie Baskett's English class learned about resources to help them navigate their senior year. They also learned how important it is to plan for the future, a lesson that echoed a similar sentiment in Johnson's second-grade classroom and classrooms all across the county.

■ The superintendent says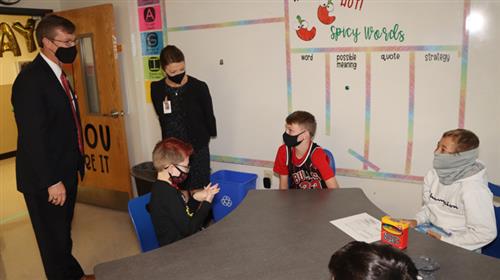 Superintendent of Schools W. Jeffrey Booker spent the first day stopping by schools to greet students and staff. He started at W.A. Bess Elementary where he talked to several teachers, observed students settling into first- and second-grade classrooms, and welcomed a group of kindergarteners to school for the very first time. By lunchtime, Booker had visited seven schools.

"It was great seeing the students arrive at school this morning. Everyone was positive and upbeat and ready to begin a brand new school year," said Booker. "We know that we will face challenges this year because the pandemic is ongoing, but our hope is that this school year will be as normal as possible for students and teachers."

Booker continued, "The first day of school is a time when the slate is wiped clean, and everyone gets a fresh start. Our teachers are prepared to help students build on what they learned and accomplished last year, and they are going to do everything they can to make sure our students grow and thrive in the year ahead."

Have a great year, Gaston County Schools!
PICTURES: First Week of School, August 2021