Business and Community Partnerships
Return to Headlines
Employees maintain spirit of giving despite pandemic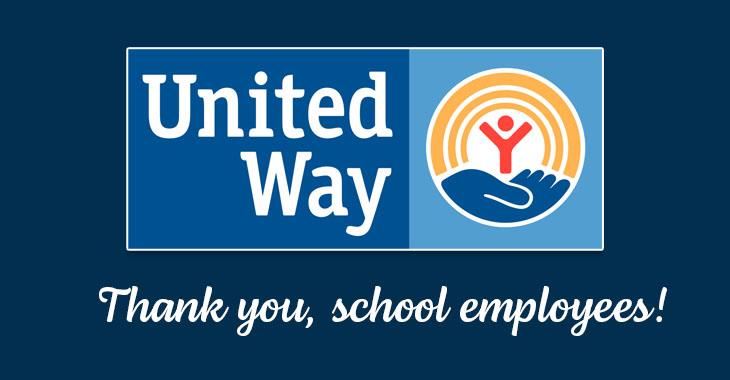 Despite pandemic, school employees give more than $93,000 to the United Way
Gaston County Schools' employees did not let the pandemic deter their spirit of caring and giving.

While the past year has been difficult for many families, businesses, and individuals, school employees contributed $93,382.38 to the 2020-2021 fundraising campaign for the United Way of Gaston County. That's a lot of money, but what is more impressive is the total is only $630.32 shy of what was raised in 2019-2020 before the pandemic hit.

Due to COVID-19 restrictions, schools and central office departments were limited in their traditional fundraising activities to support the United Way, according to Valerie Yatko, director of business partnerships and coordinator of the school district's United Way campaign. "If we had been operating under normal circumstances, we most certainly would have met and exceeded the previous year's total of $94,012.79."

Leading the way in the fundraising efforts were Southwest Middle School, Hunter Huss High School, Forestview High School, Carr Elementary School, Cramerton Middle School, and Warlick Academy. The six schools had the highest donation totals.

Four schools and two central level departments had 100 percent participation in the fundraising campaign: Cherryville High School, W.C. Friday Middle School, Robinson Elementary School, New Hope Elementary School, Superintendent's Office, and Technology Support Services.

In addition, 37 schools increased donations when compared to the previous year, and six schools had an increase of more than 50 percent in giving: H.H. Beam Elementary School, Bessemer City Middle School, John Chavis Middle School, Cherryville Elementary School, Holbrook Middle School, and New Hope Elementary School.

"I am especially proud of our employees and extend my sincere appreciation to everyone who made a donation," said Superintendent W. Jeffrey Booker. "We know that money has been tight for many families, but our employees stepped up to give because of their kindness and willingness to help people."

Funds raised during the annual campaign are used to support United Way programs in three main areas: education, health, and financial stability. An estimated 73,000 people in Gaston County were affected by a United Way program last year.

Dr. Booker added, "As a school district, we know that many of our children and families will benefit from the United Way's efforts to lend a helping hand and strengthen our community. It is important for educators to extend their positive influence beyond the classroom, and making a contribution to the United Way campaign is one way they do this."

One United Way program that has a direct impact on Gaston County Schools is Reading Soul Mates. Coordinated by the Gaston Literacy Council, the program provides volunteers, who act as tutors and work with students to improve their reading skills and develop a love for reading. Prior to the end of the school year, the volunteers had an opportunity to meet their students in person, and each student received a book to enjoy over the summer. Because of the pandemic, reading sessions were held virtually instead of on campus at Sherwood Elementary.

"For the children, having that one-on-one literacy mentorship meant a great deal," said Merry Deely, a reading tutor for the Gaston Literacy Council. "They knew each week someone cared specifically about them and how they were doing with their reading."

Deely added, "Nothing takes the place of the classroom teacher, but we have found that literacy mentorship can be an amazing and productive complement to help students with literacy."

The United Way of Gaston County provides funding for community programs and partner agencies that offer support to citizens. The financial support from the employees of Gaston County Schools and many other caring individuals makes it possible for the United Way to continue its good work in Gaston County. If you would like to make a contribution, you may donate online at https://unitedwaygaston.org/donate.

Thank you, Gaston County Schools employees, for supporting the United Way!